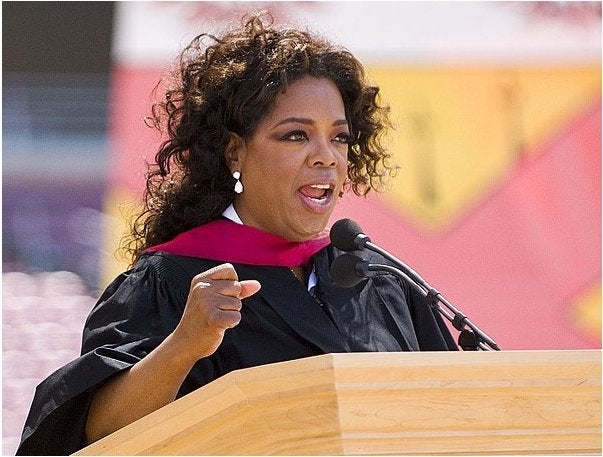 Oprah Winfrey spoke at Stanford Commencement Sunday (BFF Gayle King's daughter, and Oprah's goddaughter, Kirby Bumpus, was among the graduates) and lamented that she was unable to give the grads new cars. The grads did, however, show up to find two books on their seats courtesy of Winfrey: Eckhart Tolle's A New Earth (Oprah's current Book Club selection) and Daniel Pink's A Whole New Mind (which Oprah said "reassured [her she's] in the right direction]".
"I really wanted to give you cars," said the television host, magazine publisher and philanthropist, who was greeted by the graduates with cheers, high-fives and whoops of "Oprah, I love you!"

During her 30-minute address, which started with a special nod to her graduating goddaughter, Kirby Bumpus, Winfrey drew on lessons learned from a career that began in 1976, when she co-anchored a television newscast.

"It didn't feel right," she said of the $22,000 job that her father encouraged her to stick with. She did not like covering tragedies. She did not like being told to change her look. And she was not about to listen to her boss and change her name to "Suzie."

After eight months of being an awkward fit, the station she worked for made her a talk show host.

As soon as she started the new job, "I felt like I came home," she said.

"When you're doing the work you were meant to do, it feels right," she said "And every day is a bonus, regardless of what you're getting paid."

Money is nice, she told the crowd of about 25,000, but without being able to put it to good use, there is not much point.

"I like money," said Winfrey, who has been ranked five times by Forbes magazine as the world's most powerful celebrity. "It's good for buying things. What you want is money with meaning. Meaning is what brings real richness to your life."
Popular in the Community