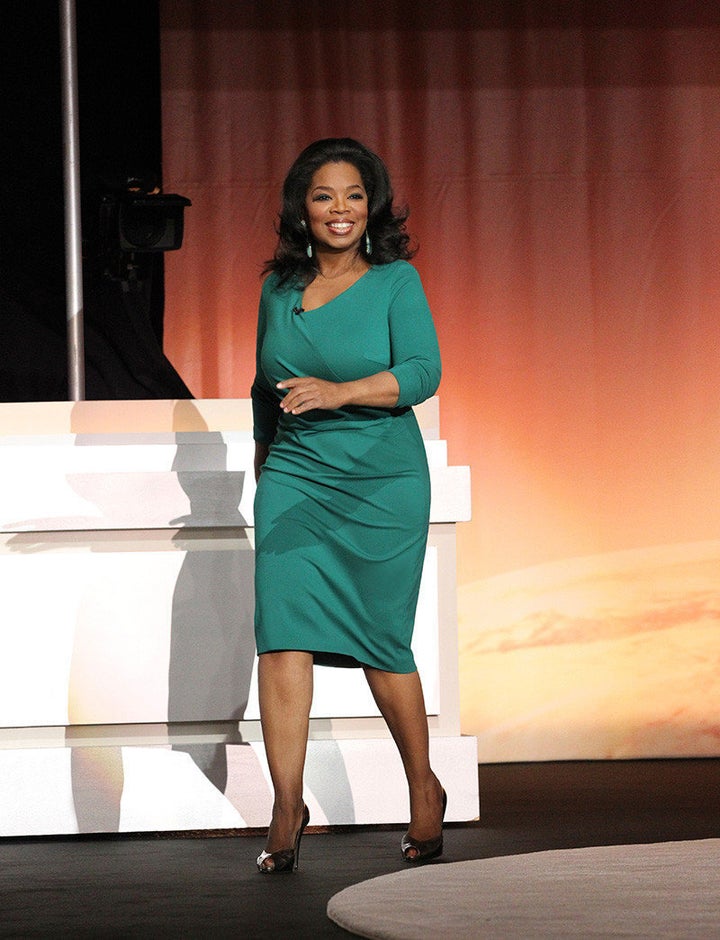 The Thanksgiving tradition is a great opportunity to open ourselves to a full season of gratitude. I'm a big believer in the power and benefits of being grateful. I think it's a major cornerstone in building your best life. I've spoken about this often on my shows and most recently in the November issue of O magazine.
For years I've advocated keeping a gratitude journal, writing down five things every day that brought pleasure and gratefulness. I did so without fail as a part of my daily spiritual practice for at least a decade. Then life got busier. I let my schedule run me instead of me running it. I journaled only sporadically and stopped taking note of the simplest things that brought me comfort and joy, like the things from this August 12, 2004, entry:
•Porch chairs arrived; oh, boy, do I love 'em.
•Reading Mary Oliver's poetry in my new porch chairs.
•Noticing how the light hits the tree leaves. Dappled lighting for real.
•Made the perfect omelet.
•Evening walk with the dogs.
•A steaming bath with bubbles.
I came across that entry not too long ago while decluttering my closets. It put a smile on my face just reading what used to make me so happy. I wondered why I no longer felt this joy. Since 2004, I had accumulated more wealth, more responsibility...
I was busy in 2004, too. I just made gratitude a daily priority. I went through the day looking for things to be grateful for, and something always showed up.
Building a network from ground zero this past year was harder than I'd ever imagined. I'd compare it to climbing Kilimanjaro with no prior training. Just headed up the mountain, and then -- BAM -- gasping for oxygen. I became so focused on the difficulty of the climb, that I lost sight of being grateful for a mountain to climb. Only when I began feeling gratitude for the opportunity to serve a new audience in a new way did a shift happen. Viewers started saying the most profound and positive things about our programming -- things that aligned exactly with what my vision of OWN can be:
"Oprah... this is your calling! I look forward each Sunday to the authentic insight that this show offers. My girlfriends and I are getting together to watch and chat afterward! We are forming our own Super Soul EVERY DAY!" -- Kimberly White Nelson
I'm grateful for every comment. Keep 'em coming.
My life is busier than ever. Just last week I asked my assistant to add up all the days I was away from home this year, and the number shocked even me: 229 days. What I'm most grateful for is the stamina to keep going at this pace. Like so many of you, nothing I do can be phoned in. When I show up, I have to bring 100 percent, all the time.
I'm back to journaling, and whenever there's a grateful moment, I note it on my iPhone...
Today I was grateful for:
•A perfect cup of masala tea.
•A full hour's workout.
•An early-morning run with all five dogs.
•Seven girls from Africa gathered around my table for their first Thanksgiving.
•TRUFFLE mac and cheese (Lord, give me restraint).
Appreciating what shows up in your life changes your personal vibration. Gratitude elevates your life to a higher frequency. You will radiate and generate more goodness when you bring your attention to what you have, and stop focusing on what you don't, because what you focus on expands.
Let this Thanksgiving forge an opening to a bigger and better way of showing up in the world. Practice being thankful every day. Then wait to be amazed!
Popular in the Community