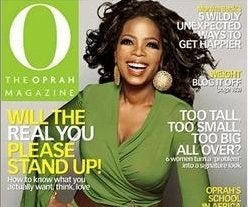 I was one of those Hillary women who was heartbroken when Oprah supported Obama for President.
How could Oprah and her pal Gayle do that do me? Sure Obama was from her hometown and Chicago's favorite son...but I kept asking, what about me?
I have watched, taped or tivo'd the Oprah Show for decades, I have lived my best life with her, Have had Aha moments and have consulted her magazine and web site. Oprah helped me figure out if I was in a good relationship or not -- on a regular basis.
While Oprah had her hometown hero, I was and still am a HUGE fan/supporter of Hillary, New York's favorite daughter. I would watch each primary night like other folks watch the play-offs and the superbowl and my heart was broken in June when it was all over.
So I stopped watching Oprah. I partly blamed her. For six months I refused to think about her. Right before Super Tuesday when I saw Oprah, Gayle and their new pals Michelle, Maria and New York's own Caroline campaigning I turned off the TV and deprogrammed my TiVo.
Now I am in Denver. I know Oprah might be here so I have to face the situation head on.
It is two months since the end of the primaries and I am still a Hillary fan. I always will be. But it is time to take our country back. I know I will cry Tuesday night when she speaks....I will always be proud of the eighteen million cracks on the glass ceiling.
Supporting Obama was easy. I am a Democrat. But, making up with Oprah has been a different story -- but I am ready to move on.
When I see Oprah in Denver I want her to know there are no hard feelings. She did what she thought was best for her country, just like I did. But we are on the same team now. Oprah, Gayle Michelle (especially Michelle) and me. It has to be the winning team.
So when I see Oprah I will let her know...she is back on my TiVo.
Emily Giske is a DNC member from New York.
Support HuffPost
The Stakes Have Never Been Higher
Popular in the Community