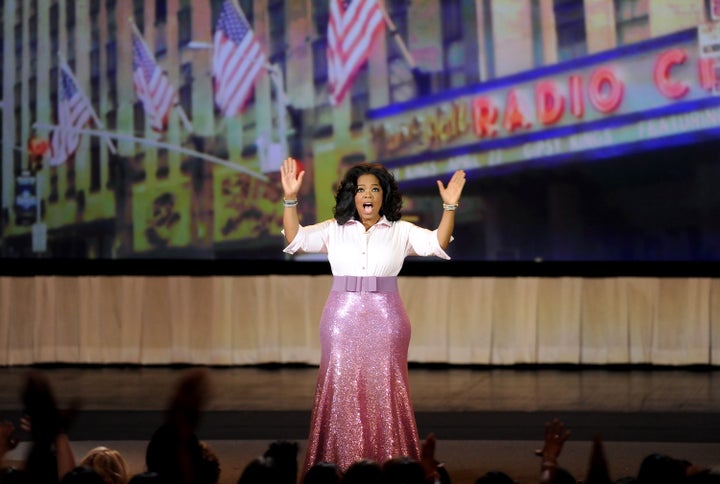 Oprah Winfrey devoted the Oct. 7 episode of her talk show to HIV/AIDS. But instead of it being about anything substantial, eye-opening or educational, Oprah decided to focus on issues that distort the epidemic.
"Why She Sued Her Husband for 12 Million and Won" opened with beautiful, educated Bridget, who had met and married the love of her life. It was a fairy tale -- until the day that, 10 years ago, she found out that she was HIV positive. Later, she learned that her husband was HIV positive, too. And that he had slept with men without using condoms. And that he was the one who had given her HIV. She later sued her husband for $12 million and won.
Yes, it's the "woman as innocent victim duped by the sinister gay down-low brother" narrative again.
To be clear, I don't want to belittle or devalue Bridget's experiences, because what happened to her is horrible. Putting your trust (and your health) in the hands of a spouse, only to be lied to and later diagnosed with HIV, is devastating. And I admit that it's hard to create and implement condom negotiation strategies geared for married women and women who believe they are in monogamous relationships.
But why does the down low continue to dominate most media stories about HIV in America, when study after study shows that closeted gay men having unprotected sex with both men and women isnot fueling the epidemic?
Of course, Oprah didn't have any expert to talk about that. Nor was there an expert to jump to Bridget's defense when gasps of horror in the audience greeted her announcement that she had remarried and was pregnant -- despite her accurate assessment that because she was on antiretroviral treatment, the risk of her baby being born with HIV was extremely low. Given the immense stigma surrounding a positive woman's right to have children, a doctor's insight would have been nice.
And just when you thought the show couldn't get any worse, J.L. King, the godfather of the down-low, came out. Literally. King -- whose 2004 book On the Down Low: A Journey into the Lives of 'Straight' Black Men Who Sleep With Men, catapulted this phenomenon into American pop culture -- finally admitted that he identifies as a gay man. Yet he still warns heterosexual women that not knowing their man's sexual orientation can kill them. (Note to King: The LGBT community might not accept you if you keep falsely blaming them for AIDS.)
The episode's only saving grace was when Bridget became "pissed off" when Oprah used Magic Johnson as an example of how everyone living with HIV can be healthy and life with HIV can be easy. Bridget jumped in and said,
"Let me stop you here. Magic Johnson does not have the same life that an average person [with] the disease. ...Magic Johnson can buy any doctor, any medication in the world. He has people who cook for him. He has people who clean for him. People can live with it, but it's not simple like everybody says."
(The video was removed from YouTube after Oprah's production company sent a copyright warning.)
This moment was powerful -- not just because Oprah's guests rarely ever correct her, but also because for too long Magic has been the poster child of this epidemic, when in fact his access, power and privilege are a rarity among those living with HIV/AIDS.
But those shows are few and far between. Shows like Bridget's story and last year's HIV criminalization fiasco (read the show recap, or an open response letter from Jack Mackenroth of Project Runway fame) do more harm than good when it comes to trying to educate the public about HIV.
Why not report on some of that? Or better yet, why not show what it's like to really live with HIV by letting people living with the disease tell their own stories? Show them raising their families; addressing stigma; dealing with the difficulties of treatment adherence, side effects and the reality of drug resistance; overcoming addiction; battling housing and economic stability issues; dealing with dating, sex and love; navigating homophobia, racism, and gender issues.
You know, all that good stuff.
Given that this is the last season of The Oprah Winfrey Show -- and given her power, access and influence -- I think Ms. Winfrey owes America that much.
For actual interviews of people living with HIV, please visit TheBody.com's This Positive Life video series. Our series gives you the opportunity to gain firsthand knowledge from people of all walks of life on what it means to live -- and live well -- with HIV. Watch them discuss their struggles, hopes and triumphs.
Calling all HuffPost superfans!
Sign up for membership to become a founding member and help shape HuffPost's next chapter