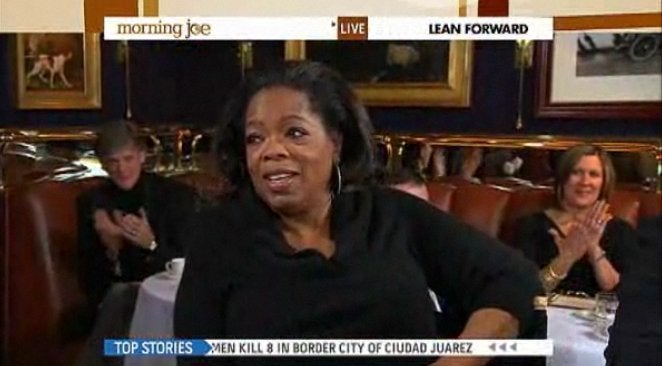 Oprah appeared on a special edition of "Morning Joe" on Friday to talk about President Obama, her new network and her legacy.
The "Morning Joe" team lavished Oprah with praise. Joe Scarborough told her that, when she first appeared at a campaign event with President and Michelle Obama, he felt as though he was watching "just three leaders" instead of three African American leaders.
Scarborough asked Oprah how she is feeling about Obama now. "I'm feeling great about Obama's leadership," she said. She said she had supported Obama because she believed in his "integrity" and "heart," and said that he wanted the country to be greater.
"I have no issues with the Obama administration," she continued, adding that "everybody complaining ought to try it for a week." She concluded that there "needs to be a certain level of respect" for the presidency.
Oprah also had some praise to dish out to her interviewers. "You all do this better than anybody in television," she said.
She also showed that she is keeping close track of how long she has until her show ends. "I have 43 shows left. But who's counting?" she joked.
WATCH:
Calling all HuffPost superfans!
Sign up for membership to become a founding member and help shape HuffPost's next chapter