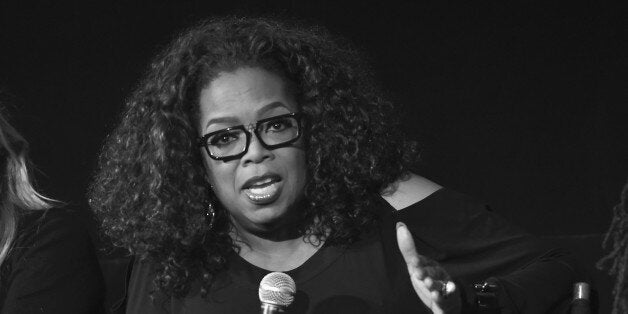 An unfinished cut of the upcoming civil rights film "Selma" screened to a capacity audience at the AFI Fest in Los Angeles on Tuesday, and the film received an emotional standing ovation at its conclusion -- and that was before Oprah Winfrey even came out on stage.
Winfrey produced the film and plays the small supporting role of protester Annie Lee Cooper on screen, but she wasn't always so keen on being so involved. Winfrey told director Ava DuVernay and producers Dede Gardner and Jeremy Kleiner ("12 Years A Slave") that she would do whatever she could to help "Selma" get made. They eventually wore her down.
"I was already putting my two cents in all the time and they said why don't you just join us as a producer?" Winfrey told the audience. She had become fast friends with "Selma" star David Oyelowo while working on "Lee Daniels' The Butler" together -- they play mother and son in that movie -- and his presence in the role of Martin Luther King Jr. was almost immediately evident. It convinced Winfrey the film would work.
"He showed me a tape that he had done and I said, 'Yeah. I could see King in you. It's not quite there. But I can see it's on its way there," Winfrey said. "That's what got me to say yes."
And who could resist the deeply inspirational, oftentimes brutal and viscerally human story of King and hundreds of protestors marching across Alabama, asking for the simple right to vote?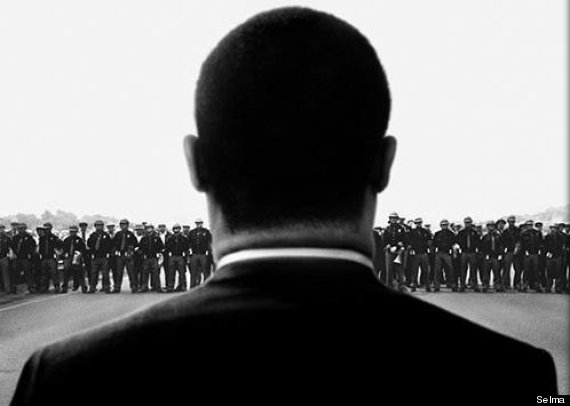 The year is 1965 and the civil rights movement is electrifying the country. Martin Luther King Jr. is a household name. So is Malcolm X. President Lyndon Johnson is in office and King is putting pressure on him to do more to address racial tensions in the country -- all while war rages on in Vietnam.
Selma, Alabama, is the perfect symbol for King. The county it belonged to was over half black, but less than 1 percent of its black citizens were registered to vote. More than 80 percent lived below the poverty line. The laws in Alabama made it quite literally impossible for black voters to register to vote.
King arrives and organizes a march from Selma to Montgomery -- but is met with extreme violence and resistance. The government watches his every move, taps his phones and logs all of his activities. He has consistent phone calls and meetings with President Johnson.
The story is bloody and it is heartbreaking. But DuVernay has delivered a nearly perfect film about protest and progress. It breathes life into shocking true events that many audience members were not alive for -- or have only heard about anecdotally -- if at all. Some might think the title of the film refers to a woman, not knowing the significance of the place Selma, Alabama.
DuVernay, who won a wide range of indie awards for her 2012 film "Middle of Nowhere," told the AFI crowd she never thought about tackling this kind of material. She never even found herself interested in historical dramas. "I'm more of a black indie hipster romance kind of gal," she quipped, to much laughter.
But Oprah recalled with tenderness DuVernay's keen ability to nourish every single person on the expansive set. "That is what she did best," she said. "Including the day that we had hundreds of extras wearing wool clothes in 104-degree heat walking across that bridge over and over again. I watched her walk through the crowd and ask every extra if they were okay and bring water to everyone. I said, 'Ava, someone else can bring water to the people. You don't have to be the one to bring the water to the people.'"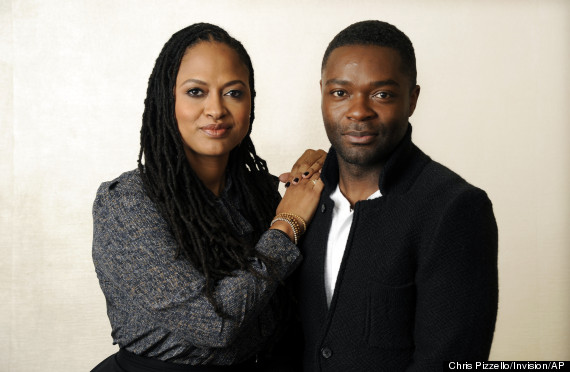 Like Winfrey, DuVernay said the project started and stopped with David Oyelowo. The 38-year-old actor plays Dr. King with fierce strength, quiet ease and a confidence you don't often see in an actor under 40. (No wonder he's already on the receiving end of a good amount of Oscar buzz.) British born with Nigerian roots, Oyelowo said he felt a cosmic connection to the material.
"Soon after my wife and I moved to this country, I was taught from above that I would play this role. On the 24th of July, 2007. I couldn't believe it, so I wrote it down -- that's how I know the date," he said. "The director at the time didn't agree with that higher power. And a process of my birth, my experiences, my faith, time and these incredible people led me to this moment."
Oyelowo wasn't the only person waiting to tell this story. Gardner and Kleiner of Plan B (Brad Pitt's production company) have been dreaming about this film for more than eight years. According to Gardner, its delayed maturation was simple. The film never had the right director. (Lee Daniels, who directed Winfrey and Oleyowo in "The Butler," was once attached.)
But now that "Selma" is coming soon -- Paramount will release the film on Christmas Day before a nationwide bow on Jan. 9, 2015 -- the filmmakers are eying the finish line. Not that the road is clear of potential obstacles: Actor and activist Alfre Woodard, who moderated the post-screening Q&A (which also included cast member Common, who flew from London just to be in L.A. for a few hours for the unveiling), bluntly asked Gardner and Kleiner how they were going to sell the film overseas -- touching on the long taboo topic that black films do not do well with international audiences.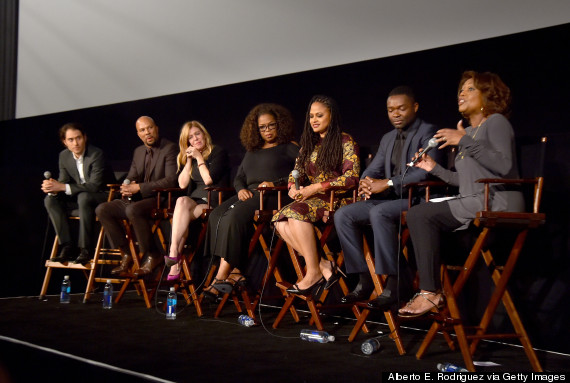 But Kleiner, who is white, did not bat an eye. "We don't believe in the mythology or the false ideology that certain films are predetermined to succeed in some markets and not others." Clearly referring to last year's powerhouse Oscar film "12 Years A Slave," he continued: "We have had some specific examples that have told us that that's not the case. We have high hopes for this film and many films that will come in its path."
Hope itself is a character in "Selma." As is perseverance. The bloody marches that took place under Dr. King's watch led to death and sorrow and frustration. But they also led to President Johnson passing the 1965 Voting Rights Act, a crowning achievement of the Civil Rights Movement.
Oyelowo told the audience that he has had the privilege of living on three continents as a black man: in Europe, Nigeria and now in the United States.
"The thing I learned living in Nigeria is exactly what is said in the film -- that we are born of kings. We are a people of deep pride, incredible culture and indescribable power," he said. "And unfortunately, on the continents of both Europe and America, that has been denigrated over time. I don't think it's any accident that somehow this great man's name was King."
Before You Go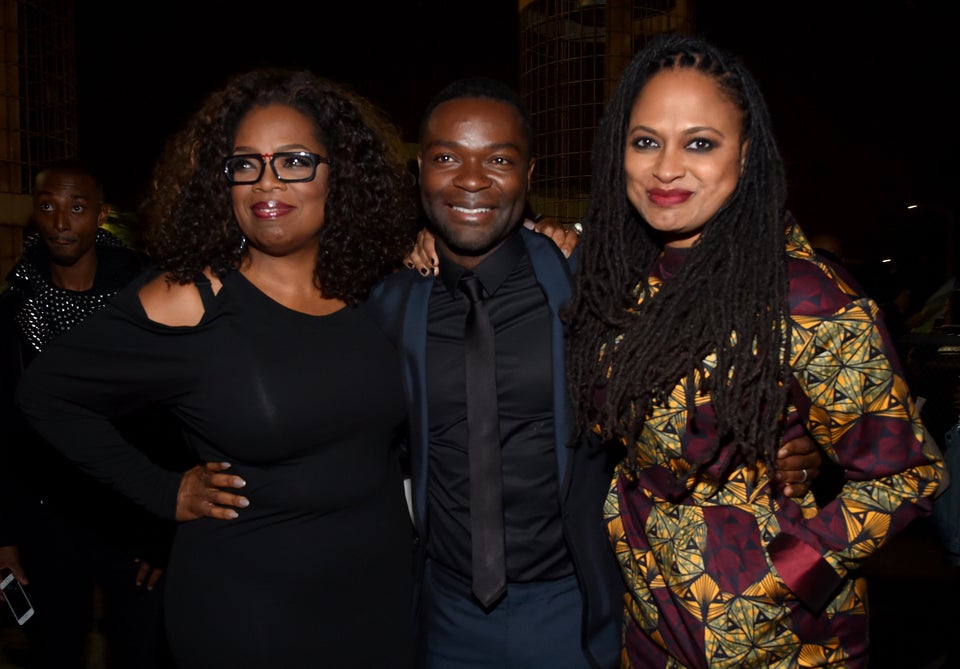 "Selma" Premiere