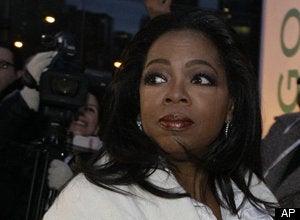 As Oprah Winfrey launches a new campaign against distracted driving, the National Safety Council continues to push states to ban all cell phone use by motorists.
Winfrey plans to dedicate her show to people who lost loved ones in distracted-driving crashes on Monday. The move comes just weeks after Illinois became the 19th state to ban texting while driving. Chicago has banned the practice since October of 2008.
On Thursday, the talk show host said she wants everyone to know "how absolutely stupid it is that we continue to text and drive" and asked drivers to commit to removing cell phone use from their commute.
According to the Harvard Center of Risk Analysis, cell phone use contributes to 6 percent of all crashes, which equates to 636,000 crashes, 330,000 injuries, and 2600 deaths each year.

Meanwhile, police in north suburban Des Plaines reported their first arrest under the new law just hours after it was enacted. About 4:30 a.m. on Jan. 2, police there saw a man ignore two traffic lines in the road while sending a text message, according to the Daily Herald.
Texting was the least of the man's problems, the Herald reports. He was also drunk, driving on a suspended license and uninsured.


Popular in the Community