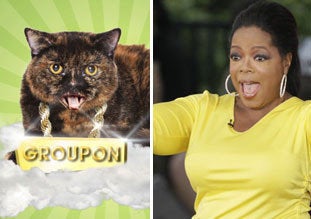 The talk show demigod mentioned Groupon on her show this morning, specifically touting its current partnership with Kiva, a microfinancing company that offers small loans to low-income entrepreneurs around the world. She chose Kiva as one of her "Favorite Things" of 2010, and mentioned that $15 buys a $25 Kiva loan right now.
This, apparently, was too much for Groupon to bear.
The Chicago-based shopping deal site had been having issues all morning, and things apparently got worse after "Oprah" aired at 9 a.m. in Chicago.
Eventually, the site got back in order, although it is still struggling periodically as of 12 p.m. CST. The Kiva deal is still on; "Whether you give the credit as a gift or make the loan yourself, Groupon and supporting sponsors will add $10 to every $15 purchase, up to $500,000," the company writes.
If Oprah's got it on her Favorite Things list, we're guessing that $500,000 will be dried up in a hurry.
Related
Popular in the Community