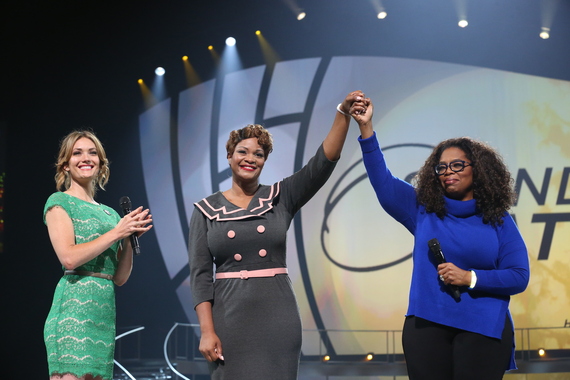 Oprah Winfrey and Amy Purdy (far left) with Jas Boothe (middle), founder of Final Salute, Inc., recipient of the Toyota "Standing O-Vation" Award (photo courtesy of Harpo Studios, Inc./George Burns)
"Your life is speaking to you."
--Oprah Winfrey, The Life You Want Weekend 2014 Tour
There's an old adage: "When life gives you lemons, make lemonade." Media mogul Oprah Winfrey has done just that, turning a life full of challenges and pain into one marked by triumph and joy. Winfrey has shared so much of her life's journey through the years in various forms -- journalist, talk-show host, studio head, actress, editor-in-chief, educator, filmmaker, satellite-radio operator, cable-channel founder, humanitarian -- that one had to wonder what on Earth was left for her to share with audiences, and on what platform? Is there any category in which Winfrey cannot succeed?
The answer, quite frankly, is no, as evidenced by the eight-city The Life You Want Weekend 2014 Tour (sponsored by Toyota and Olay), where Winfrey and friends come together to help audiences, mainly women, get in touch with their deepest desires while offering a blueprint of how to get there. Washington, D.C.'s Verizon Center played host to an event that was actually more of an experience.
The arena was teeming with participants committed to being a part of what has become a rite of passage for middle-class women looking for more out of life. This tour is a mecca for a racially diverse group of women trying to sidestep midlife crises, hold it together at home or in the workplace, gain support that is absent from their everyday lives, or simply figure out what's next in a life that is often moving too fast to function with thoughtfulness and intentionality.
Stepping off the bustling streets surrounding the Verizon Center, one steps into an arena with even more energy that is contagious as thousands of people smile, cheer and exchange pleasantries. The idea that women can't get along is put to rest as women embrace and help each other navigate what could be an overwhelming experience.
Thousands of people dance to the sounds of DJ Kiss while awaiting the presence of Winfrey and the announcement of the next spiritual guide. There are lectures, journaling, dance breaks, meditations, prayers, fluorescent bracelets, dance breaks, laughter, tears, inspirational stories, mini exercise sessions, motivational speakers, shout-outs and dance breaks. There's even O-Town, a pop-up interactive town square where you can score whatever else you may want (your photo next to Oprah's on an O Magazine cover) or need (yoga or free CoverGirl makeup session) during the two-day event.
The Life You Want Tour is literally giving you everything you want, even some things you may not even know you want or need, like spiritual guidance.
Authors Elizabeth Gilbert and Rob Bell offer words of wisdom and encouragement through storytelling. Iyanla Vanzant literally brings down the house with her mastery of rhetorical tools. Many want Vanzant, who sips champagne throughout her presentation, to fix their lives like on television. She is as direct and intentional on stage as she is on screen. Vanzant encourages attendees to aim for authenticity and not perfection. Like Winfrey, she emboldens the audience with words of encouragement, reminding attendees that they have to go through labor to birth the life that they want. As she offers words of encouragement and wisdom, she gently reminds them to have a daily spiritual practice of prayer, meditation and silence.
Winfrey's The Life You Want Tour is more than a spiritual tent meeting disguised as an empowerment super-session. It is an opportunity to learn as much as you can about yourself through the stories of others. The Life You Want Weekend isn't a spiritual mecca; in fact, it is an experiential mecca intent on bringing people together in a myriad of ways. If spirituality speaks to you, then this event is for you. If prosperity speaks to you, then this event is for you. If shopping and fellowship speak to you, then this event is for you. If energy speaks to you, then this event is for you. If personal stories of triumph over tragedy, like that of cancer survivor and veteran Jas Boothe of Final Salute, a Washington, D.C.-based organization Boothe founded to help homeless female veterans, speak to you, then this event is for you.
The Life You Want Tour gives you just that: the life you want for two days so that you can eventually get to the life you need by doing the real work on a daily basis.
After the frenzy dies down, the utopia disappears, and Winfrey takes her final bow as The Life You Want Weekend Tour closes in San Jose, California, one has to wonder what's next for Winfrey. Yes, there's the film Selma, but what will be her next major accomplishment?
Perhaps Winfrey's greatest accomplishment is her ability to remain relevant through a process of reinvention that is effective. In a world where Madonna has become boring, Winfrey continues to redirect, reinterpret and reimagine the world and her place in it. She continuously creates the life that she wants and brings audiences along with her.
The Life You Want Tour is a model for empowerment, encouragement and getting the life you want, one weekend at a time.
Support HuffPost
Every Voice Matters
Popular in the Community