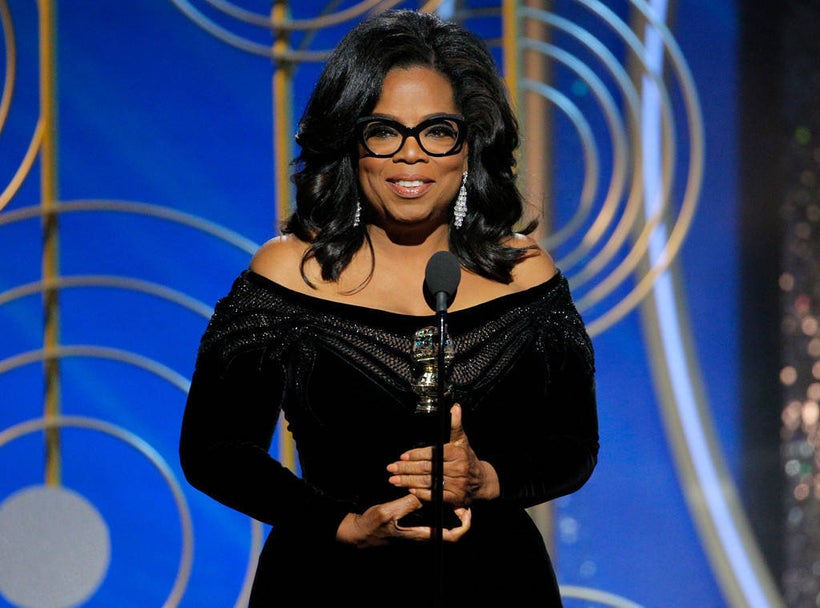 #Oprah2020 is now going to be the debate of the year.
Last night at the 75th Golden Globes, Oprah Winfrey delivered an impassioned speech about #TimesUp, lighting a fire that reverberated throughout the universe. Receiving the Cecil B. DeMille Lifetime Achievement Award, she used her platform to talk about the power of the press, of being the first African American woman to win this award, women's empowerment, and the start of a new movement.
What I know for sure is that speaking your truth is the most powerful tool we all have. I'm especially proud and inspired by all the women who have felt strong enough, and empowered enough to speak up and share their personal stories. Each of us in this room are celebrated because of the stories that we tell. And this year we became the stories. But it's not just the story affecting the entertainment industry. It's one that transcends and culture, geography, race, religion, politics or workplace.
So I want tonight to express gratitude to all the women who have endured years of abuse and assault because they, like my mother, had children to feed and bills to pay and dreams to pursue. They're the women whose names we'll never know. They are domestic workers and farm workers. They are working in factories and they work in restaurants and in academia, and engineering, medicine and science. They are part of the world of tech and politics and in business. They are athletes in the Olympics and they are soldiers in the military.
...So I want all the girls watching here and now to know that a new day is on the horizon!
And when that new day finally dawns, it will be because of a lot of magnificent women, many of whom are right here in this room tonight, and some pretty phenomenal men fighting hard to make sure that they become the leaders who take us to the time when nobody ever has to say 'Me Too' again.
A new day signifies change that women want are ready to do the work for. Here are 5 ways you can walk into the rest of 2018 and empower yourself:
Speak up. It's time that women had a seat at the table. Even the physicality of it matters: if you're at a workplace meeting, literally sit at the table and not off to the side so that you can be seen. Vocalize your ideas without fear of how they will be received. And if a male colleague states the same ideas after you instead of saying "I agree" say "I'm so glad he agreed with me."
Find your passion. Whether it's art, academia, writing, tech, fashion, charity, animals, food, reading, etc find something that you love and care about. It may not happen overnight but vision boards and Pinterest are great tools to help you. When you find something you love you will be more committed and focused to giving your time to it accordingly.
Prioritize your goals. Women are natural multitaskers and life can be very busy, so you can keep your sanity by making to-do lists of everything you need to get done. Wunderlist is one of the most popular tools and you can even share lists with others.
Have a self care day. Even Superwoman can use a spa day. Take one day of the week (or at least a few hours) to binge that Netflix series you've been eyeing, catch up on some sleep, take a bath with some tea, or have a spa day with a girlfriend. Feeling rejuvenated and relaxed will make you more productive the rest of the week.
Raise up other women. As Maya Angelou said: "When you know better you do better." None of us can be successful without the help of others and vice versa. Take time to mentor or be a mentee. Attend speaking engagements or conferences. Be a supportive friend. Showing up can take on many forms, but the key is to be present and have empathy for your sisters.
REAL LIFE. REAL NEWS. REAL VOICES.
Help us tell more of the stories that matter from voices that too often remain unheard.
This post was published on the now-closed HuffPost Contributor platform. Contributors control their own work and posted freely to our site. If you need to flag this entry as abusive,
send us an email
.