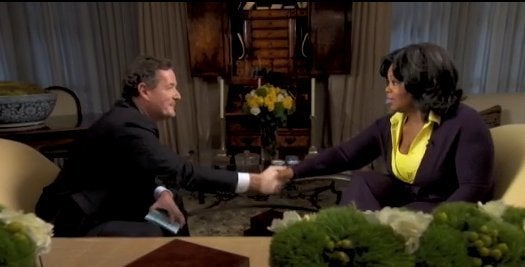 Oprah has won her bet with Piers Morgan about who would book Michael Vick on their show first.
The two made the bet when Oprah was a guest on Morgan's show back in January. The bet was for 200 British pounds, or around $300.
On Monday, it was announced that Vick would indeed appear on Oprah's show next Thursday, February 24.
Still, it's not clear if either Oprah or Morgan will get the money. Last week, Oprah tweeted to Morgan, "I'm pulling out of the bet. I don't know why I let you talk me into it. I don't gamble. Still love you."
"I was told neither of us could get him because Vick couldn't be seen to endorse gambling," Morgan said. "So if you check Oprah's tweets at the end of last week, she suddenly withdrew the bet to me. Now we know why. I've now written to her saying she can only withdraw if she forfeits the bet, and pays up!"