Oprah Winfrey will be the first to admit that throughout her 25 years of hairstyles from "The Oprah Winfrey Show," not all of them were stunners. At the time, however, she and her hairstylist, Andre Walker, were pretty confident in each distinct look. The two were often on the same page when it came to Oprah's 'dos, and their professional relationship over the years transformed into a longtime friendship as well. They've now known each other for more than three decades, and as Oprah tells "Oprah: Where Are They Now?", it all began with one little letter Andre sent her back in 1985.
Back then -- in the pre-"Oprah Show" days -- Oprah was hosting a morning show called "A.M. Chicago." Andre was a loyal viewer of the program, but couldn't help but be distracted by some of Oprah's hairstyles.
"I used to watch you every morning, and I really was enjoying the show and enjoying you," Andre tells Oprah. "But your hair was great one day, and one day, it was not so great. So I thought, 'I wonder what's going on.'"
So, Andre decided to reach out. He sent Oprah a bouquet of flowers and a note that read in part, "I'm dying to get my hands on your hair." Andre had hoped to get a response, but he had never envisioned that little note having such a life-changing impact.
"I had no idea we'd be sitting here 30 years later," he says.
It's been 30 years of good hair, great hair and hairy situations, which both Andre and Oprah can look back on and laugh. Though Andre is now moving on to launch his own haircare line, he and Oprah took the time to reminisce about some of her less-than-stellar "Oprah Show" looks -- including the one she has never let Andre live down.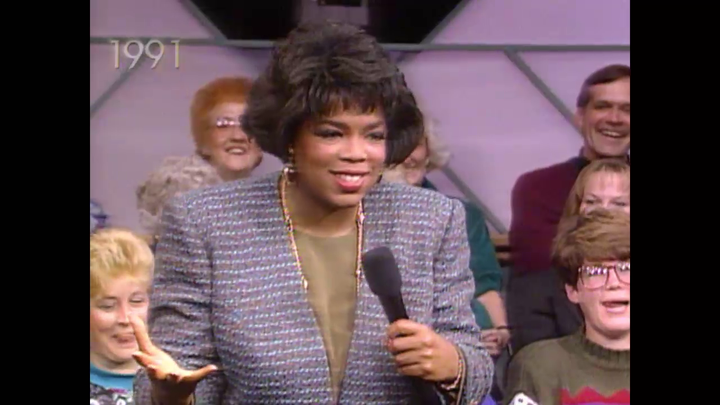 "I hated that hairdo," Oprah says, looking back.
"I just had to do a bob on you because it was such a trendy thing to do," Andre explains. "Not knowing that it wouldn't be very flattering."
Perhaps, Oprah reasons, the bulky fashion she wore at the time has become a part of her disdain. "You know what? The bob with the shoulder pads out to here... Maybe if the shoulder pads were in about three inches, it wouldn't be so bad," she laughs.
"You have never let me live that haircut down," Andre says.
"In 30 years to get one bad hairdo is not bad!" Oprah tells him.
To check out more of Oprah's memorable looks, watch her 25-year hair revolution in just two minutes:
PHOTO GALLERY
Oprah's Hair Through The Years
Calling all HuffPost superfans!
Sign up for membership to become a founding member and help shape HuffPost's next chapter