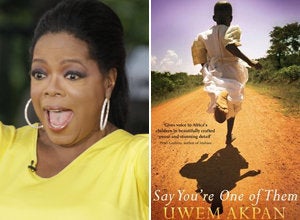 Uwem Akpan's Say You Are One of Them is a lousy Oprah Book Club choice. As the editor of Gods and Soldiers: the Penguin Anthology of Contemporary African Fiction, and as the editor of the literary magazine Tin House, one would think that I would be happy with Oprah's choice of an African short story writer. But I am not. Akpan, a Nigerian Jesuit priest, is a maudlin, sappy writer, and his book only reinforces Western stereotypes about Africa -- that it is a wasteland of child soldiers, poverty, and corruption. While there are serious problems in much of Africa, this is not the only reality. And strictly from the point of view of African fiction, Oprah could have done a lot better.
The stories in Say You Are One of Them are drawn directly from the well-known African headlines, but with little added imagination. They have nothing of the power of Akpan's countryman Uzodinma Iweala's searing novel about a child soldier Beasts of No Nation or Senegalese author Boubacar Boris Diop's novel about the Rwandan genocide Murambi, The Book of Bones. Akpan's writing is pedestrian and plodding, but that has never stopped Oprah before. I am sure Akpan, who by all accounts is a very nice person who is dedicated to doing good work around the world, will make for compelling daytime TV. It is just a shame that this one mediocre book is going to be put forward to stand for all of African fiction. My hope is that it will only be a jumping off point and that some of Oprah's readers will be curious enough to seek out other, better African fiction.
Calling all HuffPost superfans!
Sign up for membership to become a founding member and help shape HuffPost's next chapter