Oprah has declared a new favorite thing: 'CJ by Cookie Johnson' jeans. She discovered the delightful denim on a recent cover shoot for O Magazine, according to Oprah.com.
"The perfect jeans for real women with real booties," she says. "For three days straight, I had on the jeans." Even though she calls herself a "hard-core pajama girl," Oprah says she wore the jeans for a five-hour flight--they were that comfortable.
The declaration comes as part of Oprah's "The Best" episode, which airs on Thursday October 22nd. Check back for video here later.
Here Winfrey models a pair: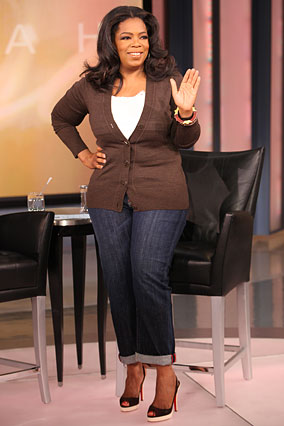 (Photo from Oprah.com)
The designer behind the label, which launched in early 2009, is Cookie Johnson, Magic Johnson's wife. Cookie recounts her own tough time getting a pair that fit:
"Every time I [would] go to the stores, I put the jeans on and I couldn't get them past my thighs. I thought: 'I'm in good shape. I work out. I eat healthy. Why can't I find a jean to fit me?'" Cookie says she eventually had a realization that changed the course of her career. "I said: 'You know what, it's not me. It's the industry.'"
The secret to her success, she says, is stretch fabric.

"My partner, Michael Glasser, is an expert at fabrics, and he searched all over and found these wonderful fabrics from Europe that had great stretch to them but were so comfortable at the same time," she says. "We put a silk waistband inside the waist so they will be nice and comfortable. There's a lot of different aspects to this jean that go to comfort."
Cookie shared her three rules for jean shopping:
Are they comfortable to walk in? Are they too tight in the thighs? Do they come up high enough in the back to cover your goods? "If you can sit down and nothing comes out, that's the pair of jeans for you," she says.
The pants come in sizes 2-18, and cost $141 to $198.
Who Is The Ultimate Game Changer In Style? VOTE NOW!
Related