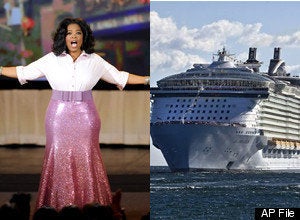 UPDATE: The audience received a 7-night, all expenses paid trip to the Caribbean, with airfare being comped by United.
Among the favorites this year is a Ralph Lauren cashmere sweater and throw, a Nikon camera, a limited-edition Oprah watch, a Bravia Sony television, a custom-built Container Store closet and a 7-day cruise on the new largest ship in the world, Allure of the Seas.
No word yet on where the cruise is going, but we'll keep you updated.
Related