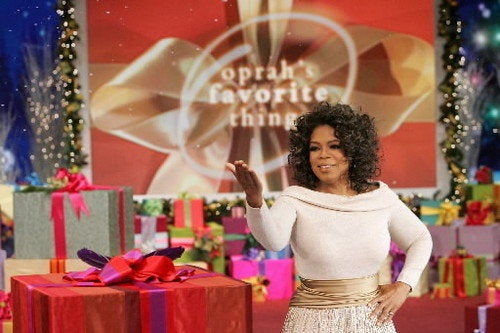 After seven years, Oprah has zero plans to do a Favorite Things episode in 2009, a Harpo employee told Huffington Post. Coupled with her announcement that 2010's holiday season will be her last on the air, the era of crying, screaming and hyperventilating audience members may have come to an end.
The "Favorite Things" show has aired Thanksgiving week in years past, but the "Favorite Things" show is not part of this week's lineup and a Harpo employee told Huffington Post exclusively, "We have no plans this season for a 'Favorite Things.'"
The holiday tradition started when Oprah surprised show audiences with news that the episode was her "Favorite Things," and every audience member went home with each item she touted. People lucky enough to be at the show would haul home thousands of dollars of freebies, from camcorders to refrigerators to pajamas.
The accompanying shrieks of joy became the stuff of legend and SNL skits. The hour-long episodes would be edited down for air as it took time to calm people down between freebies.
In recent years Oprah has filled the audience with teachers (2004), Hurricane Katrina volunteers (2005) and done the show on location in her most-watched area (Macon, GA in 2007) as a reward of sorts.
In the past being featured as a Favorite Thing, much like being an Oprah Book Club pick, was a huge deal for brands and led to massive bumps in sales. Companies happily donated a few hundred of their product to be featured on the Oprah platform.
But in 2008, in response to the economic freefall, Oprah changed course and did a pre-Thanksgiving Favorite Things with a thrifty twist, and each item was very inexpensive or homemade.
Now it seems gift givers in 2009 may have to find inspiration elsewhere.
Related
Popular in the Community