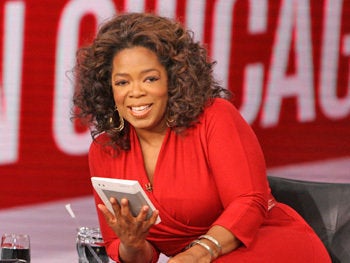 Since Amazon launched the Kindle, its electronic reader, a year ago, it has created a swarm of dedicated customer advocates. But on Oct. 24 it snagged the most important evangelist in Oprah Winfrey, who said, "I'm telling you, it's absolutely my new favorite thing in the world."
Oprah's Midas touch when it comes to selling books is well-documented, so it seems reasonable that the same would be true for Kindle. While Amazon doesn't release sales numbers for the product, it has featured her praise on its home page all week. And if all the search volume, web traffic and blog buzz are anything to go by, she's going to give Jeff Bezos & Co. a bright holiday.
6%: The amount Amazon's visits were up Oct. 24, the day Oprah endorsed Kindle on her show, over the previous Friday, according to Hitwise. Visits on Oct. 25 were up 4% over the week-before period. While Hitwise doesn't report actual site visits, Amazon is a top-20 internet site -- so a 6% bump can translate into hundreds of thousands of visitors.