CHICAGO (AP) -- Oprah Winfrey wiped away tears as celebrity after celebrity surprised her during a farewell double-episode taping of "The Oprah Winfrey Show" that will precede her finale.
"Thank you is not enough, but thank you," Winfrey told the crowd of 13,000 gathered at Chicago's United Center on Tuesday night for "Surprise Oprah! A Farewell Spectacular." "For your love and your support, thank you."
The crowd gave Winfrey a standing ovation when she first walked on the stage. Then the stars came out, with Winfrey's producers making good on their promise of the biggest celebrities of movies, music and television.
Aretha Franklin sang "Amazing Grace." Tom Hanks acted as host for the evening. Michael Jordan, who led the Chicago Bulls to six NBA championships during the 1990s, told Winfrey she inspires him. Tom Cruise, famous for his couch jumping on Winfrey's show, was there. Jerry Seinfeld wore a tuxedo to give a comedy routine. And Madonna said she is among the millions of people who are inspired by Winfrey.
"She fights for things she believes in, even if it makes her unpopular," Madonna said.
Winfrey announced in November 2009 that she would end her popular talk show after 25 years. Tuesday's taping will air May 23 and 24, before Winfrey's final show on May 25.
"You always had the power, and that is the message you brought into our lives," Cruise told Winfrey.
The show highlighted Winfrey's charity efforts over the years. About 300 Morehouse College scholarship students walked along the United Center aisles as Kristen Chenoweth sang "For Good" from the musical "Wicked." Grammy winner John Legend was beamed in from a New Orleans school and Winfrey's book club was lauded for getting millions to read.
Josh Groban and Patti LaBelle sang "Somewhere Over the Rainbow" as Winfrey sat in a white chair onstage. Jamie Foxx and Stevie Wonder sang "Isn't She Lovely" to Winfrey. Wonder followed with his own song, singing to her, "Oprah thank you for using your gifts to uplift so many hearts." Simon Cowell made an appearance; Rosie O'Donnell sang a Broadway-style song.
Winfrey's longtime partner, Stedman Graham, introduced Franklin after telling Winfrey he loved her and was proud of her.
"It really does amaze me that I get to be around a woman who changes people's lives every day and who also takes her own lunch to work," Graham told the crowd. "You know what really is amazing? You have done this, sweetheart, through all of the sacrifices you've made, humility you have and through God's amazing grace."
That's when Franklin took the stage in a one-shouldered white gown to sing "Amazing Grace." She later joined Usher for the show's finale song, "Oh Happy Day," as sparkly confetti filled the arena.
Maria Shriver, the TV journalist and Kennedy heiress, appeared on the same day it was revealed her husband, Arnold Schwarzenegger, fathered a child with a woman on his household staff more than a decade ago. Shriver did not mention her husband during the taping.
"You have given me love, support, wisdom and most of all the truth," Shriver told Winfrey. "And I know I'm not alone in receiving those gifts from you."
The taping of the second show began with Will Smith and his wife, Jada Pinkett Smith, who thanked Winfrey and told her she mothered millions and "that puts you in the status of a goddess."
Actresses Halle Berry, Queen Latifah, Katie Holmes and Dakota Fanning all appeared, along with newswoman Diane Sawyer.
Beyonce sang her song "Run the World (Girls)" backed by dozens of dancers. Rascal Flatts performed too.
"Oprah Winfrey, because of you women everywhere have graduated to a new level of understanding of who we are, of what we are and most of all who we can be," Beyonce said.
The stadium was decorated with pictures of Winfrey at seminal moments over the course of her talk show. Boxes of tissues were on scattered seats throughout the audience.
Harpo Productions received more than 154,000 ticket requests for seats to Tuesday's event. Tickets were free and distributed to fans through a lottery.
Winfrey also received messages from some less-famous admirers. Female American soldiers gave a taped message from Iraq and three female fans from countries around the world came on stage. The show was interspersed with clips of Winfrey's fans and flashbacks of previous episodes.
How did all of these celebrities go unnoticed in Chicago? 312 Dining Diva and HuffPost blogger Audarshia Townsend reports that all of the celebrity guests stayed at Chicago's Peninsula Hotel under aliases--all except former "American Idol" judge Simon Cowell.
Celebrities such as Lisa Ling, Carson Kressley, Jessica Seinfeld, Ally Wentworth, Bob Greene and former Chicago Mayor Richard Daley sat in the audience.
Check out some photos from the show here: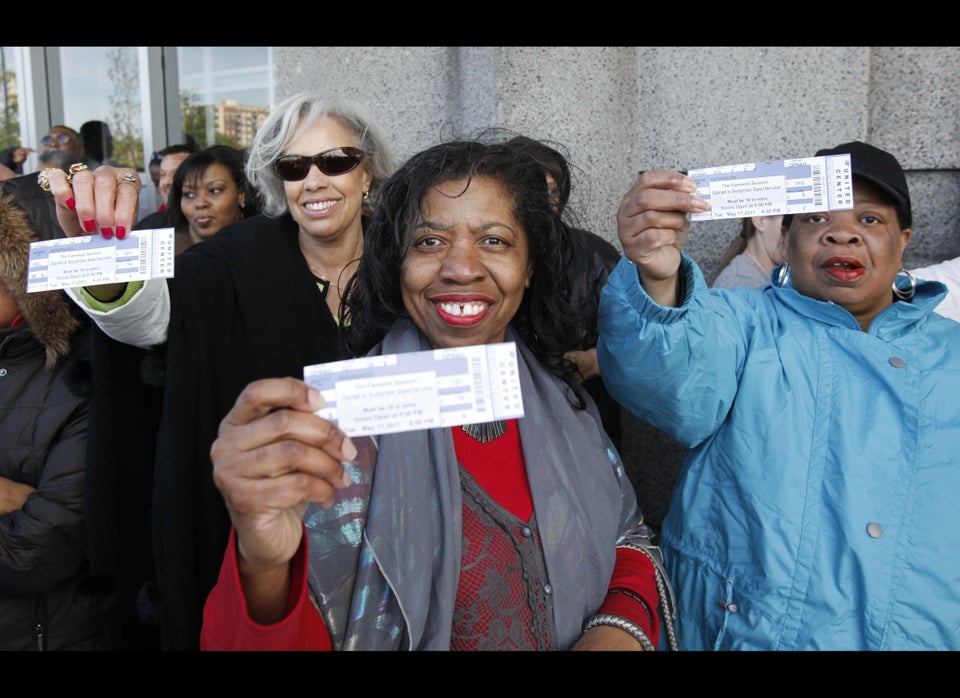 Surprise Oprah! A Farewell Spectacular
Related
Popular in the Community