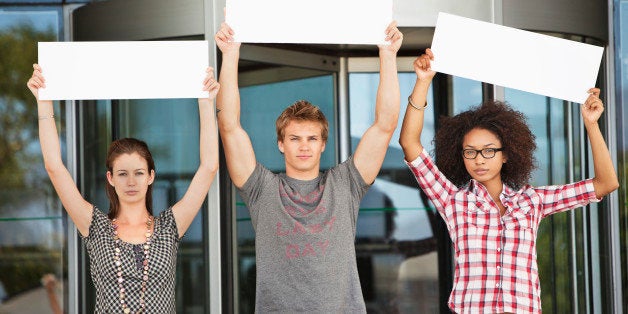 The parent and teacher campaign to have children opt-out of high-stakes Common Core aligned testing is remarkably successful. In New York, 20% of students refused to take the high-stakes tests last April. The campaign is so successful that politicians on national and state levels from both major parties want to diffuse the movement before it can reshape education in the United States, overthrow the testing regime, and break the hold of test companies over school curriculum.
The much-applauded federal Every Student Succeeds Act (ESSA) signed by President Obama last week strips away federal authority to impose Common Core or any other curriculum on states or to punish states where students perform poorly on high-stakes testing. However, ESSA does not eliminate federally mandated standardized testing. In fact, ESSA largely keeps the high-stakes testing regime in place requiring that 95% of students in each state take whatever new exams are created or else a state can lose Title 1 funding. Title 1 of the Elementary and Secondary Education Act provides federal financial assistance to local education districts and schools with a large number of children from low-income families. The big shift is that states can make their own tests.
Randi Weingarten, the president of the American Federation of Teachers, claimed the law, which severed teacher evaluations from student test scores, represents "a new day in public education." But a number of Civil Rights groups fear the new law, by severely limiting the federal role allows low-rent Southern and Southwestern Red States to cut budgets and offer substandard education to poor and minority children. Many of these states were the hub of the Civil War Confederacy and have resisted equal rights and equal education for the last 150 years.
The second big victory for opt-out last week should also be approached with caution. In New York State, a task force appointed by Governor Andrew Cuomo recommended recruiting teachers and parents to rewrite the state's educational standards with special attention to making the standards for lower grades more age appropriate. The task force also proposed that state education officials not use student test scores to evaluate teachers at least through the 2018-2019 school year. In a major step forward, the task force recommended that "educators, not a private corporation," should "drive the review and creation of State standards-aligned tests in an open and transparent manner."
The Governor embraced the recommendations claiming he wants to eliminate "confusion." More likely he hopes to silence opposition. Both Cuomo and New York State Board of Regents Chancellor Merryl Tisch continue to insist that testing is central to "adopting and maintaining higher standards."
While the task force recommended reducing the number of days spent on testing it did not propose eliminating high-stakes tests and there were no specific recommendations for reducing the number of tests. The task force also recommended keeping standards and tests basically the same for upper grades where students are tested year after year. While teachers would be freed from evaluations based on student test scores, curriculum would remain heavily test centered.
Part of my problem is that I do not trust either Andrew Cuomo or the leadership of the New York State Board of Regents and the Education Department. Last January Cuomo demanded that student scores on high-stakes Common Core aligned standardized math and reading tests count toward 50% of a teacher's annual evaluation. Now he wants us to believe he has seen the light and is open to change.
Just this October the New York State Education Department ran an online survey that was supposedly designed to explore public sentiment on Common Core. Although the survey has been completed for two weeks, no report has been issued on responses.
The survey was so long and complicated that critics charged it measured nothing. In fact almost nobody completed it. Nowhere could you vote that Common Core Standards aligned with high-stakes testing undermined education in New York State, stressed out students and teachers, turned curriculum development over to test design companies, and transformed schools into test prep academies. These are the real reasons parents and teachers oppose Common Core. No one was going to vote that New York State should not teach children to read, write, and think.
New York State Allies for Public Education (NYSAPE), a leading part of the national opt-out movement, ran its own online survey. In one week it received 12,000 responses. A third of these respondents admitted that they attempted to complete the state survey but gave up.
The NYSAPE survey found that over 80 percent of respondents believe the English/Language Arts and Math standards in grades K-3 are developmentally inappropriate. In addition, only two percent of respondents approve of the high school English/Language Arts and Math standards and over ninety percent thought the Common Core exams in grades 3 through 8 are flawed.
Obama-ED and Cuomo-Core may be in retreat, but the advocates for high-stakes Common Core aligned tests have not surrendered. It is crucial that the opt-out campaign remain in high gear. In addition, parents in high-performing states like New York and Massachusetts must insist that the federal government not abandon the education of poor and minority children in the old-new south and southwest bright red states.
Calling all HuffPost superfans!
Sign up for membership to become a founding member and help shape HuffPost's next chapter