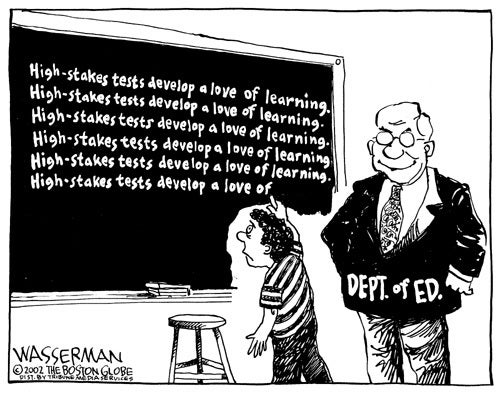 New York State has the largest opt-out movement in the United States. Hundreds of thousands of parents annually refuse to have their children take long, boring, intrusive, standardized tests. While final opt-out figures for the grades 3-8 March 2017 English/Language Arts tests will not be known until August, numbers are holding steady. Unofficial early reports indicate that the movement is especially strong in Long Island school districts and remains steady across most of the state. This is despite a concerted effort by state officials, charter school advocates, and corporate "philanthropists" to ramp up support for testing and to undermine the parent-led movement.
Charter schools with deep corporate pockets have been at the forefront of the pro-test movement, hoping to garner support from State Education officials to expand their operations and funding. Charter executive Eva Moskowitz organized a pro-test rally at New York City's Radio City Music Hall. She gave 3,500 Black and Latino children a day off from school so they could chant "Slam the Exam." The privately run, publicly funded charter network operates forty-one schools in New York City. According to an article in the New York Daily News, "Success Academy had $49 million in net assets in 2014 and received at least $35 million from hedge fund billionaires in 2016."
The coalition that promotes high-stakes testing claims it is a populist movement especially concerned about the education of minority children. But proponents of Common Core and testing are as grass-roots populist as Donald Trump and his Goldman Sachs cabinet. Their funders include the Eli and Edythe Broad Foundation, the Bill and Melinda Gates Foundation, the Bush Foundation, JP Morgan Chase, and the Walton Foundation. The NY chapter also received money from Bloomberg Philanthropies. Many of these "foundations" have ties to technology companies planning to make money off of high-stakes standardized testing.
The opt-out movement is now targeting New York State Education Commissioner MaryEllen Elia, demanding that she be fired by the state's Board of Regents. Although when appointed Elia promised to be responsive to parental and teacher concerned, her "reforms" have made the situation worse. According to NYS Allies for Public Education (NYSAPE), "Elia further compounded the testing debacle by implementing untimed tests in New York, resulting in substantial numbers of children testing for the entire school day for days on end." In addition, this year the state rolled out a new electronic iPad test option designed to replace paper exams. But the there were glitches and some third-grade students were given tests for the wrong grade level. Elia was already fired once by a Florida school district before arriving in New York.
NYSAPE has been documenting test abuse, misinformation, phony pro-test rallies, Youtube videos, and out-and-out bribes such as pizza parties used to hook children and families and undermine opposition to the testing regime. Eileen Graham, a Rochester public school parent and founder of the Black Student Leadership charged, "When a school resorts to bribing students to take a test, it says more about our dysfunctional education system than any test score. Unfortunately, Commissioner Elia's lack of leadership has created a corrupt learning environment in which administrators feel pressured to compromise their integrity by promising pizza parties and field trips in exchange for test participation."
According to Jeanette Deutermann, a Long Island public school parent, and founder of Long Island Opt Out and NYSAPE, "Commissioner Elia's failure to keep accurate data on untimed testing is incompetent at best and deceitful at worst. By refusing to ensure that schools are complying with New York State's 1% cap on the number of instructional hours devoted to the state tests, the Commissioner has shown utter disregard for the well-being of children and opened the floodgates for abusive testing practices with little to no accountability." Deutermann wants Elia removed from office.
In a seemingly unrelated, but telling incident, MaryEllen Elia exposed a fundamental flaw in Common Core and her own insensitivity and incompetence. In Oswego County, a teacher had students in an English class image they were a Nazi Party leader. They were told to write arguments either for or against the extermination of European Jews. At least two students protested the inappropriateness of the assignment. When Elia was questioned, she thought the assignment was acceptable because it encouraged critical thinking. According to Elia, defense of Nazi death camps is "certainly a question where you want students to think on both sides and analyze . . . which position a person is taking. That idea of being able to identify the perspective an article has or a writer has is a very important skill."
It is unclear to me what other side Elia was talking about. Pro-genocide? Apparently it was unclear to Elia as well because a week later she recanted her statement.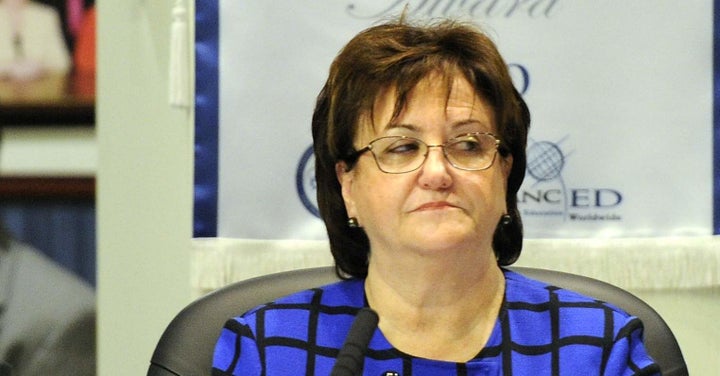 While Elia is incompetent and should be fired by the State Board of Regents, a more serious problem is with Common Core. It encourages the teaching of reading and written analysis devoid of content understanding and moral judgment. The assignment was given in an English class, not a history class where students studied about German anti-Semitism and Nazi atrocities in depth and debated reasons why the European Holocaust happened. So what if the Nazis killed millions of people, this assignment was about analyzing the meaning of an anti-Semitic text, identifying the Nazi authors' position, and making a case supporting genocide.
My granddaughter, a seventh grader, asked me why the reading passages on the three-day ELA reading test were so boring. Maybe MaryEllen Elia could explain that before she exits New York.
Calling all HuffPost superfans!
Sign up for membership to become a founding member and help shape HuffPost's next chapter