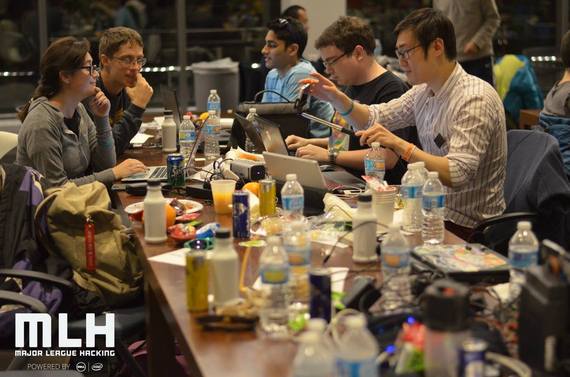 The winning team for Best Social Innovation application hard at work during Georgetown University's biggest hackathon ever. Photo Courtesy of Major League Hacking.
Billion dollar texting apps, multi-million dollar raises for niche social networks, and countless games that simulate everything from farming to raising goats. For years critics have lambasted the rise of these "innovation light" consumer tech companies dominating VC portfolios on both coasts. This growing trend has left many to question why our nation's brightest minds are fleeing to the Valley in droves to build the next great shopping app instead of helping to cure cancer or fight climate change.

I get these concerns, I really do, but I'm not worried. Actually, I'm hopeful.

I'm hopeful that the next generation of technology leaders will course-correct; focusing their considerable brainpower on tackling the world's most complex social and environmental challenges with correspondingly complex innovations. While there are a host of systemic tensions that have led to the current state of affairs in tech, I'm optimistic that the development of value-driven innovations will prevail over the next cool "Pinterest for X."
"Value-driven" may not be the first adjective that you'd use to describe Millennials and our younger Gen Z counterparts - but it's certainly in my top three. And I'm not alone in this sentiment. According to Deloitte's 2015 Millennial survey, seventy-five percent of Millennials believe businesses are too fixated on their own agendas and not focused enough on helping to improve society. For six in ten Millennials, a "sense of purpose" is part of the reason they chose to work for their current employers. In short, this is a generation that is focused not only on getting paid - but getting paid with purpose. And drawing on Forrester Research's prediction that in the future all companies will be software companies, it's reasonable to assume that the values of our next gen tech leaders will influence the innovations that will be developed, and the problems that these innovations aim to solve.

My sense of optimism around the future of tech was reinforced last week, when I served as a judge for Georgetown University's inaugural HoyaHacks, a 36-hour hackathon drawing more than 300 students from over 105 Universities. I'll admit that I wasn't expecting an overwhelming number of submissions for my category - the Best Social Innovation Hack, with prizes from brand name sponsors like Twitter and PwC. However, roughly one third of the 70 submissions addressed a social need, ranging from a web-based application to help victims of sexual assault find resources for recovery, to a headset that would allow people with severe disabilities to type using brain signals.

Though the competition was steep, I awarded the prize to a four-person team of college students who developed two healthcare applications, both of which leveraged the use of wearable fitness trackers. The team consisted of Caeley Looney (Embry- Riddle Aeronautical University '18), David Steinberg (University of Maryland '16), Gene Chorba (Georgia State University '16), and Tae Hong Min (Lehigh University '16).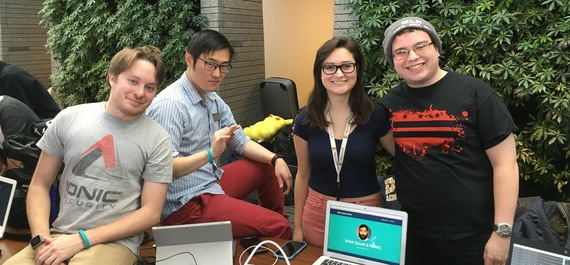 From left to right: Gene Chorba, Tae Hong Min, Caeley Looney and David Steinberg, winners of the Beeck Center's Prize for Best Social Innovation Hack. Photo Courtesy of Major League Hacking.

The team's first application was an enterprise solution for monitoring and coping with panic attacks and unusual heart rates using wearables. When a panic attack hits, the user is offered coping mechanisms such as music therapy. If the heart rate remains at a high-risk threshold after a set amount of time, then the application sends a text message to a nearby hospital to call an ambulance, in addition to sending the user's medical records to the attending physician.

In addition to developing this consumer-facing application, the team also built an enterprise system that would allow physicians to automatically access their patient's health data during in-office visits. Utilizing Bluetooth technology, physicians would be able to access their patient's diagnostics such as heart rate and blood pressure, as well as their electronic medical records (EMR) at the moment the physician enters a room to provide treatment. This information would be captured from the patient's wearable fitness tracker, and would then be transmitted directly to the physicians' tablet or smartphone. This application would also collect and monitor all of the patient's health data over time, to provide better outcomes for each individual patient, while improving overall performance in patient care.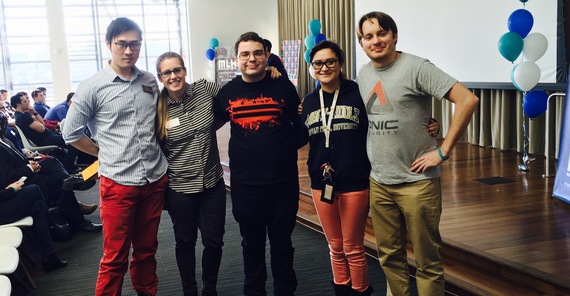 From left to right: Tae Hong Min, Liz Anderson, David Steinberg, Caeley Looney and Gene Chorba at HoyaHacks' Closing Ceremonies. Photo Courtesy of Major League Hacking.

The team was the first to admit that bringing the latter enterprise system to market would be rife with challenges - from data security, privacy concerns, and a laundry list of regulatory barriers. Though none of these challenges are insurmountable. At the Beeck Center, we're constantly envisioning how society can leverage the power of data and technology to get to better outcomes for citizens. The potential for disruption that this kind of technology would have in the healthcare industry is certainly worth further examination, iteration and hopefully, funding for this young group of innovators.*

When I asked the team why they chose to tackle this problem, their answer was simple: "People in the health industry are already too busy saving people's lives, so it's up to us to help them and the world out."

*If you're interested in providing mentorship or funding to help this talented group of coders get their concepts from prototype to product, get in touch: calmsystemteam@gmail.com
REAL LIFE. REAL NEWS. REAL VOICES.
Help us tell more of the stories that matter from voices that too often remain unheard.