At first, I thought it was just the group of people I was spending time with. Among them, the talk was rapid-fire and filled with unbridled enthusiasm. So on the second day at South by Southwest, I ranged further out - into the panels and into the impromptu lunch gatherings that crop up throughout this sprawling interactive conference. To my surprise, each and every person I spoke with was riding a wave driven by the fast moving social media explosion that is sweeping across media, advertising, and consumer products. It seems these are good times for the Digital Natives and their technology-driven businesses.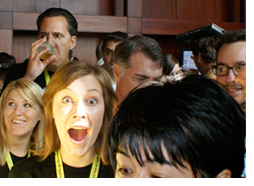 But, it's not as simple as that. The change is fundamental. The fear and concerns written large across the headlines of the nations daily newspapers aren't lost on the attendees of South by Southwest, it's just they've already adjusted their work styles and their income expectations to fit the job market of the future. They're not afraid of change, they're living it.
But, let's go back a bit. What is this gathering? And why is it growing as conferences across the country are experiencing unprecedented decreases in attendance?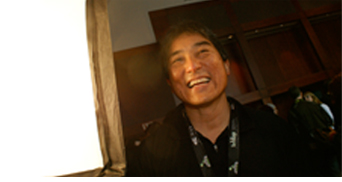 South by Southwest began way back in 1987 as an indie music festival in the now hip heart of Austin, Texas. As the festival grew, it became a magnet for new sounds and new trends in music. In 1994 the festival added a film component, and the indie film world counts SXSW film as an important place to discover new talent and new films. Finally, (also in '94) the South by Southwest Interactive festival was launched. Catering to indie media, open source developers, and wide range of digital content creators, bloggers, video game makers, and developers. So SXSW has a unique mix of creative talent, a spirit of innovation, and deep rooted commitment to the emerging evolution of the digital economy.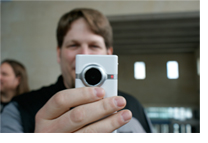 While many things have happened at SXSW, it is perhaps best known as the place where two years, ago when a then unknown social technology called Twitter "blew up" (that's hipster talk for, got big fast, and achieved critical mass). So, it's no surprise then that SXSW is pretty much fueled by Twitter. Attendees counting on Twitter to foster chance meetings, impromptu 'tweet-ups' and an almost overwhelming number of discussions, demos, presentations, and a wild and raucous nightlife that is a huge part of the SXSW experience.
When you roll in to SXSW (for me it was both my first time at the festival and my first time in Austin) your first assumption is that somehow everyone there is on some version of daddy's credit card or trust fund cash. The crowd is young, mobile, and carrying the best and latest in techno gadgets and gear. But those economic assumptions would be wrong. In fact, most of the folks here have arrived on some mix of discount airlines, bus trips, shared car rides, and there's an underlying conversation about shared hotel rooms, shared house floors, and where the best free food or beer is each night.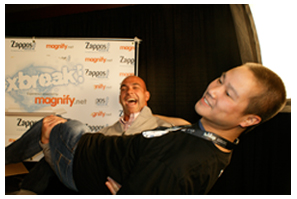 SXSW and its economic enthusiasm is important. It's real, and its basis is worth a bit of deconstruction.
First, unemployment. It's the talk of almost everyone these days, but not at SXSW. Why? Because no one at SXSW has a "job". These folks are living in a post-employment economy. Don't get me wrong, they all work - a lot. They're working for multiple companies. One person I talked to had 3 of his own web sites, that each earned $50 to $100 a week in AdSense income, worked as a "Social Media Consultant" for 3 big US brands, had written an eBook that was about to be released, and was working with two friends on a start up. Another had a full time consulting gig for an ad agency, and was doing a number of side projects. A third had just quit her job at a newspaper, after getting an offer to join a well-known technology company (freelance) and move from Chicago to New York. The stories were all like that. Self-Employed, multiple projects, overlapping in content, ecommerce, PR, media, web, development and programming. These so-called digital natives have created an economic safety net that is driven in part by creating awareness of their work through personal branding and a relentless ability to keep their name and their work front and center among their "Tweeps" (that's the Twitter version of "Peeps").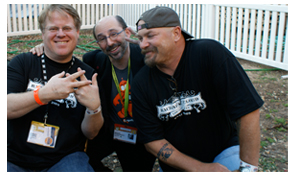 Next, the stock market. While lots of folks are wringing their hands about the market, the folks at SXSW simply aren't in it. They're either too young, or self-employed, or just not willing to bet on other companies when they can bet on themselves. The bottom line is, at SXSW there wasn't anyone checking their iPhone to see if the market was up or down, it just didn't matter.
Church and State. While Newspapers and media companies wring their hands about the 'Chinese wall' between Church and State, these SXSW digitals are working all sides all the time. One of my friends is a well known publicist who is a blogger, a PR man, an author, and an organizer of media events that large media and technology companies pay tens of thousands of dollars to participate in. While old media institutions agonize about journalistic objectivity, the folks attending SXSW understand that it is more about transparency.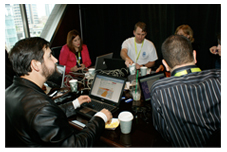 Finally - "Brand Me". At SXSW there was a stream of photographs, flickr streams, blog posts, and tweets. Everyone, it seems, wanted to be on-camera at SXSW. For the new class of self-employed media makers and consultants, keeping your personal brand in front of your peers and clients is a daily effort. There's no doubt that the digital generation is making as much media as it's consuming - and it's crucial they keep their story front and center in their community.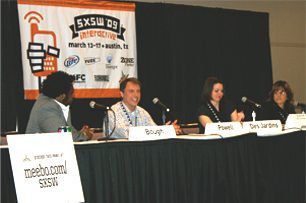 So, why is the mood so up at SXSW? Because, for the folks who are members of the new era of Digital Natives - everything is indeed coming their way. Brands are beating down their door to learn how to play in the social media space. Technology is making it easier to build businesses and revenue without overhead or investment. Because, even as newspapers, record companies, book publishers, and auto makers are suffering - digital film, news, eBooks, eCommerce, software and social media platforms are all quickly growing.
Standing amidst ten thousand digital media makers and consumers, there's little doubt about the state of their industry. SXSW 2010, sign me up.
Related
Popular in the Community