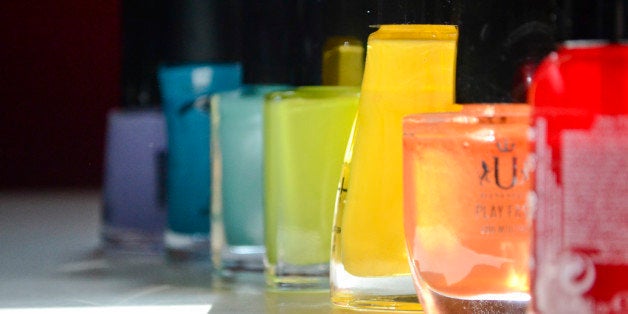 It was time to buy new (preferably non-toxic) nail polish. I had visions of a nail-strengthening, eco-friendly, low odor color in mind. After all, spring is here and I was in the mood for pink. Not purple, not magenta, not red. Not too light, not too dark, not too metallic. I'd know the right one when I saw it.
Now, don't get me wrong. While the selection of nail color is a quick thrill, and I use many beauty products that are humane and earth-friendly, this decision was not going to change the world, right? Still, the wrong color can be a personal disaster. I didn't want to wind up with something that looks like a rotten peach next to my pale skin. I see a color that is just right, so I imagine it on my freshly-manicured toes and pull the seemingly harmless bottle off the shelf for a closer look. The color I decided upon is called "Optimistic." Well, that made me smile, and I just knew I had to buy it.
Yes, I am optimistic these days. And that's a nice feeling, because two years ago I found out I had an aggressive form of breast cancer. My world was turned upside down. I've never been so low in all of my life; I wasn't sure I wanted to live through it. I faced my darkest fears. My soon-to-be-completed book, What A Blip, tells the whole stinkin' saga. It was a game changer, but that is all behind me and there I was, selecting the perfect nail polish for my cute, little toes (I usually go with a classy neutral on my fingernails).
While I stood there looking at the array of pretty colors and thinking about my new, happy, optimistic view on life, I wondered how much time women generally take to make such decisions and what value they place on the kind of product they buy.
As it turns out, after going through such a sudden, unexpected, terrifying experience, I've begun to question everything. I've developed serious paranoia about the world around me and all of the chemicals we live with. Take one look at any beauty magazine, and you tell me what the message is. I'm seeing chemical after chemical imposed upon us, in the name of beauty.
I only recently found out through the Breast Cancer Action website that the cosmetics industry is not regulated or required to report all of the chemicals in their products. When I read this, my mouth hung open in disbelief. I thought in the wonderful United States we would have such policy firmly in place; I was sorely mistaken.
At the store, I walked by rows and rows of hair color and I sincerely wondered what we are doing to ourselves. I don't have the answer, but I'm starting to pay closer attention to the questions. Perhaps you can too. There are resources available online, such as Environmental Working Group's Skin Deep, where you can look up the hazard levels of cosmetics and hygiene products for men, women and children, and read tips on what chemicals to avoid. The site is easy to navigate and is doing a wonderful service.
Years before my breast cancer, I was, at the very least, using non-perfumed products whenever possible but I admit, the au natural beauty police might not have approved of all of my products. I had not given much thought to all that damn hairspray I used, for instance. When I lost my hair thanks to chemotherapy, I began to realize just how much potential crap I had exposed myself to in the past. It's a bummer that it took a deadly disease to nudge me to evaluate my beauty regimen more closely. I haven't eliminated all of the dangers, but I do review my selections more carefully now, while trying not to develop a nervous twitch in the process.
Can we have pretty pink toes and be optimistic about the future at the same time? This is what I want to know. This is what I want to be able to answer for my teenage daughter as she assumes as I once did,that her nail polish, moisturizers, perfumes and whatever else sits on her dresser, like a religious altar to the beauty gods, are not harmful.
REAL LIFE. REAL NEWS. REAL VOICES.
Help us tell more of the stories that matter from voices that too often remain unheard.