It has been said that a picture is worth a thousand words. Does that make a 15 second video worth 15 thousand? It should be more since several pictures make one second of video, but the real value of embedding Instagram photos and videos to your website are the signals your page will send to the search engines.
Today, Instagram announced a simple way to embed photos and videos from Instagram into your web page. And your fans can also find your Instagram photos or videos on a desktop browser (not from mobile), click the new "share" button (on the right, below the comments button), copy the embed code and paste the code to "their" web page.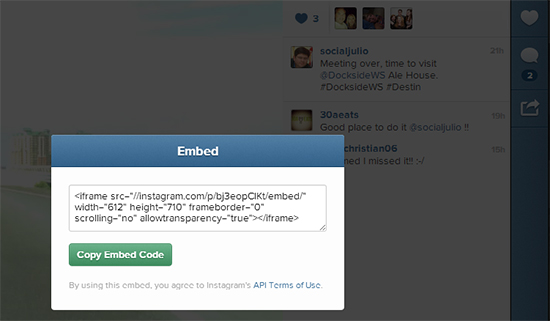 To make sure users understand where the photo or video is coming from, Instagram is adding the profile photo and username of the account that created the content originally. Upon testing this, I found a problem with my WordPress content management system and the iframe code created by Instagram. After sharing a video to one of my websites, on the left I was able to see my Instagram account name as a link, but I had to open the link in a new browser in order for the link to work.
Small businesses and large brands need to create Instagram accounts if they don't have one, protect their trademarks / brand names and pick search friendly names if the account they want is no longer available. You can report trademark violations to Instagram, however usernames are provided on a first-come, first-serve basis.
For instance, our client Adobe Systems Incorporated protected their name "Adobe" and created their Instagram.com/adobe account over a year ago. But if you visit Instagram.com/google you do not find a page managed by Google since they did not protect their name.
After you take care of protecting your trademark and brand names, make sure that the message of each photo or video has a clear call to action.
Add a related link where the user can find additional information. Use a URL shortener service like Google's free Goo.gl to make your URLs short and trackable. You will be able to find out how many times people found your page from the link you shared on Instagram versus links you shared on different social channels.
Use a hashtag on your Instagram content for those that might be searching for your product or service. But don't go #hashtag #crazy. #Each #word #does #not #need #to #be #a #hashtag!
There is no secret formula you can buy or agency you can hire to get a top ranking overnight. Only constant focus to create quality content will improve your search ranking and increase the traffic to your site. And what better way to create content than sharing photos and videos that match what your customers and prospects are searching for with the new Instagram embed feature?
Is your company taking advantage of photo and video sharing? Do you know the topics and subtopics users are searching for? Do you have shareable content that matches the user intent? Add your comments below.

Julio Fernandez is Vice President of Search Marketing & Analytics for SocialShelfspace.com, a marketing agency that combines search engine optimization with influencer outreach to deliver measurable effects. His previous posts covered Google's Knowledge Graph as well as Facebook graph Search and privacy issues. Julio is always uploading photos of his dog Chewy to Instagram.
Popular in the Community