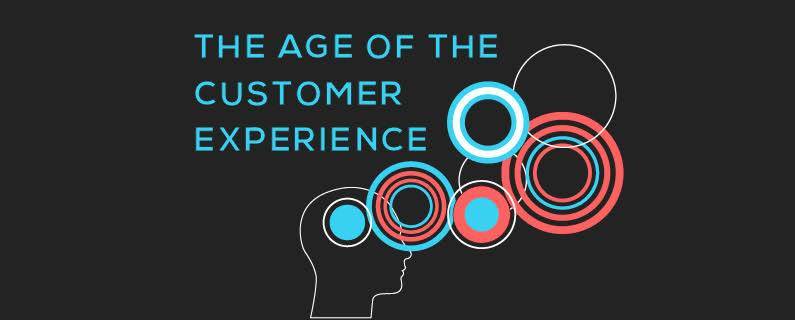 The old rules of business were ruled by what GE dubbed TQM or Total Quality Management. Winning companies would win or lose based on their ability to deliver a quality product, seamlessly and consistently.  In their view, TQM would sustain customer loyalty and assure a category or market leadership position.  For the past decade, we have rapidly left that notion behind in lieu of the age of TEM – Total Experience Management.
As mass commodification has impacted all industries, it's become harder and harder for a brand to stand out. Consequently, storytelling and the authentic content experiences it creates, has become one of the leading ways brands can engage with customers to drive distinction and competitive advantage.
The big news out of 64th International Festival of Creativity in Cannes, was that the current approach to content development, where storytelling is still pushed to the end of the supply chain, is missing authenticity – a brand voice.  This explains why many customers are moving from big brands to smaller ones as they tell better stories, infused with purpose and authenticity, to create winning experiences.  Simply put, if you want to compete in today's marketplace you need to embrace TEM through a lens of purpose.
The bright and shiny objects no longer win, unless they are married with insights that make experiences go from good to great through personalized, emotionally engaging moments that set you apart from the pack. Emotional engagement is based upon the stimulation of the heart.    In today's experience economy, emotional engagement is proving to be a critical factor in achieving winning results throughout every customer journey, and effective, data-driven storytelling is at the heart of this movement.
With all this in mind, thinking about how to gain competitive advantage in the marketing realm today – inside and outside of the organization – marketers must capture key insights and then apply the principles of needs-based, experience design, combined with an understanding of the levers that impact each experience differently, in order to bring the brand to life for each customer.  No longer can a CMO do this from pure instinct, or in a silo.  They must listen, analyze and interpret data across all customer touchpoints, online and offline, and then use these insights to inform experience development.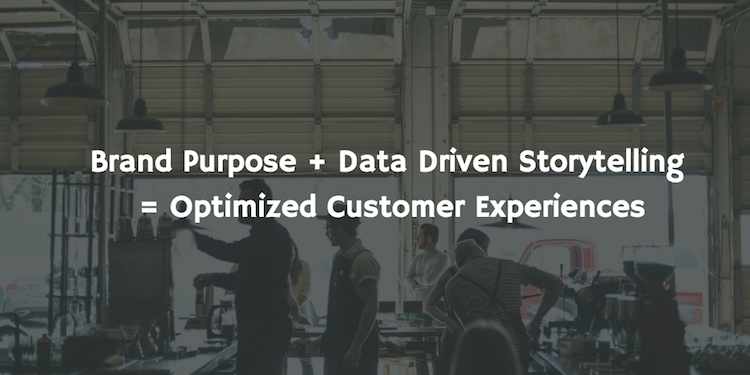 The formula for success in today's CMO is simple:
Brand Purpose + Data Driven Storytelling = Optimized Customer Experiences
Organizations that use artful storytelling to create winning experiences are the ones who are leading our new era of collaborative commerce forward – and moving product, improving engagement and retaining employees.  What follows are optimized experience frameworks that help bring this equation to life for each customer – B2B, B2C and B2E – and real-world examples of how purpose-driven thought leaders are bringing such experiences to life today.
Pivoting from a product centric approach to one that is experience-based, B2B companies are harnessing creativity and technology to tell winning stories that will help educate, inform and activate necessary change in this period of business transformation. The following are the spheres of influence shaping an optimized B2B experiences that can be sharpened through an informed purpose-driven thought leadership platform:
Develop products and services stories that demonstrate contribution to positive earnings and to long-term value to shareholders.
Deliver innovative content solutions that capitalize on the strategic marriage of creativity + technology.
Sphere 3:  Agility/Transformative Ability 
Demonstrate necessary pivots that deliver competitive advantage and change.
Sphere 4:  Aspirational Motivation
Enable contribution to the world (and business) as much as the bottom-line and create moments that are aspirational and give people a reason to believe + engage.
Sphere 5:  Brand/Engagement
Develop engagement across all key constituencies to optimize the customer journey and improve financial performance.
GE focuses on telling engaging stories that make sense for businesses.  They invite customers in to see 'Imagination at Work', and give customers a reason to believe and engage with their innovation that builds, powers, moves & cures the world.  By harnessing storytelling, creativity and technology via content on digital platforms, including Instagram, Tumblr and YouTube, GE is delivering on their desired business outcomes:
Increase audience awareness of the scope of what GE does and highlight positive experiences with the brand.
Support pipeline for young engineering and business talent.
Drive interest among the next generation of potential shareholders. The company needs to attract the next generation of shareholders.
Consumers today want to be a part of a brand that does more than give them immediate gratification from a product or service. They want to become a part of a brand that they believe in – a brand voice –  one that can enrich their daily lives in ways that create meaningful and impactful engagement.  Conveying the cornerstone of your company's purpose-driven thought leadership in ways that bridge to the world at large, beyond the bottom-line, is critical to success in today's environment. Today's best B2C experiences are defined by telling informed stories that impact the following spheres of influence and create emotional engagement:
Sphere 1:  Aspirational Motivation
Offer people the opportunity to believe in the brand through meaningful interactions.
Work to build a connection between the customer and the brand by showing that you care about what your consumers care about.
Sphere 3:  Personalization/ Loyalty 
Capitalize on real-time, predictive data, analytics and insights to create the experiences consumers want, before they know they want them, which will enhance consumer loyalty and advocacy.
Fortify trust and a reason to believe by humanizing the brand and bringing a purpose-driven Living Brand to life.
Build meaningful differentiation from competitors through empathic and purpose-driven stories that inform, entertain and delight and heighten impact and effectiveness.
Casper's founders believed if you're going to convince consumers to trust you that sleep is a pursuit as worthy of obsession as exercise or eating, you have to approach (the story arcs of empathy and education) differently.  Casper is combining science, design thinking, branding, and a winking sense of humor to redefine the humble mattress into lifestyle stories with a new cohort of evangelists proselytizing that the key to productivity and overall health stems from maximizing the quality of our slumber. Casper also upended some fundamental assumptions about consumer behavior that word-of-mouth sales would be impossible to generate because nobody talks about their mattress, a notion that was shattered by an immediate boom in viral unboxing videos that captured the exciting experience.
According to HBR, 89% of executives surveyed said a strong sense of collective purpose drives employee satisfaction; 84% said it can affect an organization's ability to transform; and 80% said it helps increase customer and employee loyalty.  To operationalize your purpose-driven narrative into mantras that bring your brand purpose to life inside your organization, consider how the following spheres of influence can help you create an authentic B2E experience that delights, informs and engages:
Sphere 1: Aspirational Motivation
Work to inculcate storytelling directly into culture through training and a process of co-creation.
Sphere 2: Leadership + Core Values:  Trust
Develop mantras through a lens of inclusion to be truly authentic and representative of
both brand and employee values.
Sphere 3: Reward + Recognition
Create appropriate reward & recognition strategies to reaffirm purpose-driven behavior.
Facilitate workshops and build a Living Brand content hub where all physical content is made digital and showcase employees bringing the mantras to life.
Create distinct opportunities to "live the brand" for all of your employees such as hyper-localized community giving programs or branded internal events that celebrate your employees.
The executive team began to see trends that employees were anxious that slow decision-making and a lack of risk taking might be weighing on Gore's entrepreneurial endeavors.  At Gore, the risk of an innovation slowdown was particularly serious. Strong leadership, rooted in the company's core values, worked quickly to streamline decision-making, encouraged the formation of small startup teams that were motivated to explore new ventures and also created an in-house team called the Innovation Center of Expertise to shepherd (and reward) promising employee ideas.
Todd A. Myers is the Chief Strategy Officer at BRANDthropologie Media. He will lead client engagements to directly connect purpose positioning to value creation and content solutions. You can follow him on Twitter at @ToddMyers123
Calling all HuffPost superfans!
Sign up for membership to become a founding member and help shape HuffPost's next chapter
This post was published on the now-closed HuffPost Contributor platform. Contributors control their own work and posted freely to our site. If you need to flag this entry as abusive,
send us an email
.