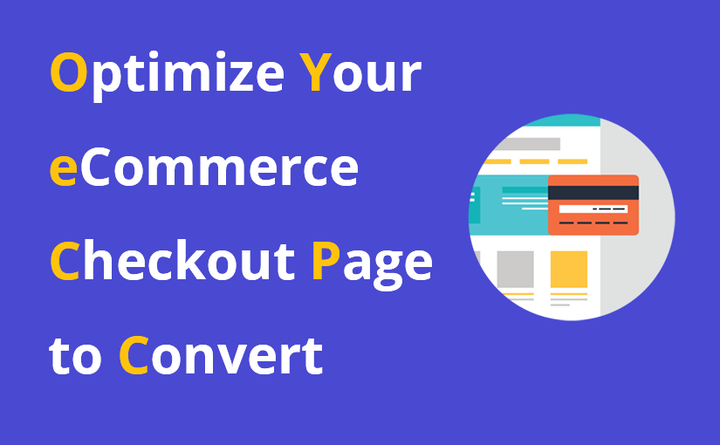 Online shoppers are fickle: in 2017 their average cart abandonment rate was 67%! Worse still, most customers abandoned their carts at the eCommerce checkout page.
Why do so many customers leave right before completing their purchase? While some were 'just browsing', the most likely scenario is that the checkout experience was poor. Slow load times, tedious information entry, and limited payment options are all enough to make a customer think twice.
Amit Bhaiya, CEO of DotcomWeavers says, "Your checkout page is your money page – literally and figuratively. You need to focus on streamlining its performance."
Keep reading to discover winning strategies to optimize your eCommerce checkout experience.
Streamline the Checkout Process
You've already reduced the clicks customers must make to browse, add to cart, and go to checkout, right? Good. Now apply the same streamlined approach to your eCommerce checkout page.
Keep checkouts to a single page. The fewer 'steps' customers must take to get what they want, the fewer chances they have to reconsider their purchase.
Harshal Shah, Lead UX Designer at DotcomWeavers, says, "Steps equal friction and friction equals abandoned carts. Ruthlessly eliminate the number of steps it takes for customers to complete a purchase."
Make sure you ask for information in an order that is comfortable for the customer. Start with their name and shipping address. An easy way to improve customer convenience is by integrating Google Maps API. This enables predictive address lookup, so customers have less information to enter manually. Give them the option to mark their billing address as the same as their shipping address.
Next, allow them to enter a coupon code or gift card. When customers see the price of their order drop, they'll feel even better about the purchase.
Now it's time to ask for payment information. Most experts agree that asking for payment information should come last, once the customer has completed the rest of the checkout form.
Reward Customer Registrations (but don't demand them)
Creating an account is personal. It can also be tedious. After all, every eCommerce website wants customers to sign up, and people get tired of entering their information repeatedly.
Let customers checkout as guests. For customers that may not be ready to give their loyalty to your brand but still want to make a purchase, this can help prevent abandoned carts.
Another convenient option that customers love is to enable social media logins. With a single click, customer information from Facebook or Google is used and there is no need for the customer to enter their information manually.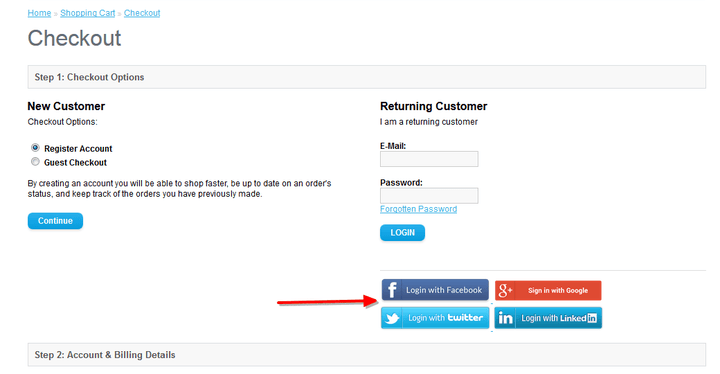 Some eCommerce checkout pages allow customers to create an account during their first checkout. This effectively cuts their effort in half. Talk to your developer to see if this is possible for your website.
If you really want them to sign up, try sweetening the deal. Giving customers a registration incentive such as 15% off their first purchase is a good exchange for their effort.
Emphasize Security
Make your customers feel like security is something you take seriously. You should have an SSL certificate and make sure customers know it. Besides the "https" in your web address, there's nothing wrong with a badge or statement on the checkout page that says, "this is a secure 128-byte SSL encrypted payment." Your privacy policy and terms and conditions page should also have your security policies spelled out.
Store Customer Information
Once a customer creates an account, make sure you offer benefits such as saved shipping addresses and credit card information. With less information to enter on future purchases, they'll be more likely to become repeat customers. When people don't need to enter their shipping or billing info, buying becomes a 1-click process.
Note: if you store credit card information in your system, you must deal with PCI compliance.
Offer Multiple Payment Options
In addition to the standard credit cards (Visa, Mastercard, American Express), we advise offering at least one other payment option. Some customers simply prefer one payment method over another, while others like to feel free to choose how they pay. (Remember, less friction = fewer abandoned carts.)
Consider allowing payment options such as PayPal, Google Wallet, Dwolla or any one of the hundreds of other options out there. You can also use third-party integrations such as Amazon Pay.

Optimize for Mobile
Mobile and tablet orders make up about 33% of all eCommerce transactions. And that number is on the rise despite a study that revealed that 88% of mobile shoppers have had negative mobile user experiences.
Don't be one of the many online retailers who consistently ignore the urgent need to optimize their mobile experience. Make mobile shopping and eCommerce checkout UX optimization a priority in 2018. You will stand out from the competition and see a reduction in the number of abandoned carts.
Help Customers Solve Errors
Despite your best efforts to limit their occurrence, sometimes errors happen. When a customer encounters an error during checkout, the error message should not be generic. Instead, it should provide a short and simple explanation of how to solve the specific issue. This will reduce customer frustration and keep them moving along their checkout journey.
Your eCommerce Checkout Optimization Checklist
Now that you understand how to streamline your eCommerce checkout page, use this checklist as you implement the changes.
Reduce the number of steps required to checkout
Make check out feel secure
Enable address lookup / predictive entry tools
Copying shipping address to billing address to save time
Store customer information
Offer multiple payment options
Making account creation a part of the process
Allow for guest checkouts
Optimize for mobile
Implement clear and helpful error messages
Make eCommerce checkout page optimization a priority and you'll quickly see a reduction in the number of abandoned carts!
Follow Amit Bhaiya and DotcomWeavers on Facebook: https://www.facebook.com/dotcomweavers/
Popular in the Community