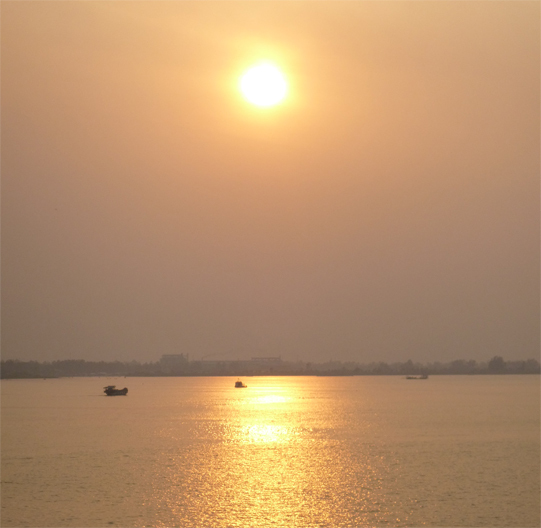 Thump, thump, thump, whack whack whack! This is all I hear as I focus on keeping the front tire of my bicycle somewhat straight. My arms brace like shock absorbers and my head bobs up and down like a jackhammer. The rented Cambodian bicycle bucks wildly as I pedal over the famous bamboo bridge of Kampong Cham. The bridge may be made of bamboo but the road seems made of rubber. To my left, a tiny barrier offers little resistance to a free fall straight into the waters of the Mekong River. To my right, sharp spiky bamboo poles shoot straight into the air, threatening to impale me before I plunge into oncoming traffic. "Don't look around," I tell myself, "Keep your eyes on the road."
Suddenly behind me, I hear what sounds like an earthquake pealed by thunder. I look. Bad idea. An enormous stallion pulling an immense, overloaded cart gallops straight at me, with no room to pass on either side. Wait, what is behind the horse cart? That can't possibly be an actual automobile? I start to lose control of my bike. How did I get here again?
The bamboo bridge is a local phenomenon, an attraction in itself, that connects the mainland city of Kampong Cham to the island of Koh Paen. Built entirely by hand each year, it resembles a popsicle stick structure, with sharp edges, that couldn't possibly hold a human let alone a car. Each rainy season, the bridge is washed away as the river rises, and access to the island is only possible by boat.
This seemed like a good idea at the time when the Viking cruise director encouraged me to bike across. "It's a once in a lifetime experience," he prodded. Looks like my lifetime experience is being cut short. The worst part is I have to come back across via two wheels. Either that or swim.
This is where the Tao of Cruising comes into play. I breathe and attempt to move in harmony with my rigid surroundings. I certainly lack style or grace but as I return across the bridge I go with the flow of the chaos. I get used to the bump, bump, bump of the terrain and start to enjoy myself a bit. I hear my name being called and I look over to see my fellow passengers whipping by me in rented tuk tuks. They say wisdom comes with age. Note to self.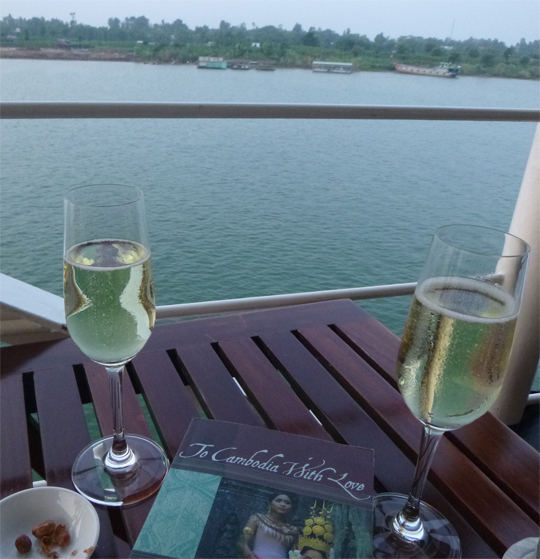 Back on the ship, showered and calm, I enjoy a prosecco on the beautiful, polished wooden deck. Watching the blood red sun drip into the Mekong River makes me feel cinematic and I dream of romance and adventure. I chat with fellow travelers, murmuring about the intoxicating beauty of the region. I am by far the youngest passenger but I don't mind. I love the camaraderie of the group and going over our days events and discoveries is a highlight.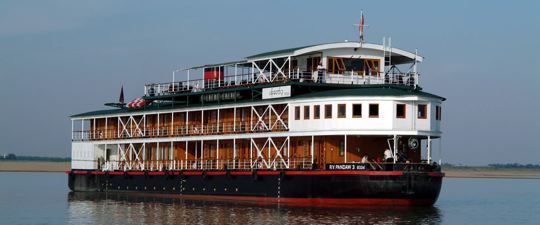 I never thought I'd be a cruiser. That's for old people, ergo something to do with my Mom. I can now admit that I am a convert. There is a lot to be said about slowing down, listening to the pathways of those who have gone before me, and having a community to come home to each day. The ship has an interesting mix of British, Australians, Canadians, and Americans. Openly discussing the Vietnam War and Khmer Rouge atrocities with varied perspectives is stimulating. Vietnam and Cambodia have changed considerably, so it's a treat to delve into the past with people who experienced it firsthand.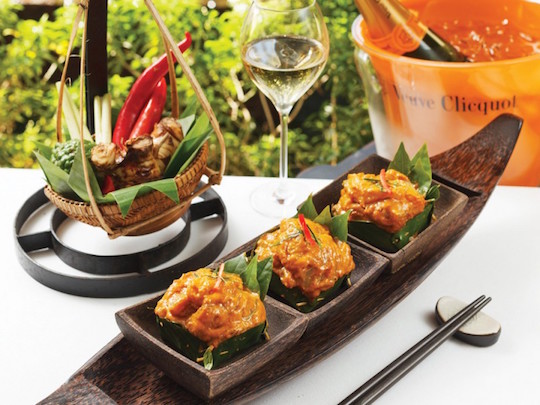 Which brings me to my favorite moment of the trip. It was not the street food pho that I inhaled in Saigon, nor was it the swim at the decadent Metropole Hotel in Hanoi. It wasn't the fish amok I ate at Malis in Phnom Penh, or the lazy days of drifting along the Mekong River, feeling the movement of the boat and myself as I enjoyed my own starring role in Indochine, the film playing in my mind. It wasn't even the kind guides at the powerful Angkor Wat temples who shared their personal tragedies with us, or our own friends Lee and Tien who were always there to answer questions and encourage bike rides across rickety bamboo bridges.
My favorite moment was a brief conversation I had with a fellow passenger and Vietnam vet after he met a fellow soldier, a Vietnamese who also fought for the South, near Tan Chau. Both were alive and doing well. They embraced and shared a few words before parting ways. This vet told me with tears in his eyes, that it had made the whole trip worthwhile. One exchange, a few minutes. He had been leery of coming back to Vietnam, but now he knew it had been the right decision.
That's what travel is all about isn't it? Human interaction, meeting people across the globe and feeling a connection. While cruising, we all follow a similar path up the Mekong River and while doing so we become altered by each other's transformation. It's the intangible souvenir that brings the entire trip full circle. Much like the bamboo bridge, the ephemerality of the situation is what gives it such value.
I recommend the Viking Mekong River cruise for all adult ages. Biking across the bamboo bridge in Kampong Cham? Not for the faint of heart.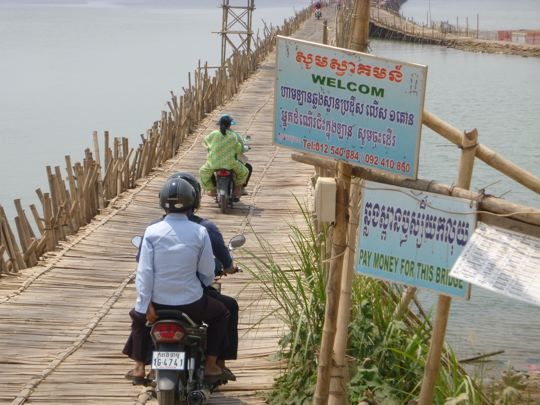 The Tao of River Cruising
Although I don't practice Taoism myself, friends have told me the principles over the years. They seem to perfectly describe my Viking Mekong River Cruise.

Follow Your Breath - When I found myself in precarious situations, a wobbly bamboo bridge or a wrong turn down an alley in Hanoi, my breathing helped to calm me. Many times accidental discoveries are the best ones, like the tiny Dac Kim Bun Cha café where I ate savory, rich Bun Cha with locals.
Embrace Wonder and Joy - I felt wonder and joy constantly on my trip. From the awesome temples in Cambodia to the quaint house of Huynh Thuy Le with the love story woven into its walls, to the smiles and warmth of the people I met, happiness and admiration surrounded me always.

Live Gracefully in Style - The cruise ship personified grace and style. It's small size and natural polished wood added to the scenery. My cabin door slid open with brass handles, white gauze drapes flowing in the breeze. I was transported elegantly back in time just by being on board.

Harmony with a Natural Flow - Our community of fellow passengers became a symbiotic group, sharing stories and discoveries along the way. It was this harmony that I found so nurturing whenever the days came to an end.

A Road in One Direction - We sailed in one direction, up the Mekong River. Our exact trip will never be repeated, even though the itinerary will be repeated many times by others. Our "road" was unique due to the people traveling it, and we traversed our journey gathering memories, looking ahead to the horizon.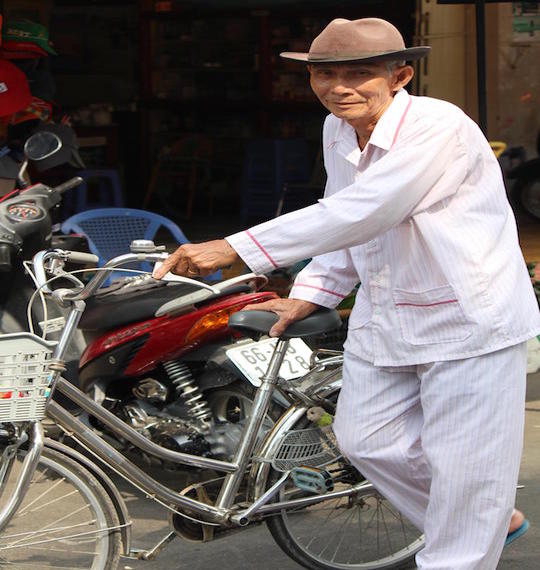 (photo credit Ken Runquist)
Popular in the Community