The Orange County District Attorney's office is facing allegations that it illegally obtained and withheld evidence gathered through a jailhouse informant program.

When questions surfaced about informant evidence used in a murder trial, the defendant was granted a retrial -- this time, when no informant evidence was presented, a jury deadlocked 10-2 for acquittal.

Legal experts say all cases with informant evidence in the county need to be reviewed.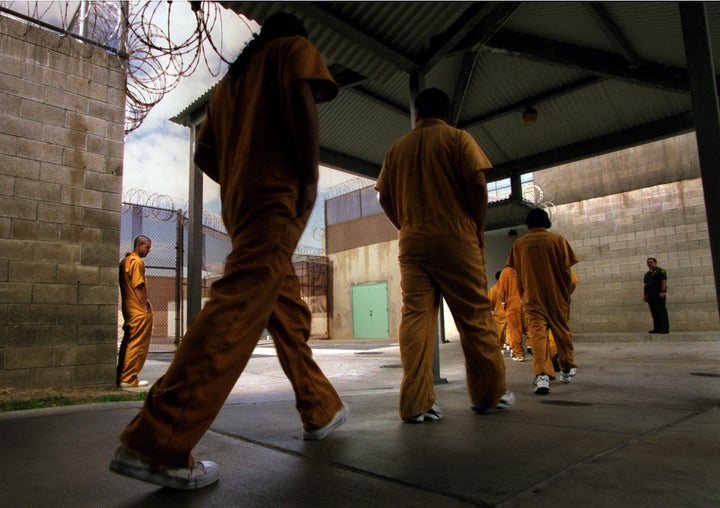 LOS ANGELES ― A jury in Orange County last week nearly acquitted a man accused ― and previously convicted ― of murder. It's an outcome that has reignited concerns about the fairness of past convictions in the California county where evidence gleaned from a jailhouse informant program has allegedly violated the rights of multiple defendants.
Superior Court Judge Michael Cassidy declared a mistrial after jurors decided, 10-2, in favor of acquitting Eric Ortiz, a gang member who faces first-degree murder charges.
Just last year a previous jury found Ortiz guilty on those same charges, but by year's end, a judge ordered a retrial when the legitimacy of jailhouse informant evidence used against Ortiz was called into question. This time around, prosecutors didn't introduce their jailhouse informant evidence, instead relying primarily on testimony from an alleged accomplice and an ex-girlfriend.
The mistrial is yet another blow to the beleaguered Orange County District Attorney's office, which is facing mounting criticism over allegations that it has illegally obtained and withheld evidence gathered through a formerly secret jailhouse informant program and thereby violated the rights of multiple defendants in numerous cases.
Ortiz was originally convicted of murder in the 2006 shooting death of an unarmed 54-year-old man. Part of that conviction was built on testimony from a jailhouse informant who claims he obtained a confession from Ortiz about the murder. But Ortiz's attorney, Rudy Lowenstein, argues that county sheriff's deputies and prosecutors conspired to deliberately and illegally place an informant next to Ortiz in jail in order to procure incriminating statements from him. He also says the informant never actually got a confession from Ortiz, and the one he relayed was fabricated. Ortiz has maintained his innocence, claiming he wasn't at the location where the shooting took place and is instead being unjustly blamed for the killing by fellow gang members.
During a hearing last year to determine whether informant Donald Geary had obtained statements in violation of Ortiz's constitutional right to counsel, four sheriff's department deputies who worked inside the county's jails refused to testify under oath about the informant program for fear of self-incrimination. Two of them who had previously testified in another high-profile murder case involving jailhouse informants were named in a shocking 2015 ruling by Superior Court Judge Thomas Goethals, who said the pair "either intentionally lied or willfully withheld material evidence" about records related to the moving of inmates, including informants, inside county jails. In that same ruling, Goethals booted the entire OCDA's office from the murder case over allegations of misconduct.
"The issue is simple," King wrote in his ruling granting Ortiz a new hearing. "Sworn police officers were called to the witness stand to answer questions about what they were doing while they were working as police officers. When all of them refused to testify, the defendant was thereby denied the opportunity to question them about alleged violations."
The Orange County District Attorney's office has said it will once again seek to retry Ortiz, who still remains in custody. But Loewenstein told HuffPost he intends to ask the judge to dismiss the case.
The OCDA told HuffPost it has yet to determine whether prosecutors will use informant testimony in Ortiz's third trial.
"Unfortunately sometimes it takes more than one trial to get justice," Susan Schroeder, OCDA chief of staff, told HuffPost. "We've had other cases that we'd have to try three times, so this isn't unprecedented. It takes patience."
The unraveling of the Ortiz case is not an isolated incident. Fallout from the snitch scandal has derailed multiple murder cases, with some accused murderers even walking free.
Just four months ago, a group of former prosecutors and legal experts called on the DOJ to conduct a full investigation of the DA's office and the sheriff's department over the informant program. And following a savage beating of a criminal defense attorney in Orange County earlier this month by an employee of the DA's office, two of the largest criminal defense attorney groups in California renewed calls for an investigation into the office.
Tony Rackauckas, district attorney of Orange County, has maintained that no one in his office intentionally behaved inappropriately in relation to the jailhouse informant program. He, too, has invited the DOJ to investigate his office's practices in that area.
It remains unclear exactly how many cases may have been affected by tainted informant evidence. Assistant Public Defender Scott Sanders has argued that every case in Orange County over the last 30 years in which a jailhouse informant was used deserves to be re-examined. It was Sanders who first unearthed the alleged misconduct, as well as internal records from the program that may have been improperly concealed for decades.
Sanders says the recent outcome of Ortiz's retrial bolsters his argument and calls into question statements Rackauckas has made that appear to downplay the allegations lobbed against his office.
"Nobody has suggested that there's any false confession or that any innocent person has been convicted, or that evidence has been made up," Rackauckas recently said at a debate held at The Orange County Register's headquarters in Santa Ana. "This is all a question of whether a right was violated."
But Sanders says that what just occurred in the Ortiz case is a powerful reminder of the "absurdity" of that argument.
"This statement by Mr. Rackauckas confirms first just how little he values constitutional rights of criminal defendants and their right to have meaningful cross-examination of the witnesses against them," Sanders told HuffPost. "But it also shows that he still does not understand the nature of the problem or the allegations. Informant testimony has been the difference between freedom and incarceration, and between life without parole and the death penalty, which is why justice requires the re-examination of all Orange County cases in which jailhouse informants have testified."
Other legal experts agreed with Sanders.
Laura Fernandez, a senior Liman Fellow at Yale Law School who studies prosecutorial misconduct around the nation, told HuffPost that there "has to be a thorough review of all cases in Orange County involving jailhouse informants," and because of the "OCDA's remarkable persistence in denying wrongdoing," that review should happen immediately.
"I repeatedly have said that there needs to be a careful examination to see how many cases are tainted by the unconstitutional use of jailhouse informants," Erwin Chemerinsky, dean of law at the University of California, Irvine, told HuffPost. "This case illustrates the importance of such a careful re-examination of Orange County cases where jailhouse informants were used."
Daniel Medwed, a law professor at Northeastern University who has written about prosecutorial misconduct at length, added that the Ortiz case illustrates how informant evidence, when introduced in a jury trial, can be "outcome-determinative" because jurors don't always view the evidence with the appropriate skepticism.
"The legitimacy of the criminal justice system in Orange County is on the line here," Medwed said, "and I hope prosecutors and judges err on the side of justice and transparency by giving all cases tainted by the informant scandal a legitimate fresh look."
Popular in the Community