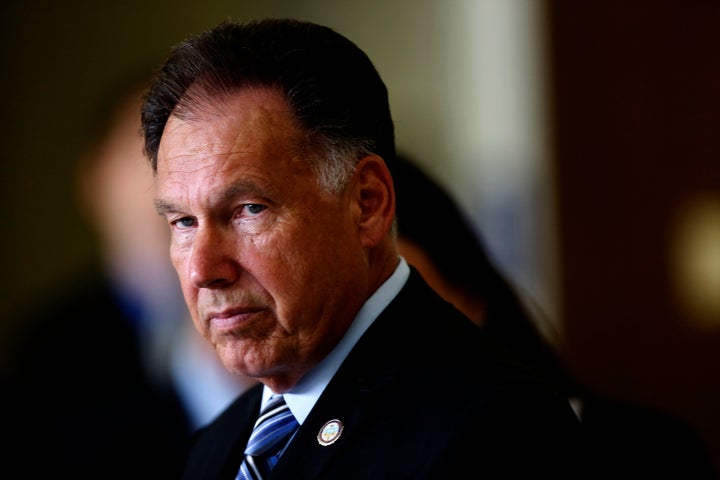 LOS ANGELES ― The California attorney general's office will not appeal a decision that tossed Orange County's entire district attorney's office off a high-profile mass murder case over its involvement in a jailhouse informant scandal.
"Our office has decided not to seek review," said Kristin Ford, press secretary for the state's AG office, in an email late Tuesday to The Huffington Post.
The case involves Scott Dekraai, who pleaded guilty to killing his ex-wife and seven other people at a Seal Beach hair salon in 2011. The investigation into the jailhouse informant program arose when Dekraai's lawyer found that his client had been put in a cell next to a known snitch. Since then, the scope, secrecy and alleged malfeasance surrounding the county's jail informant program has become a centerpiece of the Dekraai case and more than a dozen others.
The state attorney general's office will now take over as the prosecution in Dekraai's penalty phase.
Superior Court Judge Thomas Goethals, who has been presiding over the Dekraai case, ruled in 2015 to recuse the DA's office. In November, a three-judge panel of the state's 4th District Court of Appeal, in a blistering opinion, agreed with Goethals, saying that the DA's office had a "disqualifying conflict of interest," noting its "substantial" failures in turning over evidence.
"The magnitude of the systemic problems cannot be overlooked," the District Court panel said.
The justices also had excoriated Attorney General Kamala Harris' office for arguing that Goethals' decision to eject the DA's office was "a remedy in search of a conflict."
"Nonsense," the court responded. "The court recused the OCDA only after lengthy evidentiary hearings where it heard a steady stream of evidence regarding improper conduct by the prosecution team. To suggest the trial judge prejudged the case is reckless and grossly unfair. These proceedings were a search for the truth."
The court also criticized Harris' office for arguing that the responsibility rested solely on the shoulders of the sheriff's department and that the DA's office was not to blame for the informant program.
For the past three years, the Orange County district attorney's office and sheriff's department have been embroiled in a sprawling jailhouse informant scandal ― one that may have involved the violation of multiple defendants' civil rights and that threatens to upend a number of already settled cases.
Law enforcement authorities often use informants to help bolster a case — a tactic that's legal, even when the snitch receives something in exchange. But Dekraai's attorney, Assistant Public Defender Scott Sanders, claims that in some Orange County cases, informants held recorded and unrecorded conversations with inmates who were already represented by lawyers, which violates an inmate's right to counsel. Prosecutors are accused of taking damning evidence gathered by the informants and presenting it in court while withholding evidence that could have been beneficial to the defense.
Sanders has been arguing for years that a tainted snitch network in county jails has existed in secret for decades. In a series of blockbuster motions, the defense attorney has gone on to unearth evidence that has led to multiple murder cases unraveling, even resulting in some accused murderers having their sentences vacated.
It remains unclear exactly how many cases in the county may have been affected by tainted informant evidence, but Sanders has argued that every case involving a jailhouse informant in Orange County over the last three decades deserves to be re-examined.
Also Tuesday, the state AG's office argued against the recusal of the Orange County D.A.'s office in yet another troubled murder case.
Deputy Attorney General Ryan Peeck fought against the removal of the entire office in the case of Cole Wilkins, charged in the 2006 traffic death of Los Angeles County Sheriff's Deputy David Piquette after a stove fell off Wilkins' truck. Goethals is also overseeing this case.
Deputy Public Defender Sara Ross claims that county prosecutors and California Highway Patrol investigators intentionally withheld that a police report, which initially concluded that Piquette was at fault in the fatal accident, was changed to say he was not at fault. That change supported the murder charge against Wilkins.
Wilkins' 2008 murder conviction was overturned in 2013 by the state Supreme Court over a judge's misleading instructions to Wilkins' jurors, as OC Weekly's R. Scott Moxley reported last year. The next year, evidence of the manipulated report would be discovered.
"There's proof of misconduct here," Goethals said in court Tuesday during closing arguments in the case.
Peeck argued that while he believes it's clear that the investigative report was changed, he said that there wasn't any evidence that the DA knew about it.
Goethals said he'll come back with a ruling on whether prosecutors will be ejected yet again next week. If they are, the state AG would inherit another case from the Orange County district attorney.
Popular in the Community