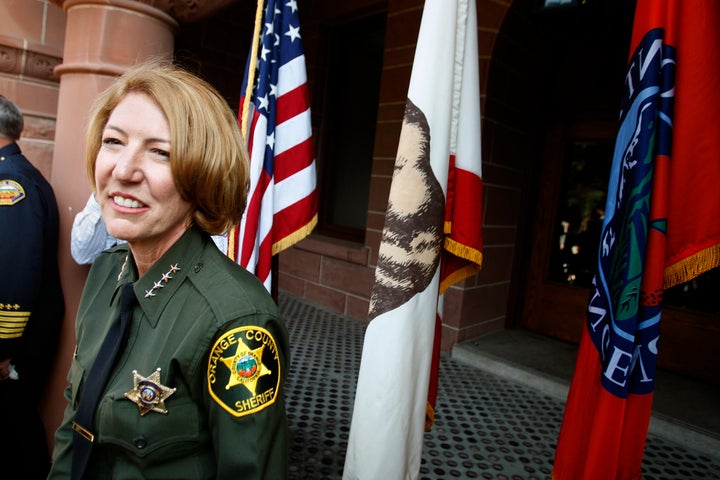 LOS ANGELES ― One day after the U.S. Department of Justice announced an investigation of the Orange County District Attorney's Office and Sheriff's Department, an incredulous Superior Court judge excoriated Sheriff Sandra Hutchens in court Friday over her handling of the case that has prompted such federal scrutiny.
Orange County Superior Court Judge Thomas Goethals criticized the sheriff's office for what have become extraordinary delays and, at times, what appears to be outright refusal to turn over all evidence related to a tainted jailhouse informant program that may have violated the rights of numerous defendants and is threatening to upend already settled cases. 
Goethals is presiding over the sentencing hearing for Scott Dekraai, who pleaded guilty to killing his ex-wife and seven other people at a Seal Beach hair salon in 2011. The investigation into the jailhouse informant program arose when Dekraai's defense attorney found that his client had been put in a cell next to a known snitch. Since then, the scope, secrecy and alleged malfeasance surrounding the county's jail informant program has become a centerpiece of the Dekraai case and more than a dozen others.
At Friday's hearing, the judge threatened to initiate contempt proceedings against the sheriff and deputies who were involved in the informant scandal for continuing to fail to turn over evidence.
"The last thing any judge wants to do is declare contempt hearings of public officials," Goethals said. "Frankly, we are getting closer and closer in this case. To say this has been a painful process is a gross understatement. This case should have been resolved long ago except for the gross failures of the prosecution team, which continue to this day," Goethals said. The D.A.'s office has been accused of turning a blind eye to the jailhouse informant scandal and has been tossed off the Dekraai case.
Goethals ordered all Orange County Sheriff's Department documents related to the informant program to be turned over to the court almost four years ago. And while some materials have continued to "wash ashore," as Goethals has previously characterized the slow flow of evidence, it appears that the sheriff's department has still failed to turn everything over.
Citing a declaration submitted to the court in November from sheriff's Cmdr. William Baker, who has been leading the internal search for records related to jail informants, Goethals also expressed dismay that efforts to uncover more materials appear to have begun just months ago.
"I remind the sheriff that I've waited nearly four years ― that's 200 weeks or 1,400 days," Goethals said to Hutchens' attorneys, as the sheriff was not in court, as usual for the hearing. 
"The entire Orange County community has been cheated," Goethals said in court. "Those most grossly cheated are the community of Seal Beach and the defendant... . [The sheriff] shouldn't underestimate this court's determination to find the truth."
Earlier this month, the sheriff's department turned over 5,600 pages of internal records related to jail informants, a volume of material so unwieldy that Goethals characterized it Friday as a "document dump" ― a deliberate attempt to obfuscate relevant evidence by handing it over amid a wealth of irrelevant material.
"This is a classic strategy," Goethals said. "This looks like that, folks."
Deputy County Counsel Kevin Dunn, who represents Hutchens, argued that the submission of the internal records was a "difficult situation" but one that was done in "good faith" by the sheriff and was not a "document dump." He said the sheriff is determined to be responsive to the court's orders.
However, the sheriff, in turning over the latest cache of secret jail informant materials, also asked for a blanket seal on all of it, a request Goethals blasted from the bench. Doubtful of Hutchens' "good faith," Goethals said he's "come to expect" these kind of tactics from the sheriff, who he said has taken "a variety of inconsistent positions" on why various materials her department has turned over must remain sealed off from the public. "I don't know what her current position is," he said with bewilderment.
The entire Orange County community has been cheated. Those most grossly cheated are the community of Seal Beach and the defendant.

Orange County Superior Court Judge Thomas Goethals
Assistant Public Defender Scott Sanders, Dekraai's attorney, has been arguing since 2013 that a tainted snitch network in county jails has existed in secret for decades. In a series of blockbuster motions, Sanders has unearthed damning evidence that indicates county prosecutors and law officers have violated multiple defendants' rights by illegally obtaining and sometimes withholding evidence received from jail informants. His discoveries have led to cases unraveling and even sentences being vacated. 
Embattled county prosecutors and members of law enforcement involved in the informant scandal have faced a wave of rebukes in recent weeks. On Thursday, the Justice Department announced that it has opened an investigation into the allegations that the sheriff's and D.A.'s offices violated defendants' rights through the use of the jail informant program. 
The announcement of the DOJ investigation comes less than two weeks after Goethals released a trove of notes from a once-secret document kept by sheriff's deputies detailing their involvement. The 242 pages of notes, known as the "special handling log," reveal the inner workings of the county's informant program and appear to contradict testimony by multiple sheriff's deputies who denied any knowledge of working with informants.
The notes also describe deputies' recruitment and utilization of informants, destruction and falsifying of documents, collaboration with prosecutors and other law enforcement agencies while operating "capers" to glean further evidence from inmates, and other schemes used to trick inmates into confessing to crimes. The log contains multiple entries from deputies who had previously testified in the Dekraai case that contradict their testimony on the use of jail informants.
The pages represent just a fraction of the 1,157-page log, still largely under seal, which was in use from 2008 to 2013 and maintained by deputies who work in a branch of the department called "special handling," which specifically deals with inmates and jail informants. Now, more than nine months after the database came to light, the sheriff's department has still not offered its explanation as to why the database was apparently abruptly halted in 2013, just days after Goethals issued a broad order to turn over such information in the Dekraai case. Sheriff's Lt. Mark Stichter, spokesman for the department, told The Huffington Post in August that the agency is still trying to determine why the database ended. It also remains unclear if the database is still being secretly used under a new name.
Goethals appeared to be critical of the conduct of two former "special handling" deputies, William Grover and Ben Garcia, both implicated in the scandal, who, it was disclosed on Friday, had refused to answer questions from even their own department about why the log was terminated ― with the judge questioning why they were nonetheless able to keep their jobs. 
Goethals also read aloud from a new declaration from Baker, submitted to the court Friday, regarding two sheriff's supervisors who gave interviews about the termination of the log and who later claimed those interviews were inaccurately described but then refused to explain what was inaccurate.
Seemingly stupefied by the behavior of the sheriff's department, Goethals clamored from the bench at one point: 'What is going on over there?"
The sheriff's department continues to deny that a formal jail informant program even exists ― despite evidence such as the 1,157-page log. In June, after years of its own denials, the D.A.'s office unequivocally acknowledged that a jail informant program does exist and that sheriff's deputies actively "recruited and utilized" informants and rewarded them for information.  
On Friday, Goethals addressed the baffling disparity between the two agency's positions on the informant program saying, "To me, the horse has left the barn on what is going on in the jail." 
The judge also cited a California appeals court opinion from November ― one that affirmed Goethals' decision last year to remove the entire district attorney's office from the Dekraai case over serious allegations of misconduct involving the jail informant program ― which concluded, based on the mounds of evidence that have already been found, that an informant program indeed exists in county jails with a "magnitude" of "systemic problems" that "cannot be overlooked."
REAL LIFE. REAL NEWS. REAL VOICES.
Help us tell more of the stories that matter from voices that too often remain unheard.