In 2016, the conservative bastion of Orange County, California, voted for a Democratic presidential candidate for the first time since the Great Depression. Two years later, Democrats succeeded in capturing all seven of its congressional seats ― a stunning feat in what has traditionally been a seat of Republican power that catapulted both Richard Nixon and Ronald Reagan to the White House.
The densely populated county ― which comprises cities like Anaheim, Santa Ana, Irvine, and Huntington Beach ― has been growing more diverse and less conservative for years. But what may have harmed its GOP House representatives most was President Donald Trump and his nativist rhetoric about immigrants and penchant for controversial remarks, which alienated both minorities and college-educated women there.
"Those forces finally combined in 2018 to wipe out the GOP in what was for decades the most Republican big county in America. It is a political failure of biblical proportions," said California Democratic strategist Garry South.
Earlier this week, Democrat Katie Porter officially ousted Rep. Mimi Walters (R-Calif.) in the state's 45th congressional district ― the first time a Democrat has won there since it was drawn 35 years ago. Porter, a law professor at the University of California, Irvine, is a progressive who supports single-payer with the backing of Sen. Elizabeth Warren (D-Mass.). Walters attempted to cast Porter as an "extreme" and a "radical" by attacking her over her ties to Warren, but the attacks never stuck.
"Orange County is the New Blue," Rep. Ted Lieu (D-Calif.), who represents an area of Los Angeles, tweeted Wednesday after Porter's race was officially called.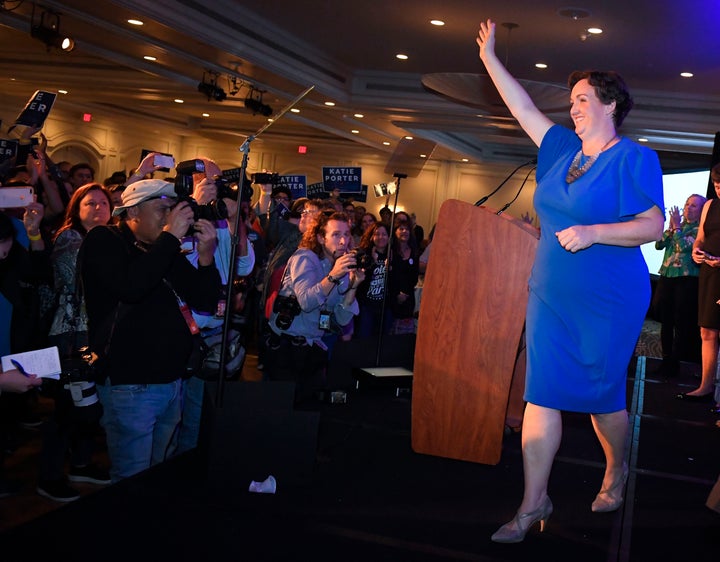 Meanwhile, in California's 39th congressional district to the north, Democrat Gil Cisneros defeated Young Kim, a Republican, in the election to replace GOP Rep. Ed Royce, who did not seek re-election. Republicans invested millions behind Kim, a rising star who would have been the first Korean-American woman representative in Congress had she won. She held an early lead of several thousand votes on Election Day, but it evaporated as outstanding ballots continued to be counted there.
Democrats also succeeded in flipping districts carried by Rep. Dana Rohrabacher (R-Calif.), the infamous Russia-friendly congressman, and Rep. Darrell Issa (R-Calif.), who led the Benghazi investigation before retiring this year.
The Democratic sweep may have been foreshadowed by the retirements of longtime Republican stalwarts like Issa and Royce last year, but it took local GOP officials by surprise. Earlier this year, Orange County Republican Party Chair Fred Whitaker laughed off the notion of a blue wave in his backyard.
"They think we're the new battleground ... It's a Hail Mary play. It's desperation," Whitaker said in an interview in March.
"Let the Democrats spend tens of millions of dollars here," he added. "Let them die on the hill in Orange County."
Correction: Young Kim would have been the first Korean-American woman in Congress had she been elected.
Popular in the Community