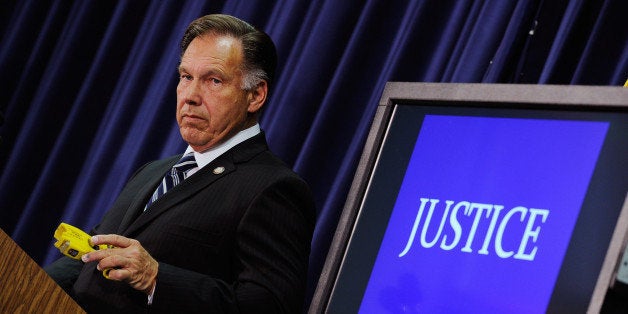 The office of OCDA Tony Rackauckas has made repeated attempts to disqualify Judge Thomas Goethals, who in the past year has allowed a number of hearings in which details have emerged about alleged misconduct on the part of county prosecutors. The OC Bar Association says that since February 2014, OCDA prosecutors have tried to disqualify Goethals in 57 cases, whereas between 2011 and 2013, prosecutors sought to disqualify Goethals in just five cases.
While seeking the disqualification of a judge is well within the rights of prosecutors, the county Bar Association attorneys say that they believe the volume of recent affidavits filed is "excessive" and gives the appearance of "being designed as punitive and retaliatory." They have characterized the affidavits as an "attempt to intimidate" Goethals as well as "the entire judiciary" -- that is, any other judges who might allow hearings that lead to inconvenient questions for county prosecutors.
The denunciation of the OCDA's office comes amid the unraveling of several murder cases in the county, following the discovery of violations in a jailhouse informant program and the emergence of shocking allegations that county prosecutors have been obstructing justice in multiple cases for some time.
Laura Fernandez, a senior Liman Fellow at Yale Law School who studies prosecutorial misconduct around the nation, told The Huffington Post that the misconduct that Orange County prosecutors appear to be engaging in is some of the worst she has ever seen.

"For a bar association to conclude that prosecutors have in essence attempted to intimidate not just one judge, but the entire judiciary, is nothing short of extraordinary," Fernandez said.
Saying that the evidence points to systemic and intentional misconduct by law enforcement and prosecutors on "an unusually broad scale," Fernandez explained that what sets this case apart from so many others is the remarkable pattern of concealment.
"Put simply," Fernandez said, "in Orange County, the cover-up has been even more egregious than the underlying violations -- themselves incredibly serious -- and appears to have included actual criminal conduct by both law enforcement officers and prosecutors in the form of perjury and obstruction of justice."
Sidney Powell, a former assistant U.S. Attorney who worked at various positions within the Department of Justice for a decade, expressed similar sentiments, telling HuffPost that some of the worst corruption she has encountered has been in Orange County.
"[Orange County] is notorious within California and has been for years," Powell told HuffPost. "A thorough cleansing with bleach and firehoses would be appropriate. The voters need to wake up."
When asked for comment on the county Bar Association's accusations, Susan Kang Schroeder, Rackauckas' chief of staff, referred HuffPost to a statement she gave to OC Weekly earlier this week, in which she strongly rejected the allegations from the attorney group.
"First, we do not believe that the numbers are accurate," Schroeder said in that statement. "There is no, and has never been, a concerted effort to punish a sitting judge by the Orange County District Attorney's Office. District Attorney Tony Rackauckas, as a former judge, respects and supports the independence of the judiciary."
In March, Goethals ejected Rackauckas' entire office from further proceedings in the mass murder trial of Scott Dekraai, who last year pleaded guilty to shooting and killing his ex-wife and seven other people in a hair salon in 2011, in what remains the largest mass murder in county history.
Dekraai's attorney, Assistant Public Defender Scott Sanders, had unearthed violations within the the county's secret jailhouse informant program, as well as internal records from the program that Sanders said have been improperly concealed for over 20 years.
Sanders said that in some Orange County cases, the sheriff's jailhouse informants allegedly recorded conversations with inmates who were already represented by lawyers -- a violation of an inmate's right to counsel. Then, prosecutors took damning evidence gathered from the informants and presented it in court, while allegedly withholding evidence that could have been beneficial to the defense -- a violation of a defendant's right to due process.

In a March brief about the informant program, Sanders alleged that sheriff's deputies lied "with shocking frequency" about how the program works and how evidence was obtained. The DA's prosecutors then refused to condemn the deputies' dishonest testimony, and instead "frequently championed it," Sanders alleged.
Goethals sided with Sanders in his ruling when he booted the OCDA team from the Dekraai case, saying that the government had made "significant" violations of due process during the case. He called certain aspects of the DA office's behavior a "comedy of errors."
California Attorney General Kamala Harris' office would have inherited the Dekraai case, but Harris has appealed Goethals' ruling to pull the entire DA office off the case, and announced that her office will launch an investigation into all allegations.
Goethals hasn't ever said whether he thought the alleged misconduct was intentional, and Rackauckas has maintained that no one in his office has intentionally behaved inappropriately.
This week also saw another murder case, this one dating back to 1998, derailed by the same informant program corruption and violations of due process that have plagued at least five other cases in the county.
James Crawford -- an attorney for Henry Rodriguez, a man who was charged as an accomplice in the 1998 murder case and who is now serving a sentence of 40 years to life -- told HuffPost that he'll be requesting a new trial for his client. If successful, Rodriguez may see a dramatic reduction in his sentence.
Weeks earlier, another one of the DA's cases, this one against a gang member who'd been accused of attempted murder, crumbled. The gang member, who had been facing life in prison, is now scheduled to be set free in 2016 as part of a plea deal. The defense attorney in that case has cited the informant mess as part of the reason why a reduced sentence was possible, but the OCDA's office has denied that this case is linked to the fallout affecting other murder cases in the county.
There could, in the coming months, be many more cases like these -- new trials and vacated or reduced sentences for defendants who may have been robbed of due process in other murder cases distorted by misconduct.
Fernandez told HuffPost that given county prosecutors' apparent pattern of "willfully suppressing favorable evidence," there may still be yet-uncovered evidence that could "call into question the validity of a substantial number of convictions and sentences."
As for what should be done, Fernandez recommended profound measures.
"Should there be an independent commission, legislative reforms, a special grand jury, criminal prosecutions and/or a federal investigation by the Justice Department?" she said. "Given the breadth and severity of the crisis, the answer may be all of the above, and perhaps more."
Before You Go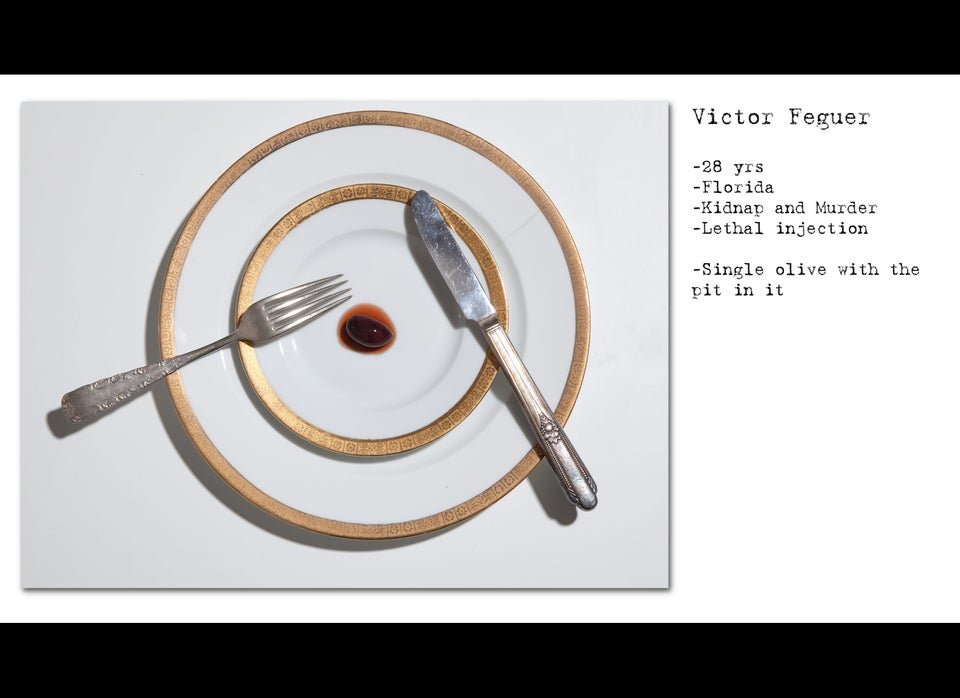 No Seconds: The Last Meals Of Death Row Prisoners
Popular in the Community