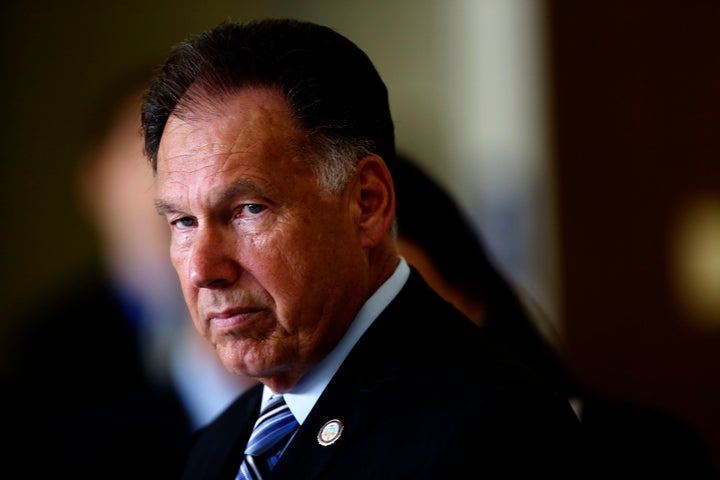 LOS ANGELES ― Orange County District Attorney Tony Rackauckas, whose office faces three investigations over the use of jail informants, told a "60 Minutes" reporter that those informants probably shouldn't be believed. Yet Rackauckas' office has been using jailhouse snitches to help secure convictions for decades, presenting them as credible witnesses with credible evidence.
The interview comes from a preview of a "60 Minutes" segment that will air Sunday on CBS about the county's unfolding jail informant scandal, which HuffPost has been reporting on since it began to explode in 2014. In the segment, "60 Minutes" correspondent Sharyn Alfonsi interviews longtime Orange County informant Mark Cleveland about the ways he has helped Rackauckas and his office.
Cleveland tells the news show that for years he has been placed in jail cells with or near defendants whom prosecutors had targeted in attempts to obtain damaging information that could secure convictions. 
Cleveland claims in the interview that he worked directly with Rackauckas and would even call him personally about information he'd obtained. Cleveland says Rackauckas expressed his appreciation and helped him obtain reduced sentences for multiple crimes.
Rackauckas reportedly told Alfonsi that there is no jail informant program in the county, despite mountains of evidence to the contrary. A recent California appeals court decision found that there is indeed an informant program. The court also wrote, "The magnitude of the systemic problems cannot be overlooked."
The district attorney told Alfonsi that he remembers Cleveland being "an informant many years ago in a case or two" but that it's a "fantasy" that he ever called Rackauckas on the phone. 
"I think you should assume you're talking to an informant, and if he's talking, he's probably lying," Rackauckus said. 
Cleveland Is Indeed A Longtime Informant
According to informant records maintained by the district attorney's office and first obtained by Assistant Public Defender Scott Sanders, Cleveland is a veteran informant in county jails, helping prosecutors obtain convictions against multiple defendants since at least the 1980s. Cleveland claims he's worked as a jailhouse snitch since the 1970s. 
Sanders is the defense attorney who, in a series of blockbuster motions, has unearthed damning evidence of a jail informant program's existence. The evidence began to surface in the case against his client Scott Dekraai, who pleaded guilty to murdering eight people at a Seal Beach hair salon in 2011. The sentencing of Dekraai remains in limbo now amid the allegations of misconduct by prosecutors and sheriff's deputies stemming from the discovery of the use of an informant. 
In a recent motion, Sanders detailed five cases from 2008 to 2010 in which Cleveland provided information. He testified as recently as 2013 in two cases. One was overseen by Assistant District Attorney Howard Gundy, who was part of the team that prosecuted Dekraai.
Prosecutors apparently relied on information from Cleveland despite the district attorney's office's own records that labeled him a "problem informant," in bold, underlined letters. 
D.A. Has Used Jail Informants Himself In Several Cases
Jail informants with questionable moral fiber have been used time and again by prosecutors in Orange County cases, even by Rackauckas himself, who acknowledged as far back as 1985 in a Los Angeles Times report to have used informants in "several cases." One such prolific jail informant used by Rackauckas was James Cochrum, whom the Times dubbed "the most used informant" and who was recently described by Sanders in court documents as "a consummate scam artist."
In 1985, Cochrum had already used as many as 13 names while committing numerous crimes in at least three states and while a member of the military, which ultimately led to his discharge, Sanders detailed in court documents. Cochrum claimed to have overheard murder confessions in four cases and testified in three of them. So valuable was Cochrum to Rackauckas that he personally accompanied Cochrum to Utah to speak to the parole board on his behalf. Following that visit, an administrative parole hold against Cochrum for escaping from a Utah lockup was dropped.
In the 1985 murder-kidnapping trial of William Gullett, Rackauckas helped win a conviction with Cochrum's testimony. The Los Angeles Times reported that Rackauckas claimed he had as many as eight informants who would testify.
Cochrum died in 2011 while serving time in Utah for communications fraud.
That same year, three years before the informant scandal would break open, Rackauckas' office successfully opposed a motion for DNA testing in the Gullett case. In 2016, Sanders sought release of the district attorney's informant file on Cochrum, but the request was denied by an Orange County Superior Court judge who, as an Orange County prosecutor, had also used Cochrum as a witness in a homicide case.
The Jailhouse Informant Scandal Continues
While Rackauckas reportedly denied the existence of a jail informant program to "60 Minutes," as the county's sheriff's department has also done, the courts have basically declared the debate over.
The debate is settled for Superior Court Judge Thomas Goethals, who ejected the entire district attorney's office from the remaining proceedings in the Dekraai case in 2015 due to findings of significant misconduct. The state's 4th District Court of Appeal affirmed Goethals' findings last year. And, despite years of denials, Rackauckas' own office acknowledged in documents released in court last year that an informant program does exist. 
Law enforcement authorities use informants to help bolster a case — a tactic that's legal, even when the snitch receives a reduced sentence or something else of value in exchange.
But Sanders has alleged that in some Orange County cases, informants recorded conversations with inmates who were already represented by lawyers, violating an inmate's right to counsel. Prosecutors then presented damning evidence gathered by the informants in court, withholding other evidence that could have been beneficial to the defense. That tactic violates a defendant's right to due process. 
It's unclear how many cases may be affected by tainted informant evidence. But a recently discovered internal memo indicated that the Orange County Sheriff's Department admitted a decade ago to cultivating hundreds of inmates as informants. Sanders has argued that every case involving a jailhouse informant in the county over the last three decades deserves to be re-examined.
Despite the misconduct that has already tainted the Dekraai case, California Attorney General Xavier Becerra announced last month that his office would continue to pursue the death penalty against Dekraai. But Goethals has ordered new evidentiary hearings to begin next week, citing "ongoing significant failures of compliance" with "legitimate orders made by this court over the last four years." The hearings could have a dramatic effect on the sentence eventually given to Dekraai.
Goethals said that he is considering the "nuclear option": the removal of the death penalty from Dekraai's cases, something he once said was "completely unthinkable" but is now a possibility because of "extensive" allegations of misconduct, the judge said. If Goethals were to take the death penalty off the table, Dekraai could get life in prison without the possibility of parole, he said last month in court. 
Just this week, Sanders accused two Orange County prosecutors of misconduct in their use of jail informants in two past cases. The D.A.'s office has denied any wrongdoing in both cases.
Rackauckas has maintained that no one in his office intentionally misused the jailhouse informant program. The sheriff's department adds that it has taken steps to create more robust ways of documenting and managing inmates.
The malfeasance already found in the county and allegations of even more prompted the Justice Department to launch an investigation in December. The California attorney general's office and an Orange County grand jury also continue to investigate.
Calling all HuffPost superfans!
Sign up for membership to become a founding member and help shape HuffPost's next chapter