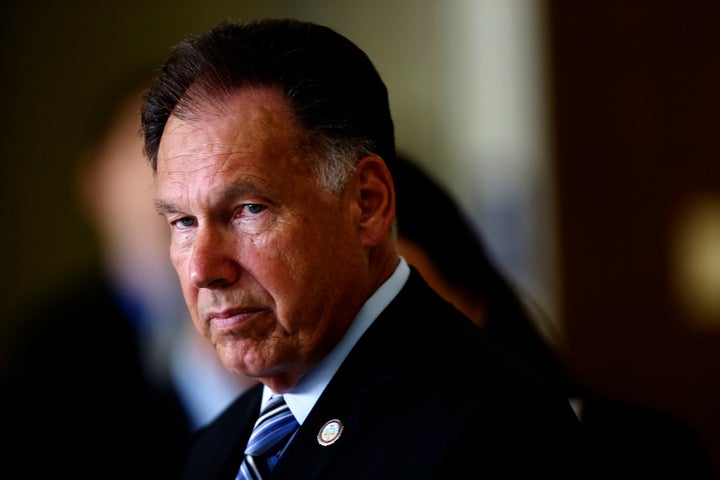 LOS ANGELES -- Orange County prosecutors' "win at all costs" mentality has contributed to "deficiencies" in a jailhouse informant program that defense lawyers say has violated defendants' rights, according to an independent committee's scathing evaluation of the county district attorney's office.
The report released Monday by the Informant Policies and Practices Evaluation Committee -- a group assembled by District Attorney Tony Rackauckas that includes a former judge and lawyers not employed by the DA's office -- says the DA's office needs sweeping reforms to restore justice.
Over the years, some county prosecutors have adopted a "win at all costs mentality," according to the report, even though criminal defense attorneys said the DA's office had "high ethical standards." The must-win culture is "a problem" reinforced by promoting prosecutors who embrace the mentality.
"Prosecutors' performance reviews should focus less on winning trials, and reflect greater emphasis on legal knowledge, analysis of issues, and finding justice," the committee recommends. The report urges additional deep-level investigation by a third party, such as the U.S. Department of Justice. (Later Monday, the DA's office asked the Justice Department to investigate. See UPDATE below.)
The committee lambasted the DA's office for a "failure of leadership" that leaves it functioning like a "ship without a rudder."
"This failure appears to have contributed to the jailhouse informant controversy," the report says, adding that office managers were "unaware" of other units' caseloads, use of jailhouse informants or allegations of withholding evidence.
Rackauckas himself was "unaware of many of the problematic issues" that led to the escalation of the jailhouse snitch scandal, the report says. The committee says it found a "palpable hesitation" to bring "problematic information" to the DA.
The most obvious reason for that hesitation is that senior managers in the office are "subject to termination without cause," the committee says. "Such a policy does not promote the free exchange of ideas on issues facing the OCDA," the report says.
Meanwhile, the committee says it found employees ambivalent about "making suggestions" or "expressing concerns" because of the belief that "nothing ever happens or changes" in the office. 
The committee recommends that the "jailhouse informant controversy" be investigated by an entity that has subpoena power to obtain documents and the ability to question people under oath. It suggests that the Justice Department, the Orange County Grand Jury or the California attorney general perform such an investigation.
"This recommendation is not meant to suggest that the IPPEC has reached any conclusion regarding any allegations of criminal wrongdoing," the report says. "It is worth noting that almost every member of the OCDA's Office who was interviewed said that he or she would welcome an investigation and was confident the investigation would find, with perhaps one or two outliers, no intentional misconduct by a member of the OCDA's Office."
At a minimum, the commission says, the DA's office should request a grand jury investigation to demonstrate transparency and to "foster confidence" in the Orange County justice system.
The committee evaluated Rackauckas's office for six months, examining thousands of pages of public documents and interviewing dozens of prosecutors, criminal defense attorneys, judges, and law enforcement officers.
The probe was launched after county prosecutors and sherif's deputies were accused of abusing a complex network of jailhouse informants and selectively presenting evidence gleaned from it.
It's common for law enforcement authorities to enlist informants to help bolster a case. The tactic is perfectly legal, even when the informant receives something for cooperating. But in some Orange County cases, jailhouse informants, at the direction of sheriff's deputies, allegedly had conversations with inmates who were represented by lawyers, violating the inmate's right to counsel. 
County prosecutors and sheriffs also have been accused withholding some evidence gathered by informants from defense attorneys -- a violation of a defendant's right to due process. One prosecutor who was found to have given less than credible testimony under oath has resigned. 
The revelations have jeopardized numerous murder prosecutions, with some accused killers walking free. Some sheriff's deputies have refused to testify in criminal cases.
The seriousness of the scandal was illustrated last year, when Superior Court Judge Thomas Goethals ejected the entire DA's office -- all 250 prosecutors -- from a penalty hearing for mass murderer Scott Dekraai, who pleaded guilty in 2014 to fatally shooting his ex-wife and seven others in a hair salon in 2011. Goethals said prosecutors had committed "significant" violations of due process and called some of their actions a "comedy of errors."
The report adds to the calls for an an outside investigation of the DA's office. A New York Times editorial in September urged an outside probe and a recent letter from legal experts asked Attorney General Loretta Lynch for a Department of Justice investigation.
The county sheriff's department has acknowledged deficiencies in jailhouse informant program and has begun reform efforts. Rackauckas has said his office would welcome a thorough investigation.
UPDATE: 9:48 p.m. -- After DA's office employees discussed the committee's report Monday afternoon, Rackauckas wrote a letter to U.S. Attorney General Loretta Lynch asking that the Department of Justice review Orange County policies surrounding the use of jailhouse informants. "In order to facilitate this," Rackauckas wrote, "I am offering the United States Department of Justice unfettered access to any documents and/or personnel of the OCDA."
REAL LIFE. REAL NEWS. REAL VOICES.
Help us tell more of the stories that matter from voices that too often remain unheard.