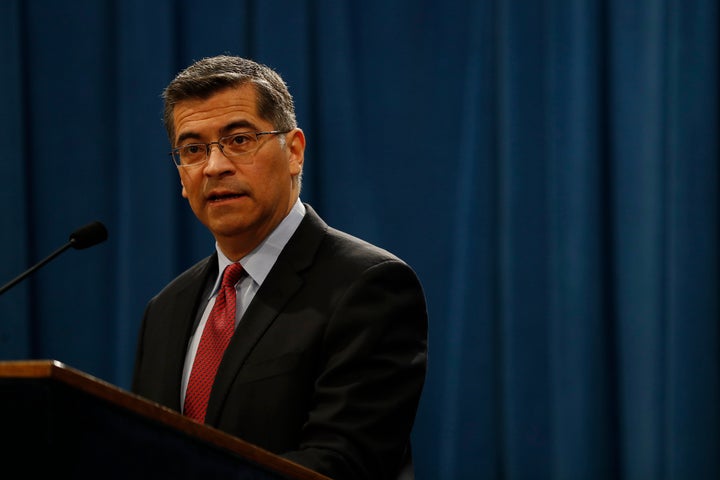 LOS ANGELES ― More than 140 new cases may be tainted by the jail informant scandal that has been roiling Orange County's criminal justice system for years. The findings threaten to unravel cases in which defendants may not have received fair trials when prosecutors withheld evidence about the misconduct of deputies who violated the rights of inmates through the misuse of informants.
The allegations, detailed by Assistant Public Defender Scott Sanders in a 65-page motion, 327-page declaration and 9,000 pages of exhibits, point to failures of California Attorney General Xavier Becerra and U.S Attorney General Jeff Sessions to take action in investigations that have languished for years. Both claim to be overseeing investigations into the Orange County district attorney's office and the Orange County Sheriff's Department over their roles in the jailhouse snitch scheme, believed to be the largest informant scandal in U.S. history.
Sanders, who unearthed the widespread misconduct in the county, alleges that sheriff's deputies who have been accused of illegally using inmate informants and withholding evidence gleaned from them, have testified in 146 felony cases since the scandal first came to light without prosecutors disclosing any of their past troubling behavior, which is illegal. Those deputies who had previously worked in the jails with informants were later reassigned to the streets, where it appears the unconstitutional practices continued with other informants, Sanders writes.
Sanders' recent discovery of a sheriff's department business card advertising assistance with potential informants, apparently dropped by a deputy outside the walls of an Orange County jail, prompted the investigation of the new cases. The card names Ash Abdelmuti, an Orange County sheriff's deputy implicated in the informant scandal who had been assigned to the jail until being transferred to a street unit. To Sanders, the informant services advertised on the card indicate that nothing has changed in the sheriff's department despite years of court hearings that exposed the system. Sanders also argues that the card indicates the same controversial informant practices being used inside county jails were also being used on the street.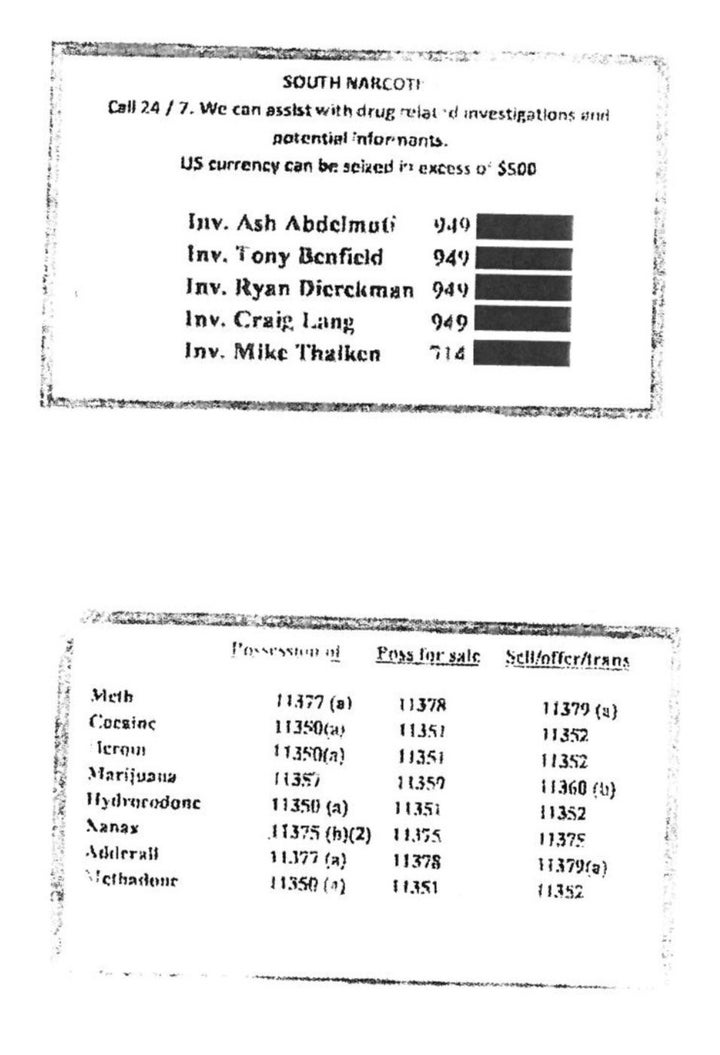 The sheriff's department continues to deny the existence of a jail informant program.
There's also evidence of a vast trove of informant-related documents that state and federal officials hadn't turned over to Sanders or other defense teams. Earlier this year, in a federal case in the county tainted by informant work, a case that was ultimately dismissed, it became clear that the U.S. Department of Justice may have access to as many as 750,000 pages of informant-related documents connected to deputies' misconduct. During the penalty phase in the Scott Dekraai case, involving a 2011 mass shooting at a Seal Beach hair salon, Sanders learned that the California attorney general's office had about 25,000 pages of documents about the use of jailhouse informants ― of which they gave Sanders just 11 pages.
"The failure to turn over discovery in any of the 146 cases — and on repeated occasion for the vast majority of the cases — brings home the true depth of this malignancy," Sanders wrote.
But the scandal has grown larger again, Sanders writes in his motion, indicating that Becerra and the now 40-month investigation his office has purportedly been pursuing against the Orange County Sheriff's Department have been ineffectual.
Sanders focuses on former jail Deputy Jonathan Larson, who was appointed as lead investigator in the recently announced high-profile Mexican Mafia gang crackdown in the county, dubbed Operation Scarecrow, even though he was under investigation by Becerra's office ― as well as the sheriff's department ― for his role in informant-related misconduct. Sanders details Larson's testimony in two murder cases in 2015 and 2016 in which the deputy was questioned about informants being moved near inmates in jail. Larson denied that the practice ever occurred in the 2016 case; in the 2015 case, he admitted he knew such practices had taken place.
In Operation Scarecrow, Larson authored the key affidavit that led to law enforcement's obtaining of multiple wiretaps. Orange County District Attorney Tony Rackauckas, as well as two members of the sheriff's department command staff and California attorney general's office investigators, then signed off under penalty of perjury that they reviewed Larson's affidavit. Yet, Sanders says, neither these individuals, nor a prosecutor who sought indictments based upon Larson's testimony, disclosed the details of Larson's past misconduct nor his false testimony in the affidavit.
In addition to the 146 cases identified by Sanders, the multi-agency Scarecrow crackdown has led to the arrests of 85 people. Those cases too may now be in jeopardy.
The Orange County Sheriff's Department, Orange County district attorney's office and the U.S. Department of Justice declined to comment. The California attorney general's office did not respond to a request for comment.
In 2014, Sanders alleged that prosecutors and law enforcement officers in Orange County had for decades been running an illegal jailhouse informant program that violated inmates' rights ― including those of his client, Dekraai, a tugboat captain who had pleaded guilty to killing eight people, including his ex-wife. Sanders contended that in multiple cases, the district attorney's office and the sheriff's department colluded to plant informants inside county jail cells in order to obtain damning information from defendants who were awaiting trial and were represented by lawyers ― a violation of an inmate's right to counsel. According to Sanders, prosecutors then presented that damning evidence in court while withholding evidence that could have been beneficial to the defense.
In 2015, then-Superior Court Judge Thomas Goethals barred Rackauckas' entire office from further prosecuting the Dekraai case due to "ongoing prosecutorial misconduct." Goethals acknowledged there was no direct evidence that Rackauckas had actively participated in the concealment of evidence by sheriff's deputies, but the judge faulted the prosecutor for "chronic failure" to comply with court orders to produce evidence.
Last year, Goethals excluded the death penalty option for Dekraai due to "ongoing prosecutorial misconduct." Goethals instead sentenced Dekraai to eight consecutive life terms in prison without the possibility of parole.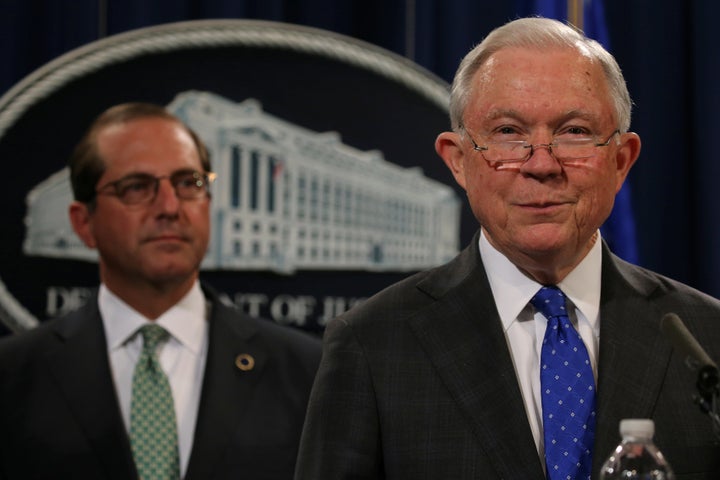 The Justice Department investigation was first launched under the Obama administration, but only in his final months in office. When Trump won the 2016 presidential election and Sessions became U.S. attorney general, his Justice Department took over the Orange County probe. Sessions also quickly telegraphed to local prosecutors and law enforcement agencies, in his official actions and speeches, that they could employ any tactics they deemed necessary without fear of Justice Department interference. And thus any lingering hopes for a robust federal investigation into the corruption plaguing the county from the federal government was thought to be lost. It was thought, though, that the investigation being undertaken by progressive Becerra's office might get to the bottom of the scandal.
According to Sanders, the recent revelations offer the strongest proof yet that Becerra's investigation was never genuine and that prosecutors and deputies knew this from the time it was announced. In the face of toothless investigations, prosecutors can, and do, largely operate without fear of consequences for their actions. 
The Orange County DA, the county sheriff's department and the California attorney general's office were "playing an inside joke on the criminal justice system that shows with perfect clarity the true level of concern that [Undersheriff Don] Barnes, Rackauckas, and Becerra share about the court rulings and revelations," Sanders wrote.
Sanders filed the brief on behalf of his client Oscar Galeno Garcia, who is charged with a low-level methamphetamine offense. The case against Garcia was built, in part, on the back of an informant who claimed Garcia was selling the drug. Garcia has denied both selling and using the drug. Because of the misconduct that has tainted so many cases in the county, and appears to have not changed in the wake of the Dekraai case closing, Sanders has asked the judge to recuse Rackauckas' office from prosecuting the Garcia case. 
"This behavior would devastate any reasonable faith that the OCDA in its current iteration can be trusted to fairly prosecute this case (or any case in which the credibility of an OCSD deputy is an issue)," Sanders wrote.
Calling all HuffPost superfans!
Sign up for membership to become a founding member and help shape HuffPost's next chapter