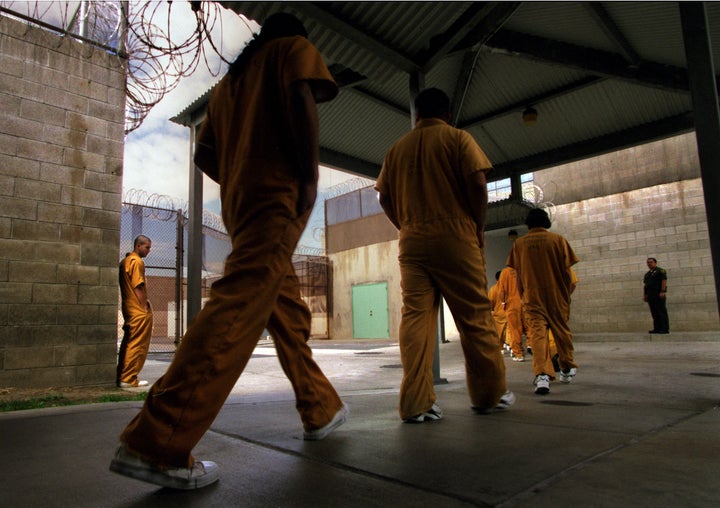 SANTA ANA, Calif. ― New evidentiary hearings began Tuesday as part of the penalty phase in the case against Scott Dekraai, a man who pleaded guilty to murdering eight people in 2011 but whose sentencing has remained in limbo amid ongoing allegations of malfeasance by county prosecutors and sheriff's deputies.
Orange County Sheriff Deputies Ben Garcia and William Grover both invoked the Fifth Amendment on Thursday, declining to answer Assistant Public Defender Scott Sanders' questions about previous testimony in which they covered up the existence of the county's jail informant program.
Superior Court Judge Thomas Goethals called out Garcia and deputy Seth Tunstall in 2015, saying the pair "either intentionally lied or willfully withheld information" during their testimony. On Thursday, he said he would go back and include Grover in that ruling if he could. All three deputies worked in a branch of their department called "special handling," which specifically dealt with inmates and jail informants.  
Central to the hearings are questions surrounding the abrupt termination of the special handling log ― a 1,157-page, formerly secret cache of notes that sheriff's deputies inside the jail maintained from 2008 to 2013 to record their activities with inmates, some of whom were informants. The database has shed new light on the scope of the informant program in the county and has revealed that some deputies were destroying jail records, possibly illegally. 
In separate log entries, Garcia and Grover both describe the "shredding" of "old" documents related to the special handling unit. In another entry, Grover describes a "purge" that he, Garcia and another deputy did of old files in a desk drawer. Here's an example of one of Grover's log entries from 2009: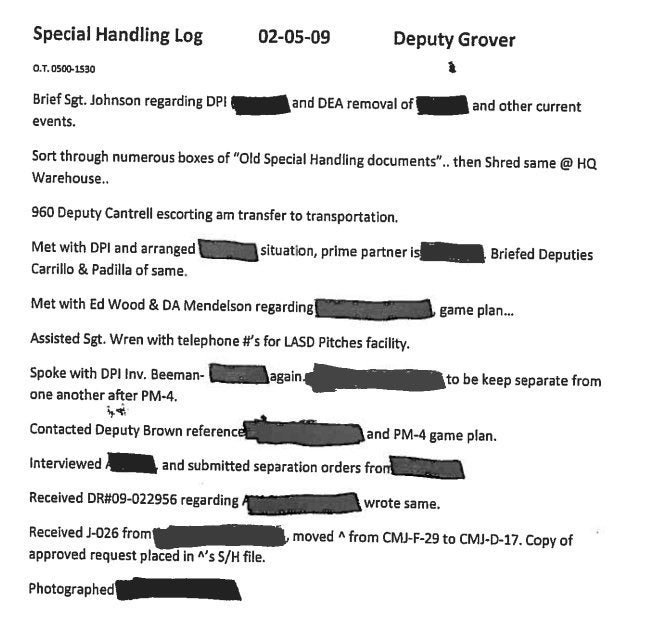 The destruction of records relates to the second subject of testimony: questions surrounding a policy change that allowed OCSD staff to destroy informant-related records ― even as allegations of misconduct around their use of informants grew. 
The first days of the hearings have already raised troubling new questions about the OCSD's inquiry into the special handling log and the agency's record retention policies.
Why did OCSD pretend it didn't have answers about the ending of the log?
Questions have plagued the sheriff's department over its investigation into the log's origins, use and sudden termination. Now, during this week's hearings, a new mystery has begun to develop around the department's investigation into the log's ending.
Lt. Andy Stephens took the stand on Tuesday to answer questions about his investigation into the log's abrupt elimination. Stephens, a 24-year veteran of the OCSD, now oversees the department's Custody Intelligence Unit, a new unit to oversee jail informants. The CIU replaced the former special handling unit.
Stephens says OCSD command staff asked him to perform a task three days after he took over the CIU: email four OCSD sergeants who worked in classification/special handling during the years that the log was active and ask them about their understanding of the log and why it ended. Stephens obliged. 
One of those sergeants was Marty Ramirez. A late log entry references Ramirez and Lt. Raymond Wert discussing the decision to end the record. The entry dated Jan. 23, 2013, says Ramirez and Wert held a special handling meeting wherein it was determined that the log would end and that deputies would start keeping a document for "important information sharing only."

But Ramirez told Stephens that "[h]e had no knowledge of the existence of this log during the time he was assigned to that position," according to court documents. 
In court this week, Sanders showed Stephens an internal memo indicating that Lt. Michael McHenry had questioned Ramirez about the log in July. Ramirez replied at the time by saying Wert was primarily responsible for special handling.
But when McHenry allegedly spoke to Ramirez a month later, Ramirez had a detailed understanding of the log. McHenry says Ramirez told him that when he had learned of the log, "he thought there was a better way to document things." According to McHenry, Ramirez said, "it wasn't like the guys were doing anything wrong." Ramirez explained, according to McHenry, that he saw the termination of the log as "an improvement in operations, not fixing an error."
It's therefore unclear why sheriff's department appears to have begun a second, segregated investigation of Ramirez's knowledge of the ending of the log ― when they purportedly already had his answer on that issue months before.  
Why did the department request new informant record destruction policies as the informant scandal was unfolding?
Carol Ann Morris, the assistant director of the support services division of the OCSD, took the stand on Thursday. Morris is the author of the agency's records retention schedules, which determine when OCSD can legally destroy records.
She described embarking on the herculean task of revising record retention policy for the agency in 2013. Most divisions hadn't updated their policies since 2008, but she said updating the jail division's retention policies was particularly challenging because they hadn't been changed since 1979.
In August 2014, after about 15 months of work, Morris submitted her new record retention schedules to the Orange County Board of Supervisors. The board must approve all new record retention policies, she explained in court. Three months later, the jail division requested she add three additional categories to her policy: "confidential informant files," "source of information" and "special handling jacket or file." The jail requested the ability to destroy any records they maintained in those categories after just three years. The county supervisors approved the new record policy in December of that year. 
Thus as the county's jailhouse informant scandal was exploding in 2014, a new record destruction policy was authorized. The policy allowed OCSD to destroy records that, according to testimony, documenting informant history for the previous 30 years. 
Moreover, the three-year interval of the new policy coincided with records that would seemingly exist around the same time that Dekraai was jailed and an informant was allegedly planted next to him to glean incriminating evidence from him. 
Sanders, who has unearthed damning evidence of a jail informant program's existence, ordered OCSD to turn over those policies to the court in 2016. However, the new record retention policy was never disclosed. Instead, the old policy from 1979 was turned over.
Sanders only discovered the existence of the updated policy when an unnamed source happened to provide him with a copy of it last year ― after the OCSD failed to provide the 2014 retention policies despite a subpoena requiring its disclosure. Sanders has alleged that the OCSD intentionally provided the court with outdated policy documents in order to conceal that the agency had obtained the ability to destroy informant-related evidence.
Morris and her staff member, Vanessa Reid-Mena, both testified on Thursday that it was an accident that the 2014 record retention policy wasn't turned over to the court. Reid-Mena said the error was due to internal miscommunication over who was going to provide a copy of the new policy. 
But, in describing the OCSD's inquiry into the failure to disclose the new policy to the court, both Morris and Reid-Mena relayed a story of being interviewed in front of several witnesses for nearly five hours ― off the record. On March 30, 2017, members of the California Attorney General's Office questioned numerous members of the OCSD, including Morris, Reid-Mena and Assistant OC Sheriff Adam Powell. According to Morris, Powell requested the meeting not be recorded and suggested that there might be more "candor" that way. 
Why did OCSD deputies continue to shred records, even with a legal hold in place?
Morris testified on Thursday that she learned in 2012 that some staff within the jail thought they could rely on the "Jail Operations Manual," an internal rulebook for jail staff, to provide guidelines for evidence destruction. But the county's board of supervisors hadn't authorized those guidelines, meaning they could be illegal. 
An alternative set of unofficial record retention policies was circulated to jail staff sometime that year, Morris said. She said she immediately alerted OCSD commanders that these rules were not official and should not be followed. She testified that she doesn't know what action was taken to make sure records were not destroyed.
Further, it became illegal to destroy jail records in 2009, when the U.S. Department of Justice began an investigation into county jails.
Sanders also questioned Morris about evidence of document destruction described in the special handling log. When defense attorney showed some of these entries to Morris on Thursday, she said she was "alarmed" by the notion that these deputies were destroying any records.
This week's hearings came just days after "60 Minutes" aired a segment on the informant scandal. In the segment, OC District Attorney Tony Rackauckas ― whose office faces three investigations over the use of jail informants ― said informants probably shouldn't believed. Still, his office has been using jailhouse snitches to help secure convictions for decades, presenting them as credible witnesses with credible evidence.
Rackauckas has long maintained that no one in his office intentionally misused the jailhouse informant program. The sheriff's department has said that it has taken steps to create more robust ways of documenting and managing inmates.
The malfeasance already found in the county and allegations of even more prompted the DOJ to launch an investigation in December. The California attorney general's office and an Orange County grand jury also continue to investigate.
REAL LIFE. REAL NEWS. REAL VOICES.
Help us tell more of the stories that matter from voices that too often remain unheard.