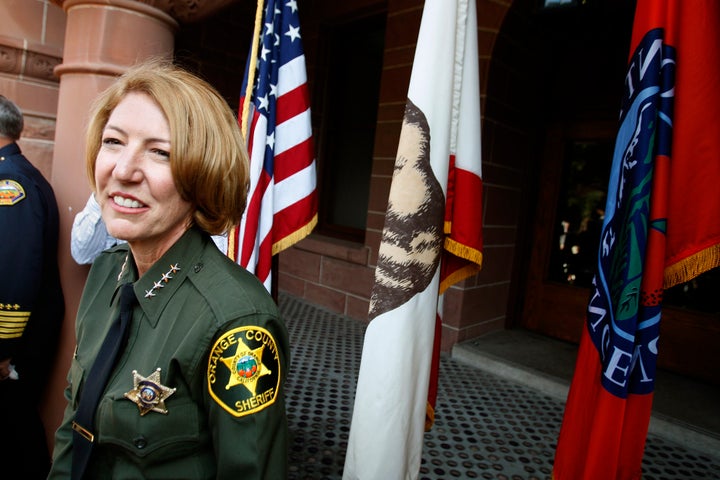 LOS ANGELES ― An appalled Superior Court Judge Thomas Goethals on Friday strongly rebuked Orange County Sheriff Sandra Hutchens for continuing to deny that she and her deputies were involved in running the county's now notorious jailhouse informant program, despite mountains of evidence to the contrary.
Thousands of pages of internal memos, documents and a newly discovered policy manual clearly describe the existence of an informant program inside county jails, but Hutchens and her deputies still maintain that it doesn't exist.
Goethals also announced that he will open new evidentiary hearings in the case against Scott Dekraai, who pleaded guilty to killing his ex-wife and seven other people /us.preview.huffpost.net/entry/5834debbe4b000af95ed34be?preview=5834debbe4b000af95ed34bf&edition=us#desktop"}}">at a Seal Beach hair salon in 2011. Dekraai awaits the start of the penalty phase of his trial, but the case has been derailed for years as the scope, secrecy and alleged malfeasance by county law enforcement and prosecutors in the informant program has become a centerpiece of the Dekraai case and unraveled numerous others.
From the bench on Friday, Goethals read a series of newly unsealed official memos from the sheriff's department ― stretching back to 2003 ― wherein OCSD deputies describe sophisticated "missions" and "plans" inside the jail to gather evidence against other inmates.
In memos printed on OCSD stationery and sent to top command staff at the sheriff's department, deputies explain how informants should be placed next to other inmates, their conversations will be recorded and sheriff's deputies in a branch called "special handling" will help local police departments use the informant program to build cases against other inmates.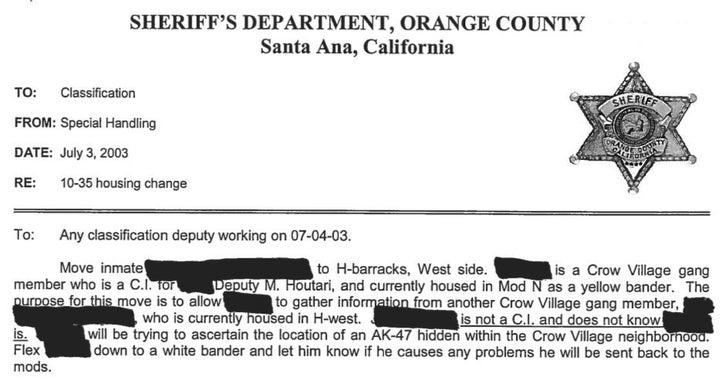 After reading each memo, Goethals recited remarks Hutchens made in an interview with ABC7 denying the existence of a jail informant program.
"The deputies in the jail are not conducting investigations ... we don't have our folks working informants," Goethals said, quoting Hutchens repeatedly after each memo that seemed to refute her claim. 
Goethals also referenced the decision a California appeals court made last year that affirmed the removal of the county's entire district attorney's office from the Dekraai case due to misconduct involving the informant program.
The court found that the evidence "demonstrates that the OCSD ... created and maintained a [confidential informant] program" that violated the rights of defendants.
"The train has left the station on this, folks," Goethals said Friday. "The debate is over."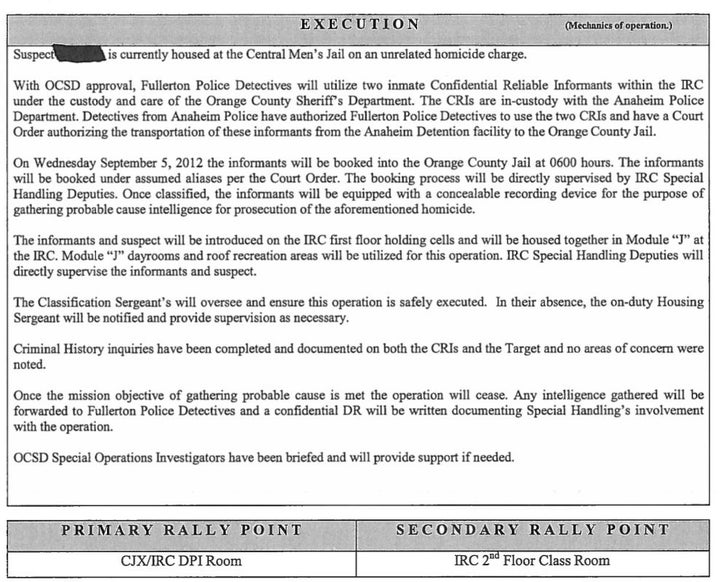 The memos aren't the only evidence a jailhouse program exists. In a blistering motion filed this week, Assistant Public Defender Scott Sanders, Dekraai's attorney, independently obtained a previously unknown official OCSD internal document on using informants.
While the OCSD does not admit to having a "Custodial Informant Program, Jail Informant Program, or a Jailhouse Informant Program," it does appear to operate what it calls a "Custody Informant Program," Sanders writes. The undated six-page handbook, also obtained by The Huffington Post, provides bullet points about developing informants, record keeping, past practices and guidance on updated policies around the use of informants. 
Moreover, Goethals made public 242 pages of notes last year, known as the "special handling log," revealing the inner workings of the county's informant program that appear to contradict testimony given by multiple deputies who had previously denied knowledge of working with informants. The pages represent just a fraction of the total 1,157-page database, still largely under seal, which was in use between 2008 and 2013 and maintained by sheriff's special handling deputies. 
In June 2016, after years of its own denials, the D.A.'s office unequivocally acknowledged that a jail informant program does exist and that sheriff's deputies actively "recruited and utilized" informants and rewarded them for information.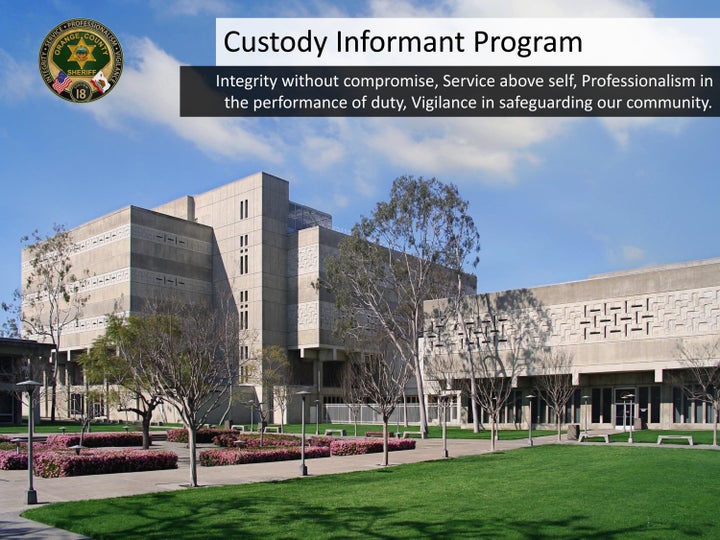 After revisiting the facts of the case, an incredulous Goethals made an impassioned statement from the bench about the importance of due process, protection of rights, and judges' duty to uphold the law. He referred to himself ironically as a "so-called judge," a not-so-subtle reference to President Donald Trump's dismissive remarks about a federal judge who issued a nationwide temporary injunction last week against the president's executive order on immigration and refugee resettlement.
"It strikes me that our free republic depends on a system of justice grounded in the rule of law," Goethals said. "So-called judges like me are required to uphold the rule of law. I care about due process. Some might describe this as a 'discovery dispute,' but that demeans it. This is about due process."
The reference to Trump was likely also a nod to Hutchens, who Trump praised earlier in the week during a sheriff's conference in Washington, calling her "legendary" and thanking her for her "leadership and ... service."
Goethals concluded with a call for new evidentiary hearings in the case, in part due to the appearance of intentional manipulation and/or destruction of many entries in the special handling log and allegations that the sheriff has still not turned over all documents related to the informant program.
The call for new hearings arrives amid a wave of new allegations Sanders surfaced in recent weeks.
According to recent court documents from the last several weeks, Sanders says he received a previously undisclosed document from an unnamed source that appears to be the current retention policies for the OCSD that were authorized in 2014. Called "Orange County Sheriff's Department Retention and Disposition Schedules," and also obtained by The Huffington Post, the document shows the department's policy allows for the destruction of informant and special handling-related records after just three years. 
Sanders argues the OCSD secretly obtained the authorization to destroy informant evidence and hid this from the court for years, instead providing the court with record retention policies that were outdated and did not address destruction of informant-related evidence. 
OCSD has denied the department is destroying documents. However, in the more than 200 pages of special handling notes released last year, there were multiple entries made by sheriff's deputies that appear to describe the destruction of documents. Two separate entries describe the "shredding" of "old" documents related to the special handling unit. In another entry, an entry describes a "purge" that deputies did of old files in a desk drawer.
Sanders also alleges the OCSD made significant changes to its policy manuals to make it appear that deputies who testified in 2014 hearings were truthful in their denial of a jailhouse informant program.
Law enforcement authorities use informants to help bolster a case — a tactic that's perfectly legal, even when the snitch receives something in exchange. But Sanders alleges that in some Orange County cases, informants held recorded and unrecorded conversations with inmates who were already represented by lawyers, which violates an inmate's right to counsel. Prosecutors then allegedly took damning evidence gathered by the informants and presented it in court, while withholding evidence that could have been beneficial to the defense — which is a violation of a defendant's right to due process. 
In December, the Justice Department announced that it opened an investigation into the allegations that the sheriff's and D.A.'s offices violated defendants' rights through the use of the jail informant program. 
Orange County District Attorney Tony Rackauckas has maintained that no one in his office intentionally behaved inappropriately in relation to the jailhouse informant program. OCSD argues similarly and that it has taken steps to create more robust ways of documenting and managing inmates.
REAL LIFE. REAL NEWS. REAL VOICES.
Help us tell more of the stories that matter from voices that too often remain unheard.