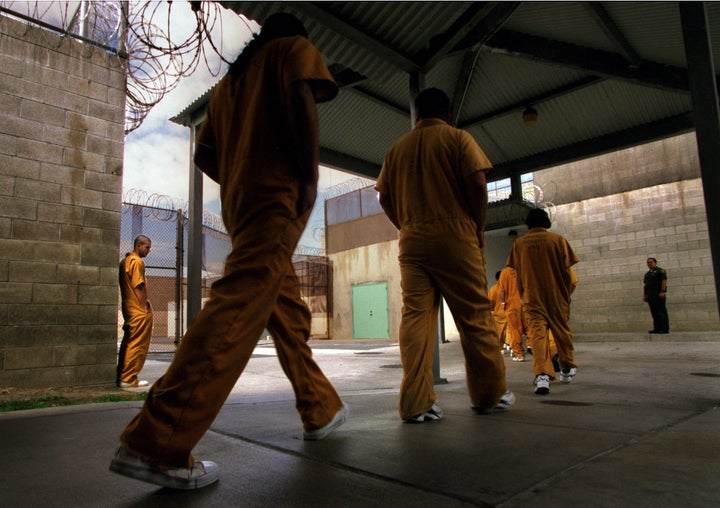 LOS ANGELES ― A jailhouse snitch scandal has been roiling Orange County for almost three years. But prosecutors and law enforcement in the county are now expressing disagreement about whether the informant program at the scandal's center actually exists at all.
"There is no jail informant program in the jail," Lt. Mark Stichter, spokesman for the Orange County Sheriff's Department, told The Huffington Post.
The Orange County District Attorney's Office tells it differently.
In June, after years of denials, the OCDA's office finally acknowledged that an informant program does indeed exist and that sheriff's deputies actively "cultivated," "recruited and utilized" informants and rewarded them in exchange for information. The admission followed the discovery of a trove of secret notes kept by sheriff's deputies about inmates and jail informants, which shed new light on the informant program. The notes, kept secret until recently, were recorded from September 2008 to January 2013 ― ending one week after a public defender made a comprehensive order for evidence regarding an informant used in a mass murder case.
The cache of notes "reveals that jail special handling deputies recruited and utilized numerous informers," Assistant District Attorney Dan Wagner wrote in a motion in June. "The informers were often kept in a particular sector. In exchange for their information, informers were given favors by deputies such as phone calls and visits."
Wagner noted that the log contradicts statements made by several witnesses, including police, and that it may also contradict some evidence previously presented in a case involving Scott Dekraai, a man who shot and killed eight people in 2011 in the deadliest mass murder in Orange County history.
When asked about the allegations that sheriff's deputies "recruited" informants, Stichter suggested that the deputies didn't acquire information through recruitment, but rather that it simply arose during informal conversations with inmates.
"Informers or sources of information usually come to light during a conversation," Stichter told HuffPost in an email. "Conversations occur between deputies and inmates on a daily basis."
"Deputies, as part of their job, are constantly talking to inmates in the jail," he continued. "The same way we would talk to someone on the street. This is how we learn what is going on in our community. In this case, the jail community."
As for the abrupt ending of the log that deputies kept on inmates and informants, Stichter said OCSD is still investigating how and why it ended.
During the Dekraai proceedings, the sheriff's department inconsistently described the use of informants in county jails. In 2014, a pair of sheriff's deputies, Seth Tunstall and Ben Garcia ― both of whom worked in a branch of the department called Special Handling, which specifically deals with inmates and jail informants ― testified on the matter. Both deputies denied that there was a jailhouse informant program. They also denied that they housed informants and defendants together so that informants could elicit statements, and denied that there were any records of such practices taking place.
But later that year, Assistant Public Defender Scott Sanders discovered that OCSD had been documenting movements of jail inmates and informants for at least two decades. Those records of inmate movement, known as TREDs, suggest that, at least in the Dekraai case, an informant may have been placed next to Dekraai intentionally. In explaining their lapse, Tunstall said he'd just never thought to mention records, despite also admitting that he'd made thousands of entries himself. Garcia said that he'd failed to mention the records because he was trained to never speak of the TREDs in court.
Tunstall also clearly stated the responsibilities of his unit:
The Special Handling/Gang Detail is responsible for: Gathering intelligence on gang shot-callers representatives, gang rivalries in and out of custody, narcotic trafficking within the jail system, developing confidential informants.
However, when confronted during the Dekraai hearings about his sworn search warrant affidavit, Tunstall disavowed his earlier admissions that he'd cultivated and developed confidential informants in the jail, claiming instead that he had used the "wrong" words. At the time of the testimony, OCDA appeared to accept Tunstall's explanation that he'd misspoken.
Sanders has been arguing since 2013 that a tainted snitch network in county jails has existed in secret for decades. In a series of blockbuster motions, the defense attorney unearthed damning evidence pointing to the program's existence, alleging that county prosecutors and police have violated multiple defendants' rights by illegally obtaining and sometimes withholding evidence gleaned from jail informants. His discoveries have led to multiple murder cases in the county unraveling, even resulting in some accused murderers having their sentences vacated.
Law enforcement authorities use informants to help bolster a case — a tactic that's perfectly legal, even when the snitch receives something in exchange. But Sanders alleges that in some Orange County cases, informants held recorded and unrecorded conversations with inmates who were already represented by lawyers, which violates an inmate's right to counsel. Prosecutors then allegedly took damning evidence gathered by the informants and presented it in court, while withholding evidence that could have been beneficial to the defense — which is a violation of a defendant's right to due process.
It remains unclear exactly how many cases in the county may have been affected by tainted informant evidence, but Sanders has argued that every case involving a jailhouse informant in Orange County over the last 30 years deserves to be re-examined.
Legal experts have called for the U.S. Department of Justice to conduct a full investigation of the DA's office and the sheriff's department over the informant program.
The OCSD has acknowledged "deficiencies" in the policies and protocols involving jailhouse informants, and says it has already taken steps to create more robust ways of documenting inmate handling.
Orange County District Attorney Tony Rackauckas has maintained that no one in his office intentionally behaved inappropriately in relation to the jailhouse informant program. He, too, has invited the DOJ to investigate his office's practices in that area.
Popular in the Community