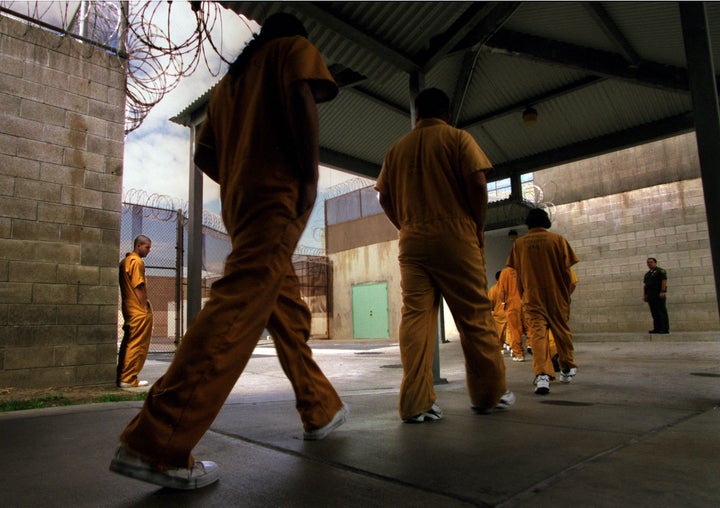 LOS ANGELES ― Orange County Superior Court Judge Thomas Goethals blasted county Sheriff Sandra Hutchens in court Friday over a seeming refusal to turn over all evidence related to a tainted jailhouse informant program that has allegedly violated the rights of numerous defendants and threatens to upend multiple murder cases in the county.
"This court has been waiting a long time. I am patient, but I have been waiting a long time," Goethals said to Deputy County Counsel Elizabeth Pejeau. "It is time for compliance."
Pejeau represents the Orange County Sheriff's Department, which was ordered to give the court internal documents related to the informant program about three and a half years ago.
"[Sheriff Hutchens] has lost the moral high ground here," Gothals said. "It seems as if the sheriff believes that she can have documents and that she can decide if she has to turn them over ... Frankly, I'm not worried about embarrassing the sheriff."
Goethals' rebuke of Hutchens follows the bombshell discovery of an 1,157-page secret database earlier this year. Called the Special Handling Log, it contains detailed information about jail inmates and informants ― including references to Dekraai himself, Goethals said in court Friday.
The log, which spans the years of 2008 to 2013, was maintained by sheriff's deputies who work in a branch of the department called Special Handling, which specifically deals with inmates and jail informants.
Much of the contents of the log remain unknown publicly because of a protective order placed on the document since its pages began to first trickle out from the sheriff's department months ago ― and the mystery surrounding the database continues. It's still unclear why the log was abruptly halted just days after Goethals issued a broad order to turn over such materials, after years of use. It's also unknown if a new log replaced the old one after it ended in 2013. Lt. Mark Stichter, spokesman for the OCSD, told The Huffington Post recently that the agency is still trying to determine why the log ended.
However, in court on Friday, Judge Goethals said that there is "probable cause" to believe the sheriff's deputies are maintaining a newer log ― and one that has yet to be turned over to the court.
"There's something else out there," Goethals said. "And I can't understand what it hasn't been produced. There is no great mystery here. This doesn't take a genius to figure out."
At one point, an incredulous Goethals asked Pejeau in no uncertain terms if there is a newer log covering the years beyond 2013 that tracks inmate and informant activity similar to to the discontinued log.
Pejeau's response appeared to be hedged. She said that, "to the best of her knowledge" there is no new log "like the SH Log."
But Goethals did not accept that answer and proceeded to blast Pejeau for seemingly playing semantics. He said he interpreted her answer as "positive," and one that indicates that "there is a new log, just called something else."
Further, Dekraai's attorney, Assistant Public Defender Scott Sanders ― who since 2013 has unearthed a series of violations by prosecutors and sheriff's deputies involving the county's formerly secret jailhouse informant program ― revealed a disturbing detail from a portion of the log that he has reviewed that appears to answer Goethals' question about the existence of a newer log.
Sanders described one log entry that indicated that Deputy District Attorney Dan Wagner, the prosecutor in the Dekraai case, tipped off Special Handling Deputy Seth Tunstall in January 2013 that more informant evidence might get handed over to Sanders and the court. The next day, a meeting is described having taken place in which various sheriff's deputies discuss that they will stop using the SH Log and instead start using a document with only "important information." That meeting took place eight days before the last entry was made in the Special Handling Log, on Jan. 31, 2013.
In court, Sanders referred to this log, as the "Important Information Log," a new cache of deputy notes on inmates and informants spanning the recent years within the jail.
Sanders called the behavior of Hutchens, who at the least knew about this log entry and never said a word about it in prior hearings, as "beyond outrageous." He also severely criticized the OCDA office for failing to share information about the log entry, despite also knowing about it, calling the entire ordeal a "conspiracy of silence."
Goethals, troubled by what appears to be a disturbing pattern of misconduct by law enforcement and prosecutors in the Dekraai case, asked Pejeau: "How many pages should I expect to wash ashore next?"
Pejeau wasn't able to give a definitive answer to Goethals. But Wagner said that in an OCDA review of a computer drive at the sheriff's department over the course of several days, the DA's office saw "thousands upon thousands of files," estimating that they saw up to 4,000 computer folders with "tens of thousands of files." Wagner argued that most of those materials were ordinary work logs and not relevant to the case or informant issue. He also said he has not personally seen an official log that has replaced the defunct Special Handling Log.
Because of the overwhelming indication that documents of some kind likely have replaced the original SH Log, Goethals ordered all government agencies to preserve any materials that haven't been discovered yet and may be relevant to the case.
"Don't destroy anything that exists today," Goethals said.
Goethals said he intends to release 250-300 unredacted pages from the SH Log in early November.
Pejeau indicated she may seek a protection order on those pages to keep them out of public view, arguing that jail staff and inmates could be put at risk by the release.
Goethals said he would consider arguments to keep these pages sealed, but largely disagreed with the sentiment, saying there is "large, legitimate public interest" in this document.
"I'm a First Amendment person," Goethals said. "We do our best work when public is watching and has access to information."
The jailhouse informant scandal has been rocking Orange County, the third largest county in California by population, for about three years. Sanders' discoveries surrounding the use of jail informants have also led to the unraveling of multiple murder cases in the county, and some accused murderers have even gone free as a result.
The reverberations from the scandal have already been felt by state lawmakers, who recently passed a law that could send cheating prosecutors to jail.
Multiple legal experts have repeatedly called for the DOJ to use its powers to conduct a full investigation of the OCDA's office and the OCSD regarding the informant program. Even Orange County District Attorney Tony Rackauckas, who has maintained that no one in his office intentionally behaved inappropriately with regard to the jailhouse informant program, has invited the DOJ to investigate his office's practices in that area.
Popular in the Community