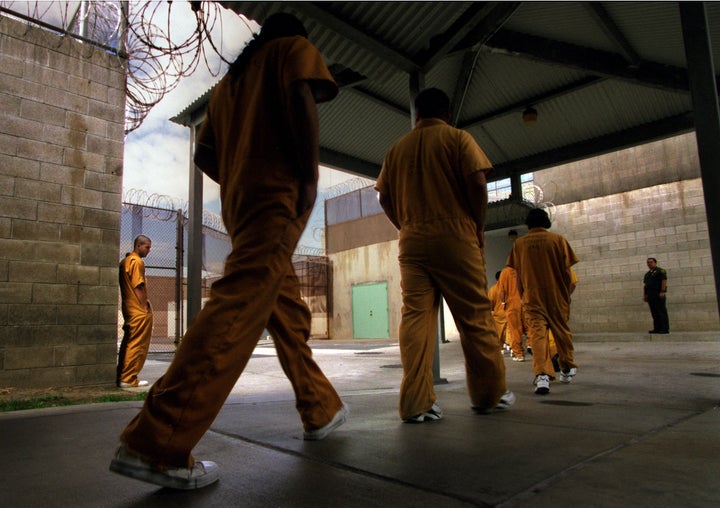 LOS ANGELES ― A group of Orange County Sheriff's deputies for years kept a secret log of daily activities that included significant details about using jailhouse informants ― notes they didn't turn over to defense attorneys actively seeking such records, court testimony revealed this week.
It seems likely that they have other unreleased notes and audio recordings pertaining to at least one inmate who later became an informant, even though defense attorneys have repeatedly requested such materials. 
The revelation is just the latest bombshell in a jailhouse informant scandal that has been rocking the county for more than two years.
The details came out this week during a Superior Court hearing for Daniel Patrick Wozniak, who faces the death penalty for a 2010 double murder in the county.
According to testimony from multiple senior-level members of the OCSD, officers tasked with managing the movement of inmates inside county jails kept an unauthorized daily "blog" of their activities with inmates, some of whom were informants, from 2008 to 2013. 
The log references an interview deputies recorded with inmate Fernando Perez, a Mexican Mafia leader who later became a prolific informant for the county and gathered evidence on Wozniak and another man accused of murder, Scott Dekraai. That recording has not been turned over as evidence. Ben Garcia, one of the deputies who added to the unauthorized log and apparently interviewed Perez, was accused by the court in 2014 of either intentionally lying or willfully withholding evidence during Dekraai's trial. 
A jury has recommended the death penalty for Wozniak. Superior Court Judge John Conley, who oversaw this week's hearings on the secret log, is expected to issue his final determination on Wozniak's fate this month. However, new information about an informant who spoke with Wozniak in jail has been revealed since the trial ended, and Assistant Public Defender Scott Sanders says this means Wozniak may not have received a fair trial and should not be put death.
"I don't think you can execute people in a county where there is this cheating in the jails," Sanders said in court Thursday. 
It's not clear if all the notes have been turned over. The court was supposed to received two matching copies of the log this week, but the documents they got were notably different: One was about 80 pages long and the other was about 50, and some pages had information that wasn't included in the other set.   
OCSD Cmdr. Adam Powell testified that all deputies have a personal computer drive on which they can save documents, and said none of those individual drives have been searched for additional notes. Further action will be taken to find any remaining personal notes related to jail inmates within the sheriff's department, he said.
Sheriff command staff said they had no knowledge of the log until a department-wide email requesting personal notes from OCSD employees revealed it. Sanders issued a subpoena last month in search of more information, following the OCSD's discovery that a sheriff's deputy had not turned over four years of personal notes related to a different murder case in the county.
The Orange County District Attorney's office, which has been under fire for its involvement in mishandling evidence produced from the informant program, also said this week that it had no prior knowledge of the log. 
"The OCDA finds it distressing that these notes would be withheld from the OCDA, the court, and the public until this hearing," the office said in a statement.
An internal investigation of the matter remains ongoing, OCSD Lt. Mark Stichter told The Huffington Post. 
This is the second time Sanders ― who since 2013 has unearthed a series of violations by prosecutors and police involving the county's secret jailhouse informant program ― has uncovered a trove of notes that sheriffs kept about inmates and withheld in violation of defendants' rights. Last year, after Dekraai pleaded guilty to shooting and killing his ex-wife and seven other people in a hair salon in 2011, Sanders found a database that the sheriff's department maintained on informants and inmates that may have been illegally concealed for over 30 years.
Sanders' discoveries have led to the unraveling of multiple murder cases in the county, and some accused murderers have even gone free. Earlier this year, a group of former prosecutors and legal experts called on the U.S. Department of Justice to conduct a full investigation of the DA's office and the sheriff's department over the informant program. 
Orange County District Attorney Tony Rackauckas has maintained that no one in his office intentionally behaved inappropriately in relation to the jailhouse informant program. He, too, has invited the DOJ to investigate his office's practices in that area.
It remains unclear exactly how many cases may have been affected by tainted informant evidence, but Sanders has argued that every case involving a jailhouse informant in Orange County over the last 30 years deserves to be re-examined.
After learning that more secret records had been discovered, other legal experts echoed Sanders' sentiments and called for the DOJ to thoroughly investigate both the sheriff's department and the district attorney's office.
"Without it, there is no way to know the extent of the constitutional violations, or even what records exist," Erwin Chemerinsky, dean of law at the University of California, Irvine, told HuffPost.
Daniel Medwed, a law professor at Northeastern University who has written at length about prosecutorial misconduct, said the new discovery reinforces the need for DOJ intervention, as well as for ongoing external oversight and monitoring.
"I'm running out of adjectives to describe my reaction to this scandal: abhorrent, appalling, abysmal," Medwed said. "And that's just the A's."
Calling all HuffPost superfans!
Sign up for membership to become a founding member and help shape HuffPost's next chapter