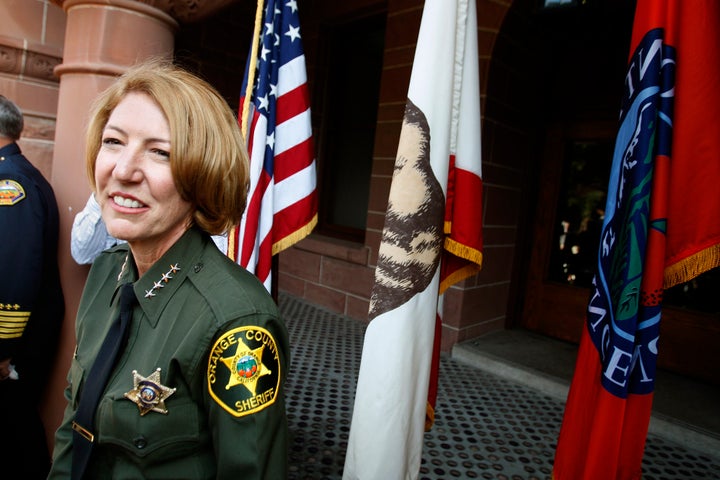 SANTA ANA, Calif. ― An Orange County judge who ordered hearings related to the misuse of jailhouse informants inside county jails said that after weeks of inconsistent testimony from sheriff's officials, he now wants to hear from the sheriff herself.
Superior Court Judge Thomas Goethals said Thursday that he will order Orange County Sheriff Sandra Hutchens to testify about a sophisticated and secretive jailhouse informant program that has already led to the unraveling of more than a dozen cases and threatens to upend countless others.
"Based on what we've heard, the sheriff needs to testify," Goethals said Thursday. "I don't particularly care who calls her to testify."

Over the last three weeks of hearings, a steady theme has emerged from testimony delivered by sheriff's department leadership ― if deputies inside county jails were illegally working with informants and violated the rights of numerous defendants, it was just a handful of overzealous, rogue deputies doing so, and they did it behind the backs of their managers, who knew nothing of those improprieties at the time they took place.
But, this week, troubling questions were raised about the credibility of the supervisors' version of events. And those questions were punctuated by testimony from a sole sheriff's deputy who said that his fellow deputies in the jail did work with informants, but did so under the supervision, and approval, of those above them in the chain of command.
The hearings were ordered as part of the penalty phase of the case against Scott Dekraai, who pleaded guilty to murdering eight people in 2011. Dekraai's sentencing has remained in limbo amid allegations of malfeasance by county prosecutors and sheriff's deputies over their misuse of an informant that officials allegedly illegally planted in jail next to Dekraai.
OCSD leadership shifts blame to allegedly rogue deputies
A commander and multiple sheriff's lieutenants and sergeants have all testified that they did not know that their deputies were working extensively with informants in county jails. They also said they didn't know that much of that work may have been illegal.
The sheriff's department's denial of the jail informant program is nothing new. Hutchens has said consistently that her deputies do not develop informants and direct them to elicit statements from other inmates.
But Assistant Public Defender Scott Sanders, Dekraai's attorney, has for years alleged that a long-concealed, illegal snitch program has been operating inside county jails, perhaps for decades. Under the program, he alleges, deputies placed informants next to targeted inmates and directed them to fish for incriminating evidence to help prosecutors secure convictions.
Last year, an 1,157-page formerly secret document, known as the Special Handling log, became public and bolstered Sanders' allegations significantly. Maintained by OCSD jail deputies for years, the thousands of log entries shed new light on the scope of the misconduct surrounding the jail informant program. Goethals has said the evidence that has already surfaced points to a snitch program in the jail, and his findings were affirmed in a 2016 California appeals court ruling.
"The magnitude of the systemic problems cannot be overlooked," the appeals court ruling said.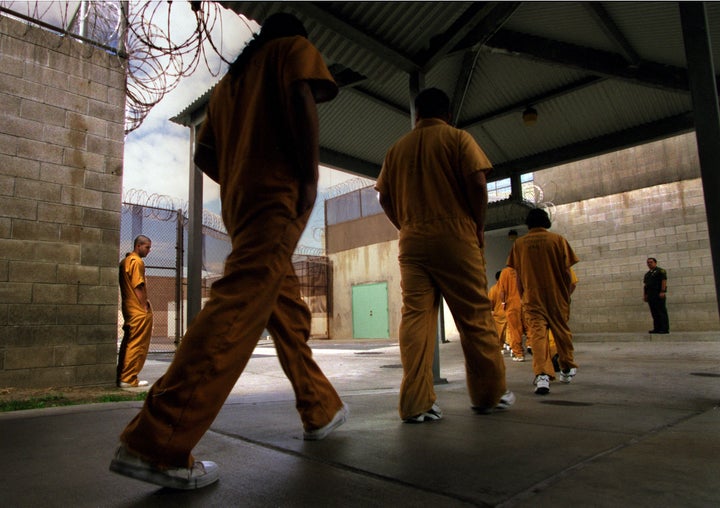 However, in surprising testimony this week that the judge called "the biggest piece of evidence" yet, Cmdr. Jon Briggs became the first command-level staffer to contradict Hutchens. Briggs said he believes it's "obvious" that a tainted informant program was being used by some deputies inside county jails and that significant misconduct had been going on, possibly for years.
Deputies were trying to "one-up each other, like it is a fraternity and they are trying to do better than the other guy," he said.
Briggs also said poor management from sergeants and lieutenants was largely to blame for the rampant misconduct described in the log ― a point other officers also made under oath.
"We had constant turnover of supervisors. Constant turnover of lieutenants," Briggs said. "The deputies were kind of ― if you want to refer to it as ― the inmates were running the asylum on that occasion," Briggs said. "With all the accolades being given to the deputy sheriffs ― they were senior deputies, trusted deputies ― by all accounts everybody thought they were doing a great job, so nobody looked into it."
Briggs also said one deputy, Seth Tunstall, poisoned the behavior of other Special Handling deputies in the two jails in the county where informants are housed.
Tunstall has become a central figure in the Dekraai proceedings. In his 2015 opinion removing the entire Orange County District Attorney's office from the case, Goethals singled out Tunstall and a fellow deputy for misleading the court. Tunstall worked in a unit that dealt with inmates and informants inside county jails before it was recently disbanded. He was also assigned to a gang task force with the Santa Ana Police Department, where Briggs believes Tunstall encouraged deputies to engage in the improper conduct with informants in the jails that is described in the log.
"You believe Seth Tunstall was changing the way Special Handling at both jails was doing business?" Sanders asked Briggs.
"Yes, sir," he responded.
Cracks emerge in the sheriff's department's version of events
Yet just moments after Briggs pegged Tunstall as the source of the misconduct of other deputies in the jail, he appeared to back down after Sanders confronted him with an internal department memo celebrating the "intelligence gathering" skills of the Special Handling unit at one county jail.
The memo states that the jail unit "possesses an excellent expertise in the cultivation and management of informants" ― expertise "recognized by the Orange County District Attorney's Office as well as numerous law enforcement agencies throughout Southern California." The memo, dated March 2007 and sent from an OCSD sergeant up the chain of command to a captain, was written during a period before Tunstall was working in the jails.
After showing Briggs the memo, Sanders asked: "Do you think, looking at that, maybe your thesis about Seth Tunstall being the motivating factor could have been wrong?"
"I guess it could have been, yes," Briggs replied.
Sanders also showed Briggs a 2009 internal OCSD memo sent to command staff that requested permission, which was granted the same day, to place an informant next to an inmate charged with murder and then record the conversation. According to the testimony of OCSD officials, however, command-level staff weren't aware of informant operations in the jail.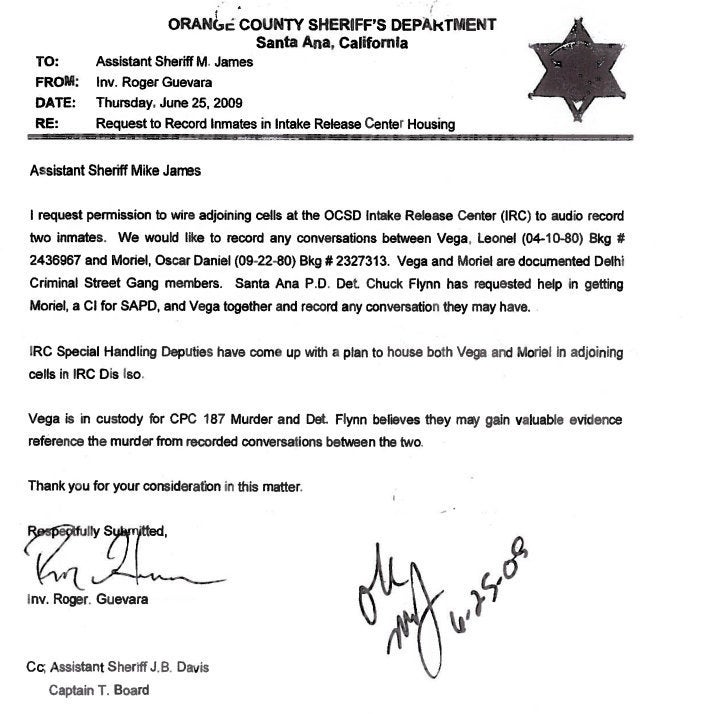 "Sergeants and lieutenants are actively deceiving this court" in their effort to claim ignorance about the informant operation within the jail, Sanders later told Goethals.
California Deputy Attorney General Mike Murphy, the lead prosecutor, disagreed, saying the evidence thus far did not indicate a "greater cover-up." 
On Thursday, additional inconsistencies emerged through the testimony of sheriff's deputy Zachary Bieker.
Bieker said he and his fellow deputies worked with informants in the jail and documented that work in the Special Handling log. That contradicted a steady stream of sergeants and lieutenants who claimed to be unaware of the log, even though their deputies made daily entries in it. Bieker testified that the log was re-started in 2011 at the direction of a supervisor, and that he had discussions with supervisors about it.
According to Bieker, the work of a Special Handling deputy included not only making decisions about housing movements and maintaining jail safety, but working with informants. He said his efforts were fully known by his supervisors in the jail. Beiker added he was comfortable speaking with supervisors about what he described in the log.
Asked about the sophisticated jail informant operations Bieker said deputies were at times involved in, Bieker said: "I don't think it would be possible to hide it from a supervisor."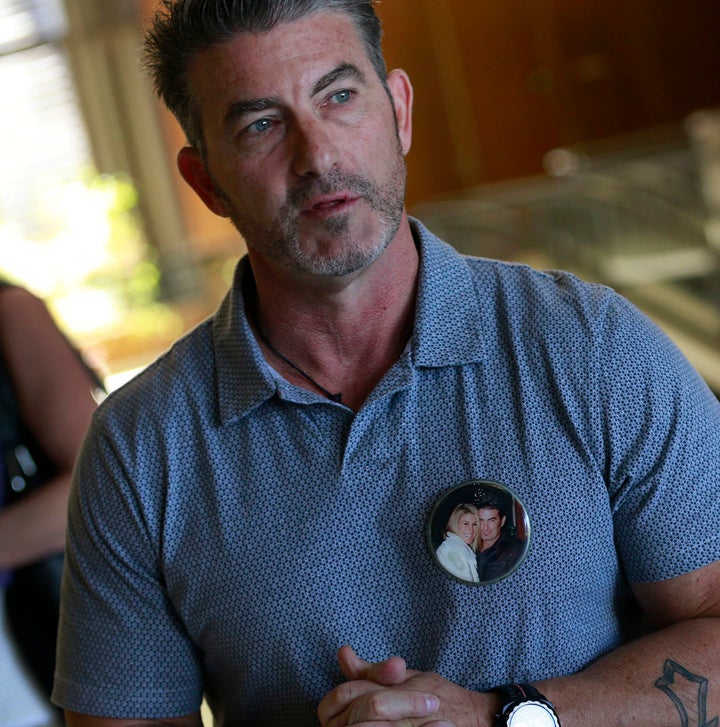 Dekraai victim's husband speaks out, wants OCSD officials held 'accountable' for misconduct 
Despite the misconduct that has already tainted the Dekraai case, California Attorney General Xavier Becerra announced in March that his office would continue to pursue the death penalty against Dekraai.
On Monday, Paul Wilson, whose wife Christy was one of the eight people killed by Dekraai at a Seal Beach hair salon in 2011, told Goethals that he would "absolutely" prefer that Goethals drop the death penalty and instead sentence Dekraai to eight consecutive life sentences without the possibility of parole ― an option Goethals has said he's considering.
It's a "huge wound this continues to open by coming to court," Wilson said on what would have been Christy's 53rd birthday. "I can't tell you what this does to me."
"The testimony we've heard in here, from people who knew exactly what they were doing, is pathetic."
Hearings will resume next week.
Calling all HuffPost superfans!
Sign up for membership to become a founding member and help shape HuffPost's next chapter