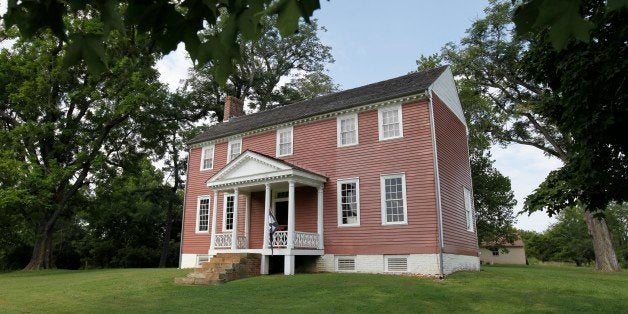 For better or worse, The Real Housewives of Orange County have imprinted an indelible image of Southern California on the American psyche. But long before Andy Cohen ushered the ladies of the West Coast OC into our living rooms, another Orange County made a mark on America.
Orange County, Virginia is located about two hours southwest of Washington, D.C. It's a rare unspoiled landscape of rolling fields, historic homes and winding lanes that are hugged by the Blue Ridge Mountains. As the home of President James Madison, this Orange County played host to some of America's boldest historic names. Today, the area quietly honors its legacy while it moves graciously into the 21st century with a thriving food and wine scene.
You can't visit Orange County without stopping at Montpelier, the home of James and Dolley Madison. The estate houses original furnishings and art, along with many of the family's personal, including books that spurred ideas that Madison wove into the Constitution of the United States. Plan to spend some time outdoors, strolling amid the 2,600 acres of gardens and fields, which remain much as they were during Madison's life. Families can be ferried about the ground in a horse-drawn wagon from Thursdays to Sundays in good weather.
Nearby in the village of Orange, stands the small James Madison Museum. While there are plenty of the family's personal effects, the highlight of a visit is the 1788 document that ratified the Constitution and Bill of Rights, which although stained and slightly tattered, can't help but elicit goose bumps.
Orange County was also a Southern stronghold during the Civil War and saw action in the town of Orange itself, along with battles that raged on in the eastern part of the county. The Exchange Hotel was once a Civil War-era hospital that served more than 70,000 Confederate and Union soldiers. Located in the town of Gordonsville, the museum provides exhibits on the war and its impact on the surrounding community.
Although its rich past anchors the area, Orange County is growing. Not only is its population nudging upwards, but it is evolving into a significant food and wine destination. One of Virginia's best wineries, Barboursville, is here. Winemaker Luca Paschina, with his untamed buoyancy, is the stuff of legends, an Italian immigrant intent on mastering the art of the vine. The vineyard cultivates some of the United States best Bordeaux grape varietals, which produce award-winning blends like the coveted Bordeaux blend called Octagon. The tasting room is surrounded by quintessential Piedmont beauty. Stroll the grounds past the vineyard and free -grazing cattle on your way to what arguably may be the East Coast's most majestic ruins, a Thomas Jefferson-designed classically proportioned mansion was destroyed in a fire in the 18th century.
Vintage, a recently reimagined restaurant housed within an historic mansion nearby, offers innovative dishes that take local ingredients for a ride as they spin the globe, like rabbit confit with braised sunchokes, smoked Virginia trout with blood orange marmalade, and a ginger-flecked Asian burger made with local beef and served with wasabi fries.
Stay overnight at The Inn at Willow Grove, a plantation house with evocative antebellum columns that will make you feel that you have been cast back to a more genteel, gracious time. The main mansion offers antique-filled rooms with fireplaces and private porches. Ask for a front-facing room to capture the spectacular sunrise over the dusky Blue Ride. For more space, book a cottage, which are housed in historic outbuildings scattered like confetti on the 40-acre property. There's a charming two-storey cottage called The Schoolhouse close to the mansion. A bit further afield sits the Butler Cottage, which is a sundrenched one-bedroom suite with a soaking tub, heated floors, a wet bar and fireplace inside and a private porch and terrace outdoors. No matter which room you choose, a breakfast of beignets and coffee is delivered to your door, which should fortify you for a nice long wander the estate.
Perhaps the very best part of a visit to Virginia's Orange County is the drive. Cast you gaze to the Blue Ridge Mountains, where the ever-shifting light cast a new canvas on the foothills as you cruise along country lanes, past grazing horses, Civil War cemeteries, proud barns, and quaint villages unchanged by time. This atmospheric spot primes you to swell with a profound sense of place in a way few other corners of America can do. Bravo to that.