The second season of "Orange Is the New Black" premiered weeks ago, and some of us are even in our second round of bingeing the season, but we still can't get enough.
HuffPost TV spent a day with the cast of the Netflix series at the Crosby Street Hotel in New York City, asking them about everything from Season 2 that we possible could. We learned about everything from characters reveals and what to expect in Season 3 to how they feel about important topics in the LGBT community. Read on to find out all the things the cast shared with us:
(Spoiler alert if you haven't finished Season 2 of "Orange Is the New Black.")
1. There will be a big Alex and Piper sex scene in Season 3.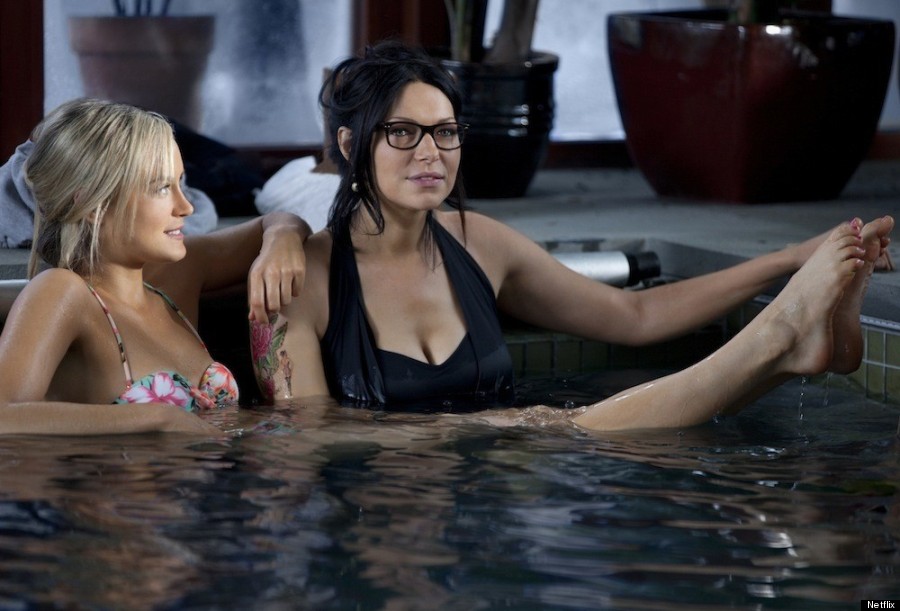 When talking about how comfortable she and Taylor Schilling are together when filming sex scenes, Laura Prepon teased an upcoming sex scene in Season 3. "Season 3, oh man. We're on episode three and it is, like, so good," Prepon said. "We have a big scene coming up on Monday and it's going to be great. We're both so comfortable."
2. Samira Wiley and Danielle Brooks prefer Poussey and Taystee as friends.
While talking about Poussey and Taystee's relationship in Season 2, Samira Wiley said, "I think selfishly, Samira's own thing, I like them better as friends." Danielle Brooks chimed in about the kiss scene saying, "At first I was like, 'This is a little awkward,' because we've known each other for a while." The two said it might have been hard for the characters to return to a friendship if things went further. "When you bring sex into it, I don't think it would've been the same," Brooks said.
"At what point does it just become, like, I'm playing a person?"
3. Lorraine Toussaint has no idea about Vee's fate.
After a very long pause following the question of whether or not Vee is dead -- it was a long pause tingling with anticipation -- Lorraine Toussaint simply said, "I don't know." We think she really doesn't have any clue since she added, "That's an interesting question I meant to ask before this [interview]."
4. Matt McGorry hurt himself multiple times when filming Season 2.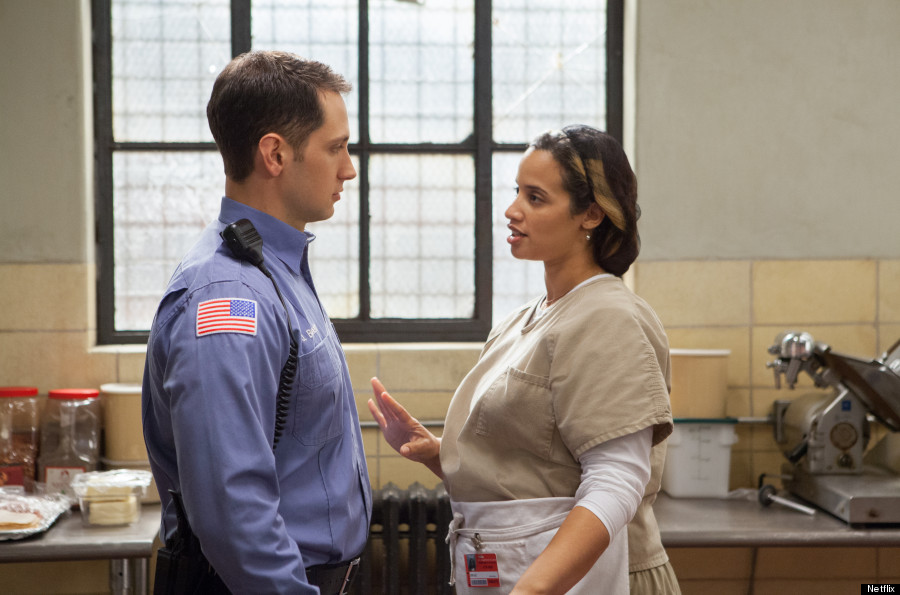 McGorry said that when filming the scene where Bennett flips out in the ghetto dorm, "I threw out my shoulder twice. I have bad shoulders anyway." On that same day of shooting he also hurt himself again. "The scene in the cafeteria where I slam my hand on the table," McGorry said, "we did enough takes that it was, like, my fingers were swollen." The poor guy is falling apart on and off screen.
5. Bennett will likely also show his temper again in Season 3.
Talking about the physical strain the show has had on him, McGorry said, "My voice is screwed up from shooting Season 3 the other day, too." When asked if he was yelling some more, he got really secretive, only responding, "Maybe."
"I think we need to ask what we could do to make the lives of trans people better in this country."
6. Selenis Leyva has a very personal connection to Laverne Cox and her role in the trans community.
"I have a transgender sister," Leyva, the actress who plays Gloria on the show, said. "When I met Laverne I immediately flocked to her and watched her very closely because I knew that this was going to be groundbreaking. I knew that she was going to give a voice to the voiceless." Leyva began tearing up when talking about her sister, sharing how grateful she is that Cox has given her sister a voice. "Your sister's always had a voice, it's just about amplifying that," Cox chimed in. "Her sister's lovely, I've met her a couple of times," she added.
7. Uzo Aduba was originally only supposed to play Crazy Eyes for two episodes.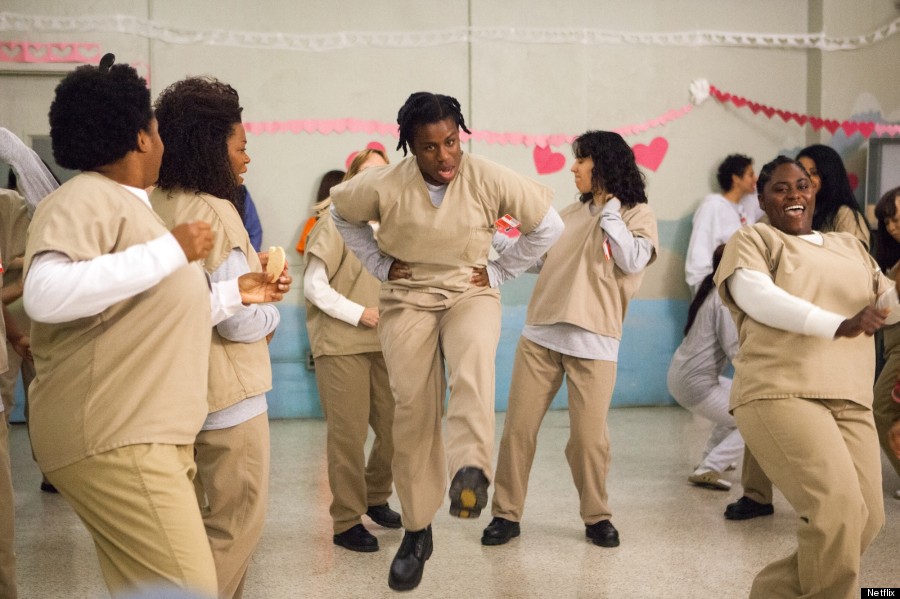 "When I first got the job I was only supposed to do two episodes, possibly a third and a chance of there being a fourth," Aduba said of her Suzanne, a.k.a. Crazy Eyes. On her last day shooting her second episode of Season 1, a producer told Aduba that they were going to use her in the show more. "I sincerely thought they meant I was gonna get to do the third episode," she said of her reaction. "I was like, 'Yes! This is amazing. I'm gonna call my mom, I nailed it!' No idea that we were going to continue on then for the rest of the season."
8. The cast pays for Netflix, just like us.
"Shouldn't we just get it for free, maybe?" Laverne Cox joked. "They take it out of my bank account every month," she said laughing.
9. Laura Prepon has some serious die-hard fans.
When asked about the crazy amount of fandom Prepon has received since Season 1 premiered, the actress shared how she's been sent a whole variety of hand-made gifts. "I'm a huge poker player [and] one fan made me poker chips with my name and [Alex's] glasses on them." While she said she's flattered by the gifts (she even knows her fans' names and where they live), Jason Biggs couldn't stop saying how creepy he thinks it is. "Have you checked them for Anthrax?" he joked. "I think I'm jealous. I'm not used to having fans, I'm used to having haters."
10. Laverne Cox wants people to know that her success doesn't mean the trans community isn't still in danger.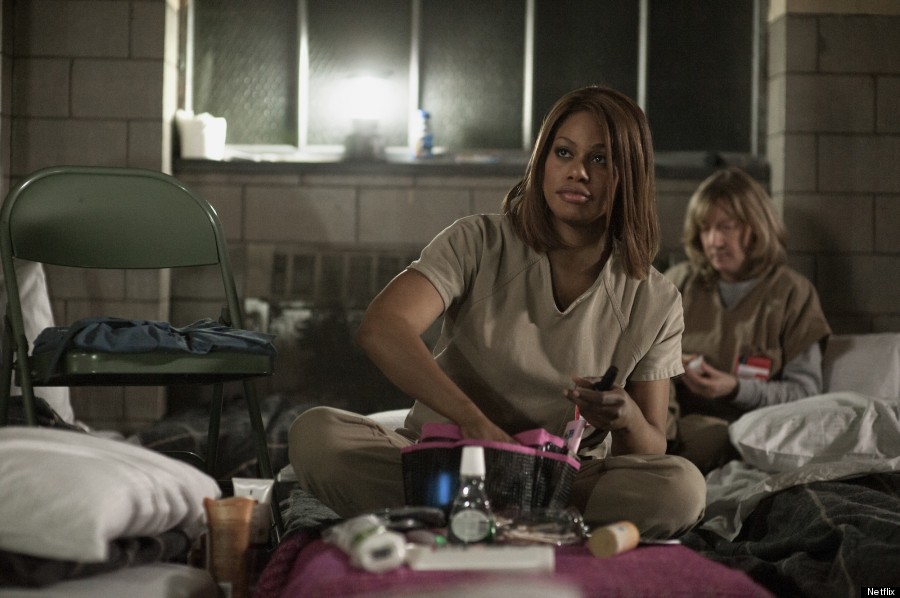 Talking about her big year since Season 1 premiered, Cox said,"I still feel like that trans woman
walking down the street wondering if someone's going to call me a man today, if someone's going to call me a he-she, and actually that still happens. The reality of my life as a trans woman of color is that my life is often in danger simply for being who I am." Although she said she's grateful for all the love and support she has gotten, she doesn't want people to forget about the struggled of the trans community as a whole. "My TIME cover, or one trans woman having a successful moment, should not make us feel that the lives of trans people are still not in peril. I think we need to remember that and ask what we could do to make the lives of trans people better in this country."
"I was laughing so hard I didn't know if I'd be able to get through it."
11. Taryn Manning thinks Tucky's changes are stemming from a desire for power.
The actress said Pennsatucky's changes in Season 2 are due less to a possible romantic interest in women, and more to the appeal of power. "She obviously loves men because she's in there for seven abortions, so she's familiar with the penis," Manning said to much laughter. "She's lost and there's someone like, 'Hey, we can be powerful together.' It's run by that more. She might be being brainwashed, not quite sure."
12. Jason Biggs isn't sure if Larry is actually in love with Polly.
"I do feel like they have some interesting chemistry," Biggs said of the new relationship between Larry and Polly in Season 2. He said he's curious about how the two interacted before the show's timeline and whether or not they were flirty before Peter came along. When asked flat out if it was love, Biggs said, "I don't know. I think he might think he's in love with her. He's really out of sorts and hurt and trying to put up this wall to protect himself."
13. If Nicky and Lorna continue their relationship, it'll have to get serious.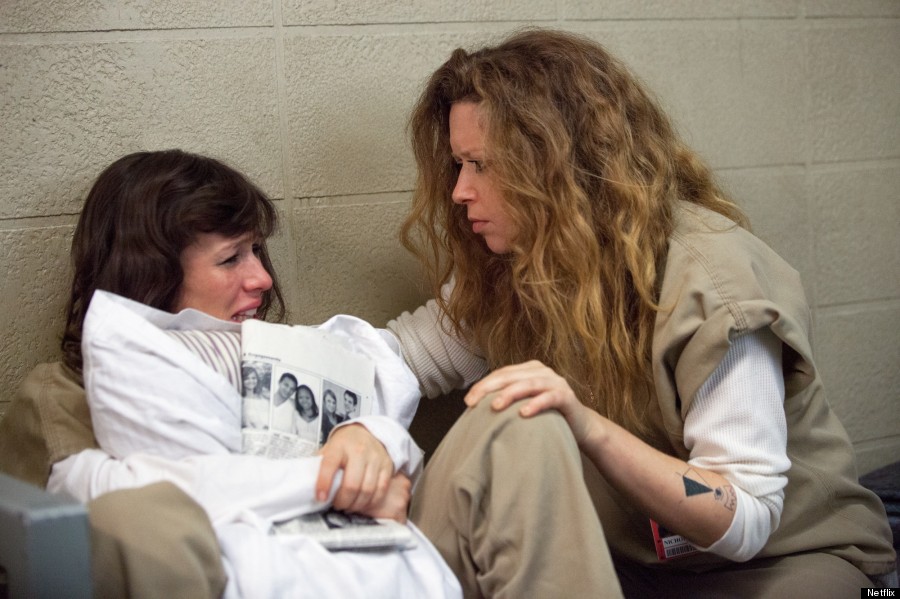 "They're past casual sex now after that stairwell scene," Lyonne said of their relationship in Season 2. "If they're going to continue a romantic relationship, at the end of each time they fuck they're going to have to say, "I love you" whether they like it or not."
14. Lorraine Toussaint may be scary as Vee, but she throws dinner parties in real life.
While talking about working with Toussaint on set, Uzo Aduba said, "It's remarkable to watch her be Vee and then go to her house for dinner because she's invited everyone over and she's cooked for, like, six hours. You're just like, 'You are annoying how awesome you are!'"
15. Natasha Lyonna wishes the media would stop categorizing "gay" shows and characters.
When asked about how she thinks perceptions of LGBT storylines have changed over the years since her film "But I'm a Cheerleader," Natasha Lyonne said, "It hurts my soul that so many years after that movie we're still commenting on it." She went on to say, "It's important that everybody has a voice, but it does break my heart a bit that that many years later it's still about, 'Oh this is a gay show, or this is a gay relationship, or you play a gay character.' At what point does it just become, like, I'm playing a person?"
16. Red originally wasn't supposed to have as heavy of an accent.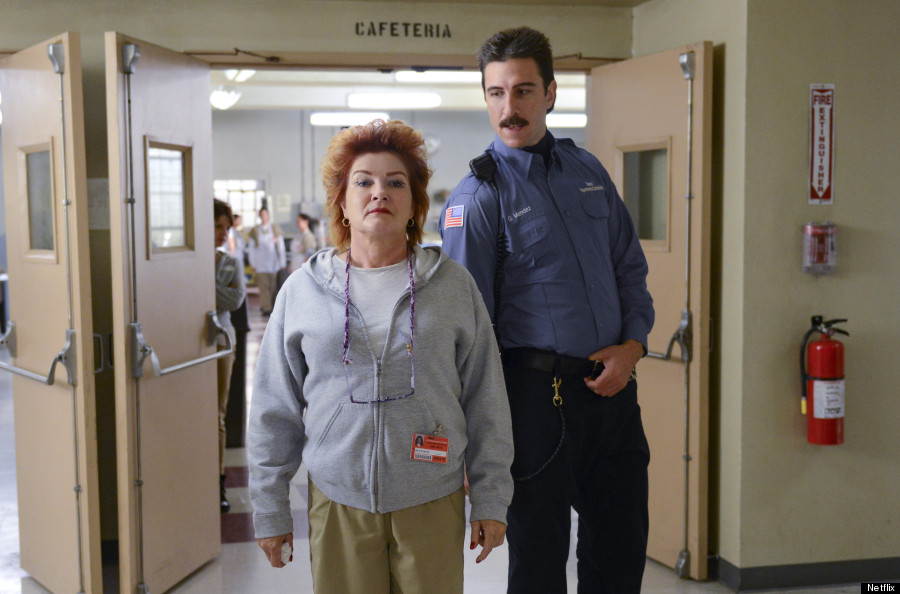 Kate Mulgrew said that when she first auditioned for Red, there was only a small description of the character. "It was a tiny page and it said at the top, 'Just a hint of a Russian accent. She's been in America since she was 2,'" Mulgrew said. "That's not at all what came into my mind. [In Red's Russian accent] A real peasant came into my mind."
"They're going to have to say, "I love you" whether they like it or not."
17. Both Uzo Aduba and Danielle Brooks were amazed by the actors who played their younger characters.
Aduba said she met the girl who played the young Crazy Eyes and was blown away by how calming the 12-year-old girl was. "To watch her was just magnificent. I couldn't believe how much she had borrowed -- she didn't even know she was doing character work." Although Brooks wasn't on set with the girl who played the young Taystee, she said how flattered she was to watch her performance. " I didn't help her with it at all, she takes all the credit."
18. Laverne Cox could hardly make it through the vagina anatomy scene.
The one with the visual aid -- I've never shot anything where I was laughing so hard I didn't know if I'd be able to get through it," Cox said. "Adrienne, who plays Black Cindy, was brilliant and funny, Joel [Garland who plays C.O. Scott] in the back was hilarious, and Lea DeLaria was off camera doing what Lea does." The actress and activist said that the scene was also reflective of real trans women. "Laverne would never go into all this detail about her body, but I know trans women who are very proud of their hoohahs and want to dispense useful information about them."
19. Matt McGorry doesn't like when you sneak photos of him on the train.
"I like when people ask me [for a photo], but when people are taking photos on the train and sneaking their phone, I'll turn away," McGorry said. "It makes me uncomfortable because I don't know how many they're taking, or what the purpose is." For Dasha Polanco on the other hand, who plays Daya, the new fandom she's gotten from the show has made her more self-conscious. "I would wake up and go downstairs in sweatpants," she said. "Now I gotta get myself together and then go outside. But I embrace it."
Before You Go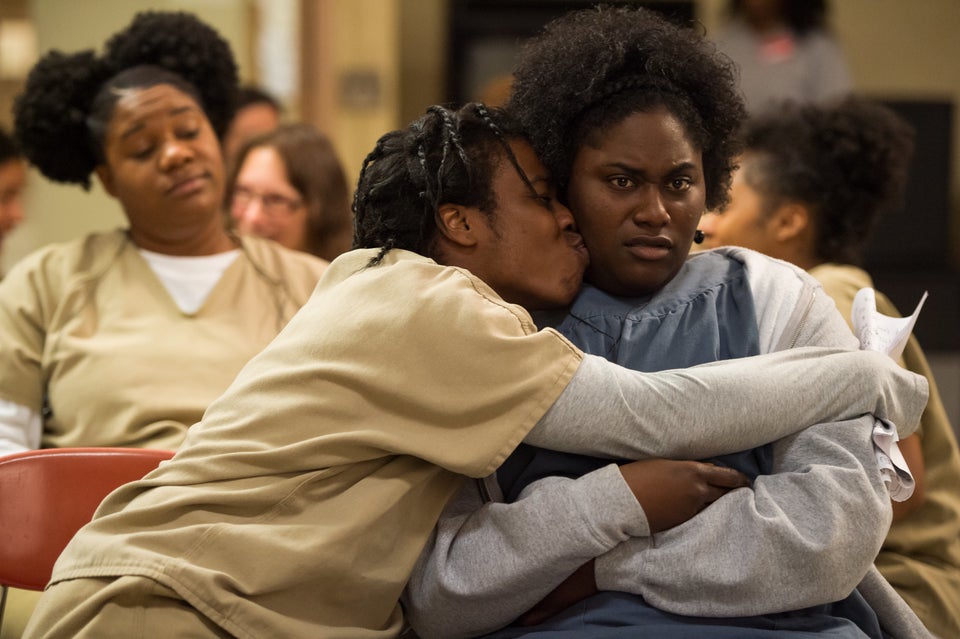 "Orange Is The New Black"
Popular in the Community