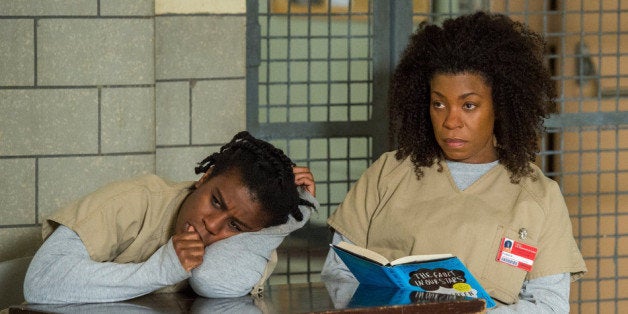 It looks like one of the Litchfield ladies just staged a prison break.
Lorraine Toussaint, who played resident sociopath Yvonne "Vee" Parker on "Orange Is the New Black," is ditching her orange jumpsuit and putting on a badge for her next TV gig. The actress has just landed a series regular role on ABC's newest crime drama "Forever" where she's set to play Lt. Joanna Reece, a seasoned police vet who's "seen it all." The show also stars Ioan Gruffudd as Dr. Henry Morgan, a medical examiner who just happens to be immortal.
It'll be a bit strange to see Toussaint on the other side of the law. Fans of Season 2 of "OITNB" know her best as "slocking," manipulating Vee who had dreams of ruling the prison until (spoiler alert!) an escape attempt ended in her being run down by Rosa and (possibly? probably?) left for dead. Toussaint told Vulture recently that her character's end had changed by the time filming came around.
"Originally, she was definitely more dead," Toussaint said. "And as we went along, she got to be less dead. When we got to the day of shooting, I went, 'Oh!' Because originally the van went 'bumpity bumpity bump!' and you got the death close-up and everything. I went, 'Oh, she gets swiped!' I'm telling you, she got less dead as we went along."
Since filming for next season has already begun, it's probably safe to say Toussaint won't have as big of a role on "OITNB" when it returns to Netflix for its third season, and as talented an actress as Toussaint is, we can't honestly say we'll be sad to see Vee go.
REAL LIFE. REAL NEWS. REAL VOICES.
Help us tell more of the stories that matter from voices that too often remain unheard.
BEFORE YOU GO