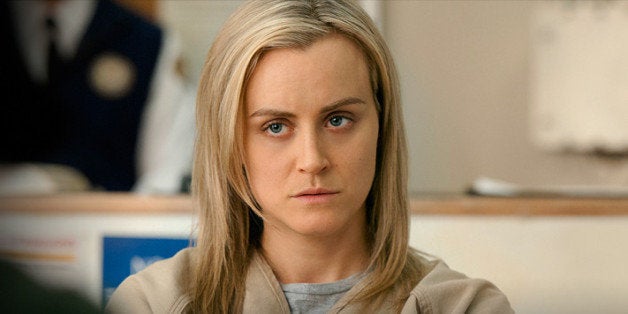 Facebook users love talking about "Orange is the New Black."
But here's the thing: "Orange Is The New Black" isn't actually on TV, at least the way we traditionally think of TV. It's streamed on Netflix. Many people who watched the series and then discussed it on Facebook probably didn't even have a cable or satellite TV subscription.
Of course, "most talked about," which in Facebook parlance means it's the show mentioned most frequently in Facebook posts, doesn't mean it's the second most-watched show of the year. It just means that people this year were very into posting about the show on Facebook. (A Facebook spokesperson said that the show's popular abbreviation, "OITNB," counts as a mention, as do "some variations on the topic name and spelling, as long as the reference is strong enough.")
The results are part of Facebook's annual "Year in Review," in which the social network releases lists of the people, events and cultural phenomena that got the most traction on Facebook over the previous year.
"Orange is the New Black's" place near the top of the "most-talked about TV shows" list comes as Americans' TV viewing habits are changing. The time Americans spent watching any kind of video on the Internet, including services like Netflix, Crackle and YouTube, was up 60 percent in the third quarter of this year over the same quarter last year, according to Nielsen. The rise of these new technologies and services, along with changing viewing habits, have prompted the legacy TV networks to offer online-only subscriptions -- HBO and Showtime both have said that beginning in 2015, they'll offer standalone streaming subscriptions, so people will be able to watch without paying for a cable or satellite bundle.
Netflix, which has more than 50 million members worldwide, doesn't reveal ratings or disclose how many people are watching a specific TV show. But in a letter to investors this summer, Reed Hastings, Netflix's co-founder and CEO, and David Wells, the CFO, wrote that in the first month of the second season's release, "Orange is the New Black" "became the most watched series in every Netflix territory, with many members either watching for the first time or re-watching Season 1"
In a survey conducted this fall, Consumer Intelligence Research Partners, a Chicago-based market research firm, found that nearly 40 percent of Netflix subscribers in the U.S. reported watching "every episode" or "almost every episode" of the show.
Related
Popular in the Community