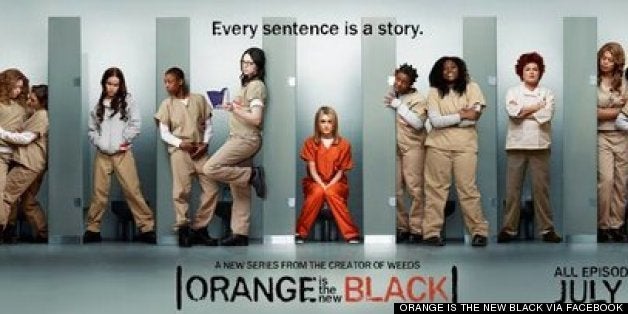 It wouldn't take long for the media to deplete prison metaphors related to Netflix's latest offering, Orange Is the New Black. Yes, it will chain you to your preferred method of video streaming for at least a day. Your capacity for empathy will be solitarily confined to these characters for even longer. You will self-surrender to additional viewings and happily prepare for another 13-episode sentence. In short, Orange is an arresting delight. It confronts every layer of women's experience in an environment designed for inertia -- and gets many of them right.
The show is brought to us by Weeds creator Jenji Kohan and delivers on the motifs attendant to the ironic offender tale, but with considerably more depth and nuance this time around. Based on the memoir Orange Is the New Black: My Year in a Women's Prison by Piper Kerman, the series' lead protagonist is Piper Chapman (Taylor Schilling), a staple in the Park Slope artisanal bath products business who lives with her minimally exceptional fiancé Larry Bloom (an earnestly repellent Jason Biggs).
After a post-college lesbian dalliance with an international drug dealer named Alex Vause (Laura Prepon), whom she occasionally helps smuggle the product, Piper "becomes the nice blonde lady [she] was supposed to be," until Vause gives her up and lands her in federal prison. Piper intends to spend the year in deep circumspection minding her own business, until she accidentally insults the Russian head cook 'Red' (Kate Mulgrew) on her first day, and a mission to starve her out makes clear she must participate in the multiple matrices of power and obedience in order to survive.
A women's prison makes for a thematic and narrative filter that belies its insistence on restriction. In fact, it liberates its subjects from the socially constructed power structures that would otherwise determine the basis for merit and punishment. For Piper, the silver spoon in her mouth becomes the target on her back, and everything that once exempted her from the rules of the game now violently subjects her to them. In the first episode, she's told the inmates operate on a barter system, and in a hilarious inversion of race appropriation, she is forced to offer a few strips of her blonde hair to spruce up another inmate's weave in exchange for some cocoa butter.
Among its most striking achievements, Orange offers a new approach to the brand of aspirational hedonism espoused in Breaking Bad and Mad Men and replicated by meritoriously neurotic female leads in Homeland and Nurse Jackie. Earlier this year, New York Times Magazine's Heather Havrilesky lamented the trend of "some hideous psychic deficiency" required to lend complexity and erudition to women on TV. "The suggestion in all of these shows is that a female character's flaws are inextricably linked to her strengths," Havrilesky writes. In Orange, "crazy" manifests as criminality and is scarcely celebrated. It's not that characters' attitudinal quirks are neutralized in prison -- far from it -- but we are not asked to exempt them from the social contract just because they're pretty badass, nor glorify repulsive behaviors typically reserved for men. There's no thrill here in a woman breaking the rules. They've already done it.
In this vein, the backstory of each character and their route to federal prison is revealed in a series of flashbacks, but they are steeped in empathy that avoids glory. To the extent these women are "crazy," it is to the exclusion of success, rather than its primary facilitator. What this says about women's place in television or the political economy isn't clear, but it's refreshing to see an honest portrayal of the consequences of a nihilistic impulse. With murders already committed and houses already set fire, Orange relinquishes the guaranteed drama of a girl-gone-bad formula and opts instead to confront how women really rise the ranks, establish loyalty and manipulate their circumstances to make life tenable.
When men appear on-screen, they are often the butt of a joke. "Lesbians can be very dangerous" preaches Healy, the prison's lead social worker. Prison guard George Mendez, anointed "Pornstache" by the inmates, is a more insidious presence, requiring sexual favors in exchange for drugs or privileges. Still, to the extent that female inmates use him to procure a commodity, the power dynamic oscillates and he is often both player and pawn. The series' least compelling story line involves a rookie prison guard falling in love with a Latina inmate, but even this follows the trend of professional ineptitude among the male characters.
Orange approaches race from a conversational rather than prescriptive point of view. "It's not racial, it's tribal," explains Lorna (Yael Stone), the prison's nuptially-obsessed van driver who we can already sense doesn't really have anybody waiting for her. Kohan has no interest in feigning a color-blind environment, and social fraternities are almost completely segregated. In a largely homosocial setting in which women don't bond over simply being women, race is necessarily disaggregated from gender, and what we get is a relentlessly honest account of how people truly organize relationships according to this society's demands. Orange really shines, though, when groups must cooperate in the interest of collective gain. Those moments when social capital trumps group allegiances are the show's most powerful.
The series' most heavy-handed moments relate to sexuality. "You don't just turn gay," Piper insists to her friend and fiance, "you fall somewhere on a spectrum, like a Kinsey scale." Still, that the show doesn't insist on a sexuality binary is perhaps its most evolved achievement. Some inmates identify as lesbians, some as bisexuals, and some as women who are in prison and still want to have sex. Even the show's transsexual character, who is introduced to us first as a woman, and later as a man in her backstory, appears to be a lesbian as she tries to hold on to her wife and son while doing time. All of it is a stunningly nuanced promotion of sex and gender fluidity -- especially impressive for a show whose chief project isn't necessarily to provide it.
Viewers can look forward to being digitally detained once more, as the show was renewed for a second season before the first even hit the Internet. Predictably, by the end of the Season 1, Piper's life beyond prison walls is in shambles, making Orange Is the New Black a fish out of water tale where by the end, the water has evaporated and the fish doesn't really remember how to swim anyway. There is an intimacy ensconced within the prison that we scarcely see outside of it -- a reminder that Piper, and all the characters, will never really be free until they emancipate themselves from whom they've tricked themselves into being.
Calling all HuffPost superfans!
Sign up for membership to become a founding member and help shape HuffPost's next chapter