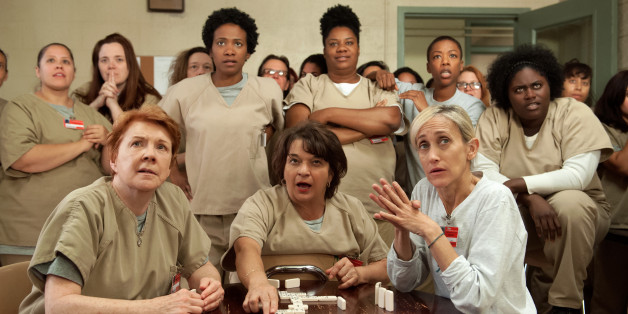 The lead-up to the new season of "Orange Is the New Black" has seemed quiet. The cast hasn't yet made the talk-show rounds, and only a handful of online interviews with the principal players have popped up, whereas the excitement for Season 2 seemed inescapable right before Netflix dropped that fresh batch of episodes. But it doesn't matter. "Orange" has accrued one of the most loyal -- and undivided -- audiences in television. Much of that is to the credit of creator Jenji Kohan and her cohorts' sharp storytelling, and some of it is indebted to the cast's fun offscreen dynamics. They don't need to do press ahead of the new season to spark buzz. At this point, "Orange" fans are so dedicated that they'd probably sign up to do time in Litchfield just to befriend Taystee or Yoga Jones.
Luckily, that legion will find the start of Season 3 equally satisfying. Across the six episodes that Netflix provided to press ahead of the premiere, one signature revelation emerges: Because "Orange Is the New Black" exists in the bubble of Litchfield and therefore can't easily fly off the rails (à la Kohan's previous show, "Weeds"), and because its characters are so well-realized, it is hard not to find more than enough to love in its storylines, even when they aren't at their best. The true accomplishment, then, lies in the fact that the dramedy has remained, for the most part, tremendously alluring.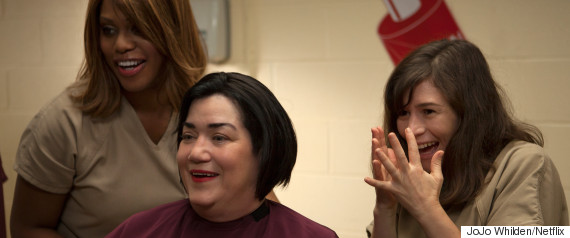 The first half of Season 3 feels like checking in on dear friends who have been absent from our lives for the better part of a year. We're acquainted with Litchfield at this point -- its politics, its tribes, its hazards -- so there's little needed in the way of overall exposition. Now it's just a matter of seeing which characters the writers choose to accentuate. Alex, who appeared in only four of Season 2's episodes due to Laura Prepon's scheduling conflicts, is one of those characters. She's landed back in prison by Piper's doing, as we saw at the close of Season 2. It's nice to see Alex return, but this is last time we can endure her exhausting, convoluted on-and-off dynamics with Piper. Most of the other characters are in fine form, however: It's a relief to see flashbacks that finally offer insight into Big Boo's gruff persona, Bennett's military past and the irritable but surprisingly resourceful enigma that is Chang. When "Orange" retreads old material, it makes up for it by giving us what we haven't seen. Within that, the show's mantra prevails: Layers of humanity boil beneath the most hardened or off-kilter personalities.
Beyond the Alex/Piper melodrama, one chief flaw pervades the first six episodes: a lack of stakes. The season begins with a charming but uneventful Mother's Day episode that finds the inmates questioning how isolation informs their respective familial relationships. The first episodes give way to lovely B-plots that involve Poussey making prison hooch, bed bugs threatening Litchfield's existence, Daya's impending motherhood, Lorna scamming suitors who write to her and Nicky wanting to sell (or perhaps use) the batch of heroin that once belonged to Vee. They're all intriguing, character-building threads, sandwiched between the witty banter for which Litchfield's residents are known. Black Cindy, Crazy Eyes and Taystee clock decent screentime, and the actresses who portray them -- Adrienne C. Moore, Uzo Aduba and Danielle Brooks -- continue to turn in top-notch work. Still, there is a sense that something is lacking in the way the season builds momentum, particularly in the aftermath of the domineering Vee, whose presence loomed over the entirety of Season 2. It's not that the show mandates another villain, but it does need some sort of arc to corral the disparate threads that remain heavy on characterization and sometimes light on connective tissue.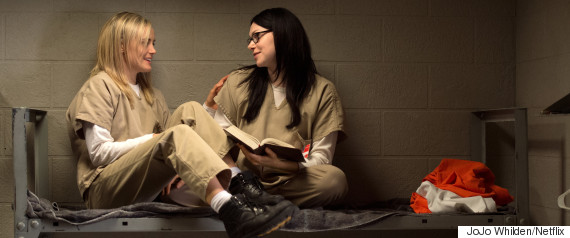 That's a minor complaint in the grander scheme of the show. The first six "Orange" episodes offer a great deal of fun, even as the series' themes deepen. This season manages to be more lighthearted while still raising the show's deepest philosophical questions yet -- quandaries about how circumstances affect relationships, how the system betrays the vulnerable and what role race plays in the cross-sections of our lives. It's a blissful fact that the diverse cast and A+ Bechdel score are old news, yet "Orange" still finds original ways to foster mindful conversations about class, gender and sexuality without being preachy or audacious. "Orange Is the New Black" may be the closest we have to a show that can do no wrong. Even when it does, it zips right back to its foundations, relying on the power struggles that permeate Litchfield and the humor its inmates use to combat them.
Litchfield legion, unite. You're in a for a treat.
Calling all HuffPost superfans!
Sign up for membership to become a founding member and help shape HuffPost's next chapter
BEFORE YOU GO
PHOTO GALLERY
"Orange Is The New Black"