Basil Kreimendahl's provocative play Orange Julius, now enjoying its New York City premiere courtesy of Rattlestick Playwrights Theater and Page 73, is not about the fruity drink which has become a distinctly American classic. The "Orange" of the title is actually a reference to something much darker, which the audience learns about later on in the show. The main character of Kreimendahl's drama is Nut, a young man growing up in the 80's and early '90's in a working class Massachusetts family. As Nut, dynamic actor Jess Barbagallo speaks directly to the audience, recalling anecdotes of his family life pulled from various times throughout his childhood and young adulthood. Most of his recollections involve his relationship with his father, Julius, played by a compelling Stephen Payne. It's a delicate, cautious, and complex connection between this father and son. Julius is a Vietnam veteran who has suffered emotional and physical damage from his military service. Also in this family circle are Nut's mother France, played with subtle triumph by Mary Testa (whose delivery of dialogue and wordless acting is superb); and his big sister Crimp, played by the equally deft Irene Sofia Lucio. The young man's desire to get to know his war-scarred dad on a deeper level manifests itself in unique ways. Nut engages in some transcendent visions-- brought to life on stage-- about being a fellow soldier alongside Julius in the wartime jungles of Vietnam: complete with loud explosions and lively moments of testosterone-heavy male bonding.
Those fantasies, it seems, may also be symbolic of Nut's greater search for identity. The audience learns early on in the play that Nut is a transgendered male, which colors many aspects of his life story. As a child, Nut feared his breasts getting bigger with the inevitable coming of puberty, and would have preferred getting a crew cut rather than having his sister attack his hair with her crimping iron. Nut's military-themed daydreams, in addition to being a way to bond with his father on a metaphysical level, can also be interpreted as his adolescent pipe dream to be an unapologetic, cocksure, profanity-spewing epitome of so-called "hyper-masculinity". That image is embodied in physical form by the muscular soldier Ol' Boy (Ruy Iskandar)-- the play's fourth character. There is, however, a fifth character in Orange Julius: one that we never see, but which nevertheless plays a major role in the lives of this family. That ominous character is Agent Orange, the biological weapon used by the United States against Vietnam during the war. Ultimately, it's this malevolent but invisible force that most influences the outcome for Nut and Julius-- as well as the rest of the family.
Through the fine acting and energy of the cast (particularly Barbagallo, who is on stage the entire running time) and the intensely personal dialogue, Orange Julius really makes an impact with is evocation of nostalgia, fear, longing, and other youth-specific emotions. It seems so personal, in fact, that we wonder just how much of the play is auto-biographical. In one segment, Nut mentions his interest in past life regression, which adds another layer of possibility to the play. This reviewer, for one, pondered if Nut's trans-generational fantasies were, well... more than just fantasies. Regardless, the heart of Orange Julius is the universal human desire to connect. It's that same heart that will have its strings tugged at the play's emotional conclusion.
Orange Julius, directed by Dustin Wills, continues through Sunday, February 12 at Rattlestick Playwright's Theater, 224 Waverly Place, New York City. Visit www.Rattlestick.org for more information.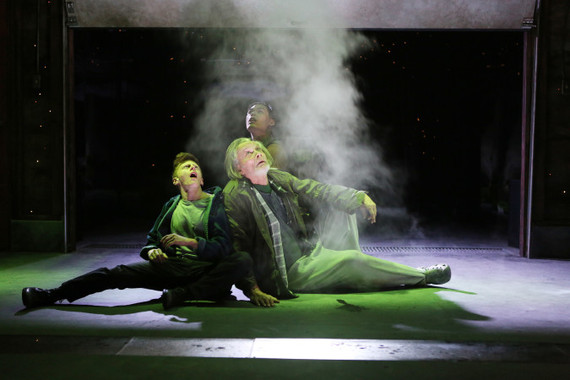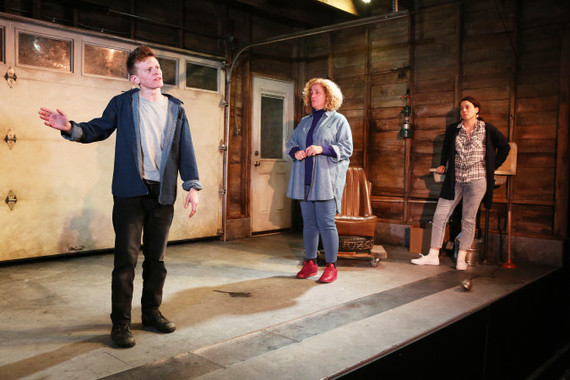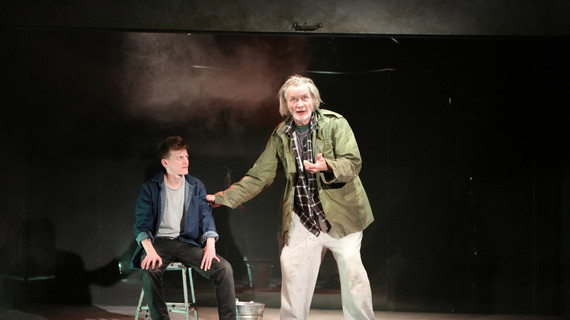 All photos by Sandra Coudart Graham