If you've never heard of orange wine, it's OK.
Those whites, reds and rosés get all the attention, but orange wines -- which the New York Post proclaimed in May to be the "new rosé," and Vice discovered for itself in June -- are having a moment.
Restaurants across the country are adding them to their menus, and people are drinking up.
Last month, Quartz visited Brooklyn's Four Horsemen, which serves about 30 orange wines in response to demand. Justin Chearno, the restaurant's wine consultant, explained that "it is amazing when you come in, to see how many people have chosen [orange] wine to drink ... I would say that we're [selling] about one-to-one, rosé to orange wine. I'm just completely shocked."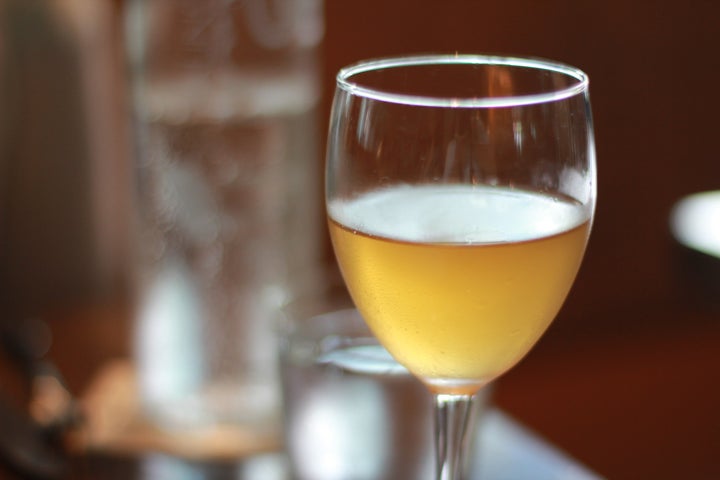 But what is it? Well, it has nothing to do with citrus.
Orange wines, also known as "contact" or "skin contact" wines, are essentially white wines that are produced like reds. Whereas a white wine never makes contact with the grapes' skins, an orange wine is made out of white-fleshed grapes (Pinot Gris or Rkatsiteli, for example) and is then left in contact with the skins (which can range in color from white to purple) for days, weeks or months. This "brings about the [orange] color, but also increases the tannins," explained Scott Carney, the master sommelier and dean of wine studies at the International Culinary Center in New York.
You get "similarities to red wines which once were not part of the white wine scene," he said.
Think of it this way: If you look forward to a rosé as a refreshing alternative to red wine, orange wines are the reverse: They're chilled but with higher levels of tannins, meaning they're white wines complex enough to stand up to red meat.
Because of the wide variety of regions now producing orange wines, Carney said they're available in "a whole smattering of colors. They're more full flavored, with the tannins and higher natural acidity, which means they can stand up to more complex dishes, [such as] white-meat fish and saltier cheeses and dishes rich in butter and fat."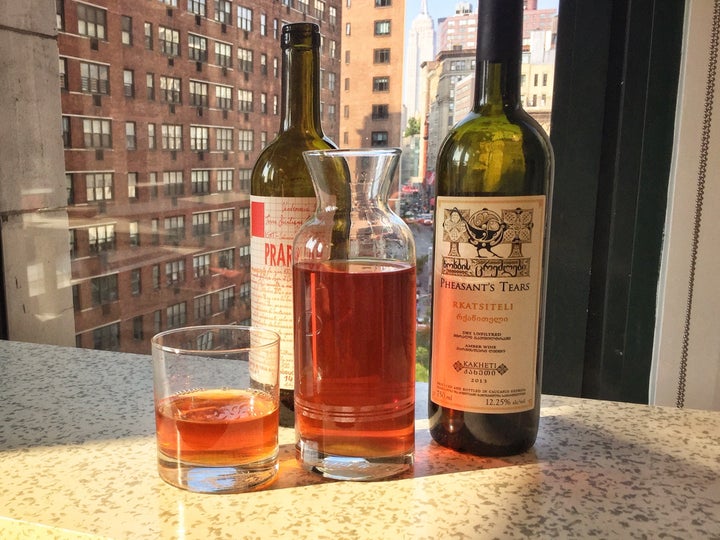 Ever the eager drink tasters, we had to investigate for ourselves.
Astor Wines, down the street from our New York City offices, had a few options in a wide range of price points. We saw some that cost around $20 and bottles higher than $100.
Lorena Ascencios, the head wine buyer for Astor Wines, told HuffPost that there was a surge in interest eight to 10 years ago, and she still stocks about 10 varieties at any time because of continued interest.
Still, she added that "some of them should come with warning labels," because customers often think there's something wrong with the wine if they don't know what they're in for.
We bought a rkatsiteli wine from Georgia's Pheasant's Tears ($17.99) and a bottle of Il Censo Praruar from Italy ($24.99).
Both were served chilled, and were oddly refreshing and weighty, almost meaty. The Pheasant's Tears was a little lighter, the color reminding our tasters of sweet tea or bourbon, and tasted nutty, sweet and thick. The Praruar was darker, almost like an amber beer, and heavier.
They got mixed reviews: Some said they'd order at a restaurant, but would feel weird saying, "What kind of orange wines do you have?" in front of their friends; others said they didn't even want to finish their sample.
Related