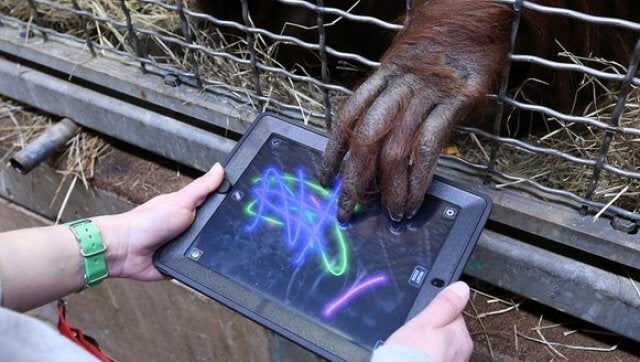 WASHINGTON -- The National Zoo's orangutans, like Americans the country over, have become enamored with iPads.
When great ape keepers at the Smithsonian's National Zoo were deciding how to add more variety and enrichment to their animals' lives, they turned to Orangutan Outreach and a program that had seen great success in 12 other zoos around the world: Apps for Apes. With the tap of a finger, keepers are introducing the Zoo's six orangutans to iPads, which provide unique stimuli. They found that 36-year-old Bonnie likes to bang on the drums, 16-year-old Kyle prefers the piano and 25-year-old Iris is content to listen to the soothing sounds of the koi pond while watching animated fish splash.

"Apps for Apes fits perfectly in this new era of zoo keeping," said Becky Malinsky, great ape keeper at the National Zoo. "It's about changing up the day-to-day lives of our animals. We already vary their food, toys and social interactions every day, but the iPad offers another way to engage their sight, touch and hearing."
Story continues below ...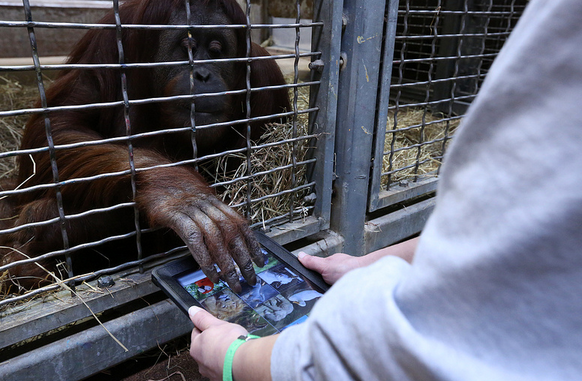 National Zoo's Orangutans With iPads
"It is cute and fun watching them tapping on the iPad, but what is happening to them in the wild is actually horrific," he said. "This is a grand opportunity for these orangutans to be ambassadors for their cousins in the wild."
And what do these ambassadors do when they get their hands on the iPads? Here's Time's description:
The animals spend anywhere between five minutes to half an hour playing on the tablets, which are held by the zookeepers. (Just like humans, the orangutans have a tendency to smash the screen.) Apps created for children tend to be the most popular, including finger-painting and drum apps. The apes are also said to be fond of nature documentaries by David Attenborough, the popular British broadcaster and naturalist of Planet Earth renown.
Zoo spokeswoman Jen Zoon told The Huffington Post that visitors may be able to spot the orangutans using their iPads. She said the devices are brought to the Great Ape House at least twice per month, usually on Wednesdays, and that the zoo is hoping to give the orangutans more screen time in the future.
The difference here, she said, is that "the iPad is just for fun."
Dolphins are reportedly the first non-human animals to use iPads -- scientists hope that the marine mammals will be able to communicate with humans using a waterproof version of the touch-screen device.
Check out the National Zoo's orangutans on their iPads in the video below:
Support HuffPost
The Stakes Have Never Been Higher
Related